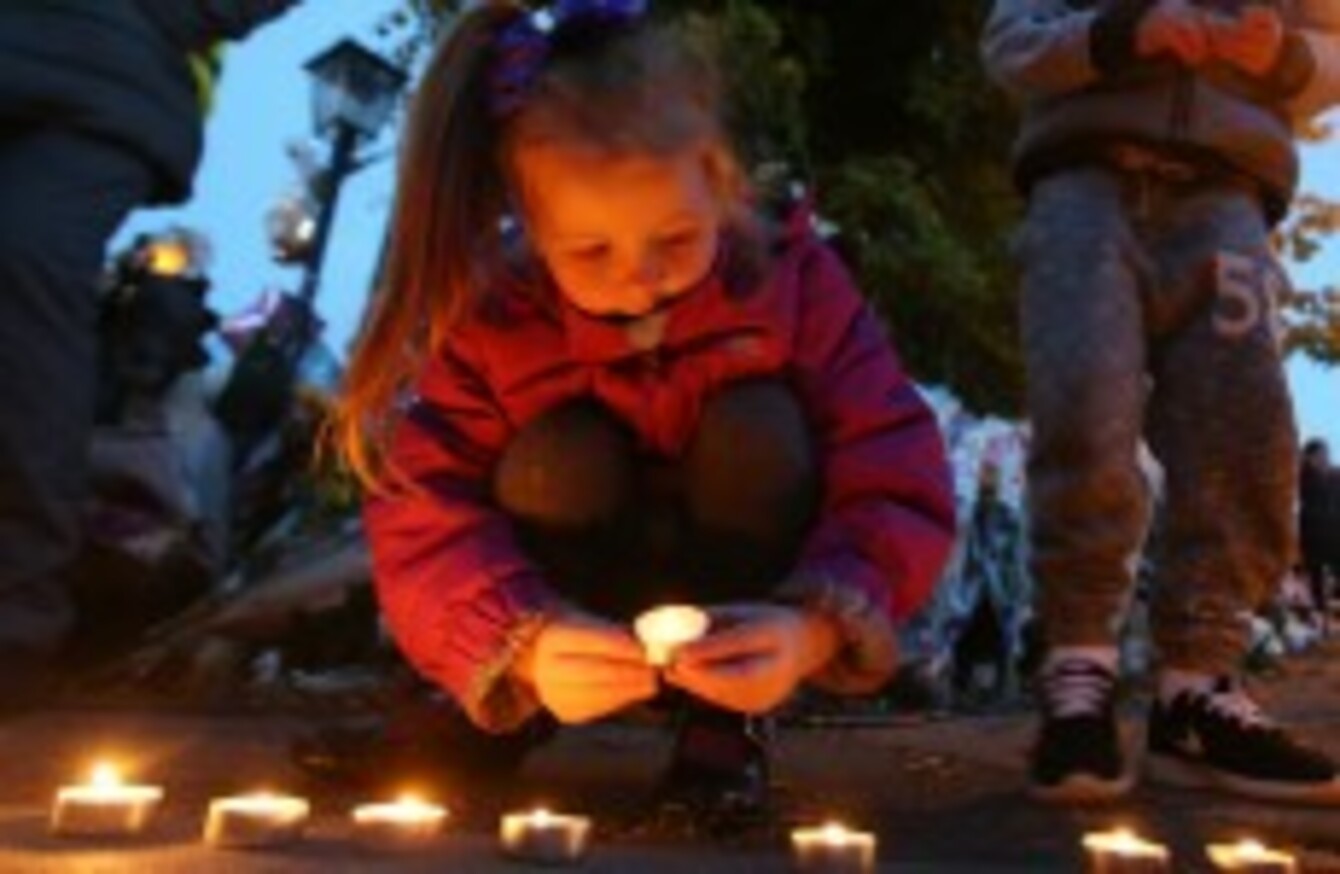 Elizebeth Wall (6) joined members of the Travelling community at a candlelight vigil in Carrickmines last week.
Elizebeth Wall (6) joined members of the Travelling community at a candlelight vigil in Carrickmines last week.
Updated at 10am
LARGE CROWDS ARE expected to pay their final respects to the victims of the Carrickmines fire this week.
Ten people – including young children – lost their lives in the halting site tragedy in the early hours of Saturday 10 October.
The first of the funerals takes place in Bray, Co Wicklow this afternoon – and major traffic restrictions are being put in place in the town this morning, ahead of the service.
According to AA Roadwatch:
"The cortege will travel via Herbert Rd, Castle St, Upper Dargle Rd, into Fassaroe Estate, back onto Dargle Rd via Blind Lane, back onto the N11 exiting at Bray South and turning onto Killarney Rd to Springfield Cemetery."
Traffic restrictions will be in place in the town between 11am to 2pm.
However, gardaí are advising motorists to avoid Bray between 11am and 3pm as there is expected to be major disruption to traffic.
Both the car parks at Herbert Road and Florence Road will be closed from 7am and reserved for those attending the funeral.
Services
Today's service is for Willie Lynch, 25, his partner Tara Gilbert, 27, and their two children Jodie, 9, and Kelsey, 4. Willie's brother Jimmy Lynch, 39, will also be laid to rest.
Their requiem mass will be celebrated at the Church of the Most Holy Redeemer in the Co Wicklow town at midday.
The removal of Sylvia Connors, Thomas Connors and their three children Jim, Christy and Mary (who was only six-months-old) will be held at the Church of the Ascension of the Lord in Balally, south Dublin, at 5pm tomorrow.
Their funeral mass will take place at the Dublin church on Thursday at 11.30am. A procession will then take place to the Church of the Assumption, Bride Street, in Wexford town, arriving at 5pm.
Prayers will be held in Wexford at midday the following day, followed by burial at Crosstown Cemetery.
Rockville Drive dispute
Meanwhile environment minister Alan Kelly has said he hopes "common sense" will prevail in the ongoing dispute over plans to house survivors of the fire at a site on Rockville Drive, a few hundred metres from the site of the blaze.
Talks between residents of the cul-de-sac and Dun Laoghaire-Rathdown County Council have been ongoing since last Wednesday.
Residents blocked equipment from accessing the site last Tuesday, saying there hadn't been proper consultation ahead of the move. The Council has said the temporary halting site will be in place for six months only.
"I support the local authority manager 100 percent in her actions," Kelly said this morning.
"Remember this is a temporary site. It is not a site that's going to be there permanently, and I think that should be borne in mind."