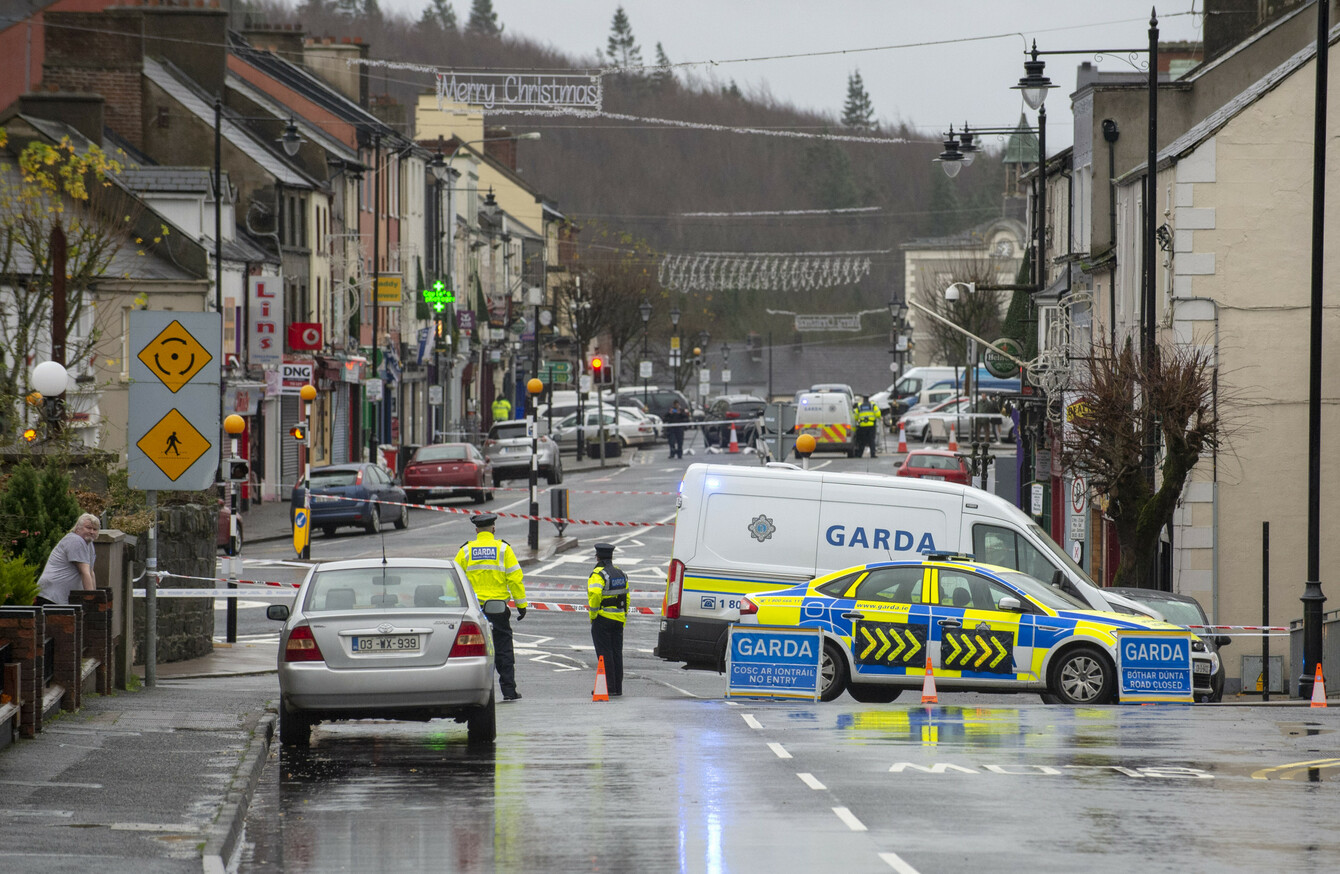 Garda sealing off the scene in Castleblayney yesterday.
Image: Ciara Wilkinson
Garda sealing off the scene in Castleblayney yesterday.
Image: Ciara Wilkinson
THE MAN ARRESTED following the incident in Castleblayney in which a man died on Tuesday night had entered the local garda station beforehand and then left "in a hurry".
Stephen Marron (47) was killed when the Skoda Octavia he was sitting was struck by a silver Audi on Main Street in the Co. Monaghan town.
Garda Michael Devlin (31) was injured in the incident but has been released from hospital and is being cared for by his family. Garda Devlin had been dragged along by the Audi as he was attempting to speak to the individual driving it. 
A 34-year-old man is still being detained following the incident and an investigating officer told RTÉ's Morning Ireland that the arrested man had gone into the station before being recognised by Garda Devlin. 
"Around about twenty-past-eleven on the 27th, a male called to the station in Castleblayney," Garda Superintendent Fergus Treanor said
By chance, Garda Devlin was there and he had known this individual about eight years ago, as a result the male left the station in a hurry and obviously Garda Devlin attempted to speak to him and unfortunately was dragged along by the car, along York Street to Main Street, approximately a quarter of a mile, and then resulting in the death of Stephen Marron.
Treanor said that he expects to be in contact with the DPP today over the ongoing detention of the man.
"Garda Devlin would have had some contact with this individual eight years ago, nearly to the week, so obviously we're going to look at that. But it's quite obvious that Garda Devlin recognised him," Treanor added. 
Gardaí had been keen to speak to a woman who was one of one of the first on the scene and had helped Garda Devlin following the incident. They have now made contact with her after Treanor made a direct appeal this morning.
"What I can see from the footage is that she acted very bravely because I think she believed the car was on fire, there certainly was a lot of smoke coming from it. Her actions are certainly very much in my thoughts at the moment because she obviously involved herself in some danger," Treanor said.
Community
Stephen Marron who died in the incident has been described as a "devoted member of the wider Castleblayney community", having being involved in both sports and the local Catholic parish of Muckno.
The married father-of-two was an assistant sacristan at Saint Mary's Church, Castleblayney and Saint Patrick's Church, Oram.
The parish priest of Muckno Canon Shane McCaughey said in statement today that his loss will be felt by the entire community.
Stephen was the go-to-man for everyone in the community of Muckno parish. He was a disciple of Jesus Christ who asks his followers to love God and love neighbour. Stephen bore witness to his faith through the generosity and kindness that he showed to all who were in any kind of need. 
Speaking on Morning Ireland, McCaughey said that Marron was "larger-than-life figure" in Castleblayney.
"He was a man in his 40s, a married man, a very contented married man, belonging to a family of great community, great faith and enterprise. He was a person that was a go-to-man for all sorts of needs in the community. If there was every anyone who wanted to be collected or left somewhere, Stephen was the man that had to be contacted."
McCaughey added that the community is struggling to come to terms with the loss.
"There's a sense of numbness, they just can't come to terms that someone who was so much part of the community, who was such a breathing part of the community has been struck down."
Speaking in the Dáil this morning, Tánasite Simon Coveney said the government is awaiting a detailed report on what happened in Castleblayney. He said he did not want to cast any aspersions as to whether there were shortcomings in collaboration between the Gardaí and the PSNI. 
Fianna Fail's Dara Calleary asked how the assailant was able to walk free, let alone drive, given his history. Coveney told the House he is limited in what he can say on the incident as it is subject to a GSOC investigation, however, he said the report will ensure "we understood what happened here and learn lessons from these tragedies". 
Stephen Marron's funeral will take place on Saturday in St. Mary's Church.
Comments have been closed for legal reasons.