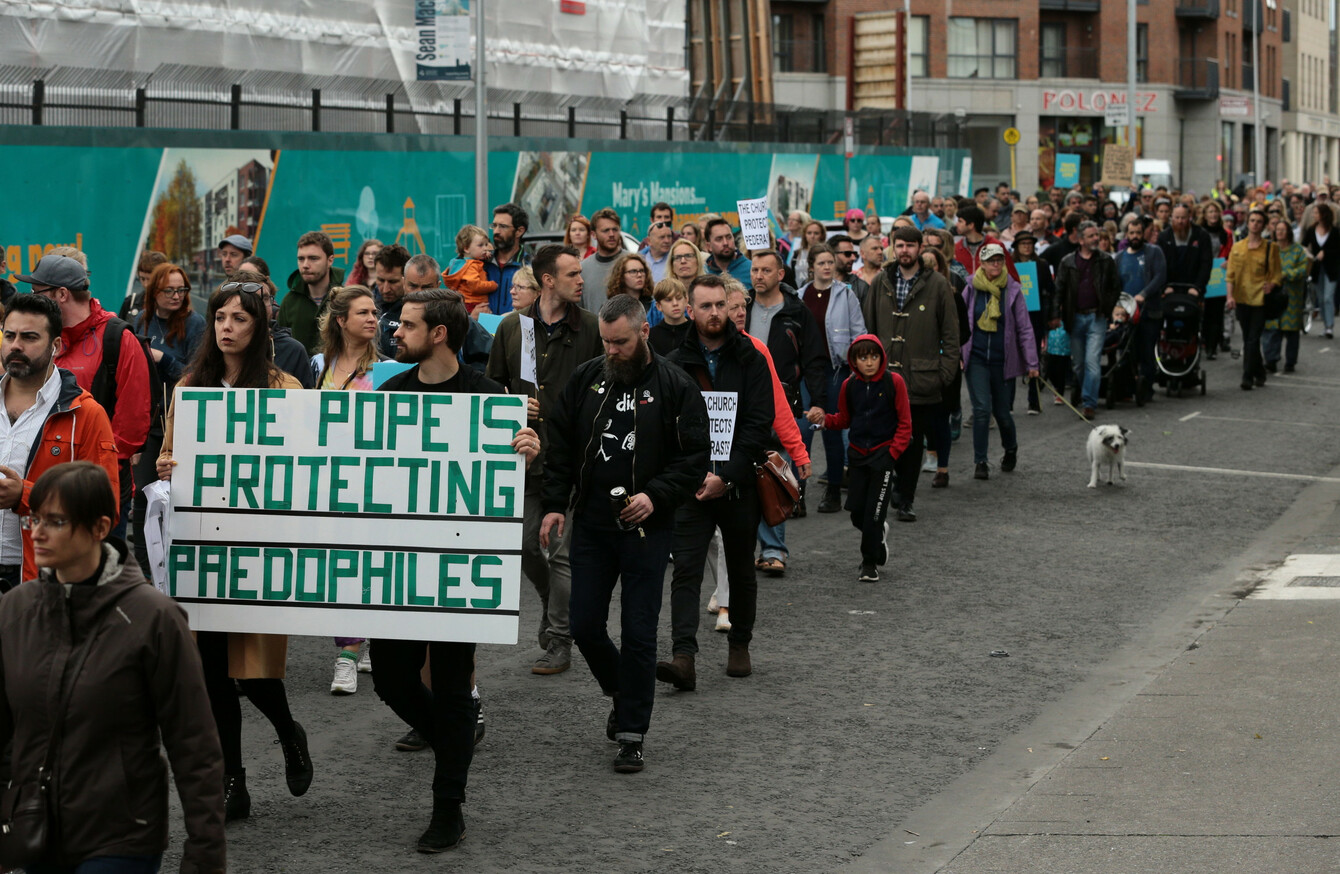 The Stand4Truth rally walks to a former Magdalene laundry in Dublin as part of the demonstrations against clerical sex abuse.
Image: PA Wire/PA Images
The Stand4Truth rally walks to a former Magdalene laundry in Dublin as part of the demonstrations against clerical sex abuse.
Image: PA Wire/PA Images
LAST WEEK, TENS of thousands of people arrived in Dublin to attend events as part of the World Meeting of Families, a triennial gathering of members of the Catholic Church.
The six-day event was rounded off by a visit from Pope Francis, the first to Ireland by an acting pontiff in almost 40 years, and the first since the country's relationship with the Church began to deteriorate.
Ahead of the visit, there was particular focus on how the pope would address child sex abuse, one of the most significant factors behind the Irish public's lapsed Catholicism.
However, despite the pope meeting a small number of abuse survivors on Saturday, several groups expressed dissatisfaction with how he addressed the issue of abuse.
But what was it that the survivors were looking for, and how likely is the Church to address the issues they continually raise? Here we explain.
How was the issue of abuse addressed during the papal visit?
On an official level, child sexual abuse by members of the clergy was discussed multiple times.
In a speech at Dublin Castle, the pope said he could not fail "to acknowledge the grave scandal caused in Ireland by the abuse of young people by members of the Church", particularly those responsible for their protection and education.
He added: "The failure of ecclesiastical authorities – bishops, religious superiors, priests and others – adequately to address these repugnant crimes has rightly given rise to outrage and remains a source of pain and shame for the Catholic community.
"I myself share those sentiments."
At the same event, Taoiseach Leo Varadkar said there was still "much to be done" to bring about justice and healing for survivors of clerical abuse.
He made specific reference to Magdalene Laundries, Mother and Baby Homes, industrial schools, illegal adoptions and clerical child abuse as "stains on our State, our society and also the Catholic Church."
In one of his final engagements during his first day, the pope held a private 90-minute meeting with eight survivors of clerical, religious and institutional abuse, during which he compared the cover-up of abuse by church authorities as 'caca', or excrement.
And during the papal mass in the Phoenix Park on Sunday, the pope asked for forgiveness for abuses of "power, conscience and sexual abuse" perpetrated by members of the Church.
How did individuals and groups react?
The response wasn't exactly a warm one.
Reacting to events at Dublin Castle on Saturday, campaigners suggested the pontiff did not go far enough, with Colm O'Gorman of Amnesty International – who was himself abused as a child – calling the pope's comments a "shameful deflection" of responsibility.
Later, some were struck by the pope's genuine tone – particularly his use of the vulgar word 'caca' – during his meeting with survivors of abuse, although others said he still needed to apologise on behalf of the Church.
At another event on Saturday evening, one survivor of abuse at the hands of a former priest, Darren McGavin, said he was not looking for an apology, but greater accountability from the Church.
And on Sunday, Táiniste Simon Coveney echoed comments from Taoiseach Leo Varadkar the previous day by saying the Church needed to act to show it was repentant for historical abuse.
What do survivors of abuse want?
It's a bit of a complicated answer, with some groups who advocate for survivors also calling on the Church to deal with issues such as Magdalene Laundries, Mother and Baby Homes, and illegal adoptions.
On these issues, groups would like to see the Vatican support any Government action, such as an inquiry into Mother and Baby Homes, particularly in Tuam.
But when it comes to the Vatican on its own, survivors also want to ensure that abuse won't be repeated, that abusers within the church are held accountable, and that redress that is owed is paid by the Church.
Deirdre Kenny of advocacy group One in Four told TheJournal.ie that "the bottom line" for survivors was ensuring that none of the issues raised by survivors and advocacy groups ever happened again.
"For that to happen, procedures like mandatory reporting [of child sex abuse] and other structures for the safeguarding of children and vulnerable people need to be put in place," she said.
The incorporation of mandatory reporting of abuse into Canon Law (ie to make it part of the law of the Church) is one of the biggest issues for survivors, because it would show the Church actually wants to hold abusers within its ranks to account.
Abuse survivor Marie Collins - who resigned from the Vatican's child protection commission last year – suggested the move would be a reversal of the system the Church had in place to protect abusers.
"Sadly, more often Canon Law has been used to protect the abuser than to punish them," she said.
"Here in Ireland in the '90s, we saw bishops being told by the Vatican not to report abusing priests to the police as it was against Canon Law, and that is just untenable."
Similarly, survivors groups also say the Vatican still holds a considerable amount of information about abusers which it has refused to release.
Given the Vatican's past refusal to co-operate with inquiries into clerical abuse in Ireland, survivors here believe the release of this information would show the Church is actually serious about fighting the problem.
Finally, there is also the issue of redress.
According to a report by the Comptroller & Auditor General last year, just €209 million had, at the time, been paid to the Government by religious groups to address historical child abuse.
This compares to €1.5 billion that had been spent by the Government, for whom the policy towards financial redress has long been that all costs should be split between the State and religious groups.
However many groups believe they owe significantly less than this, while others, such as the Christian Brothers, argue that the C&AG report does not cover periods during which it made "significant payments" to survivors.
It's also important to note that financial redress is not any more of a priority for survivors than seeing those who perpetrated abuse held accountable, or to ensure the Vatican implements structures to prevent similar abuse in the future.
In other words, survivors won't simply be bought off, but the payment of an agreed amount of compensation would be seen, at least, as a symbolic acceptance of accountability.
What happens next?
It's very hard to say, but survivors and advocacy groups won't exactly be holding their breath following events at the weekend.
Yesterday, Marie Collins revealed that the pope was not familiar with Magdalen Laundries or industrial schools when he was told about them during his meeting with abuse survivors on Saturday.
The pope also declined to comment on a letter written by a former Vatican official that claimed he ignored sexual abuse claims against US priests.
The pontiff's continued silence on sexual abuse cases there is unlikely to inspire confidence that he truly shares the pain of Ireland's Catholic community, as he claimed at Dublin Castle.
Back at home, the Irish clergy has at least shown some sense of awareness of the scale of the problem.
Last week, Archbishop Diarmuid Martin said he believed that more could be done to make the judicial system easier for those who had been abused to come forward.
On a more dispiriting note, Martin also suggested the true scale of clerical abuse survivors was still not apparent, as the majority of those who suffered had still to come forward.
Between the silence of those victims and a pope who was unable to apologise to survivors of abuse, it looks like the Church still has a long path to travel before it achieves redemption in the eyes of its victims.