Charles Taylor in the courtroom today.
Image: AP Photo/Peter Dejong/PA Images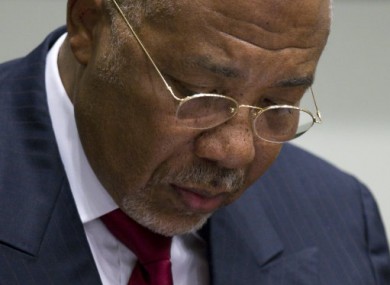 Charles Taylor in the courtroom today.
Image: AP Photo/Peter Dejong/PA Images
FORMER LIBERIAN PRESIDENT Charles Taylor has been convicted by a Hague court of war crimes and crimes against the humanity including the recruitment and deployment of child soldiers.
He is the first former head of state to be convicted by an international tribunal since the Nuremburg trials after World War II.
Taylor had denied all 11 charges brought against him, which ranged from rape and torture, to the recruitment of child soldiers and murder during the 11-year civil war in Sierra Leone. Sierra Leone's rebel Revolutionary United Front became well-known for their 'calling card' of cutting off hands and feet.
Prosecutors also accused Taylor of funnelling weapons and ammunition through Liberia to rebels in Sierra Leone in exchange for 'blood diamonds' which were mined by slave labourers.
The former leader was indicted in 2003 and tried by the Special Court for Sierra Leone. He told the court that he believed the charges brought against him were part of a US and British plot to force him from power.
The court fount him guilty of aiding and abetting the following crimes:
acts of terrorism
murder
violence to life and mental or physical wellbeing
rape
sexual slavery
outrages upon personal dignity
conscripting or enlisting children under the age of 15 years to armed groups and using them to act in hostilities
enslavement
pillage
Delivering the verdict today, presiding judge Richard Lussick said the chamber had "found beyond reasonable doubt" that the accused is "criminally responsible for aiding and abetting" the RUF in carrying out crimes in Sierra Leone. It also found him guilty of planning attacks carried out by the rebel fighters.
Taylor is expected to appeal the verdict.
Sentencing is scheduled for the morning of 30 May and Taylor has been remanded in custody.