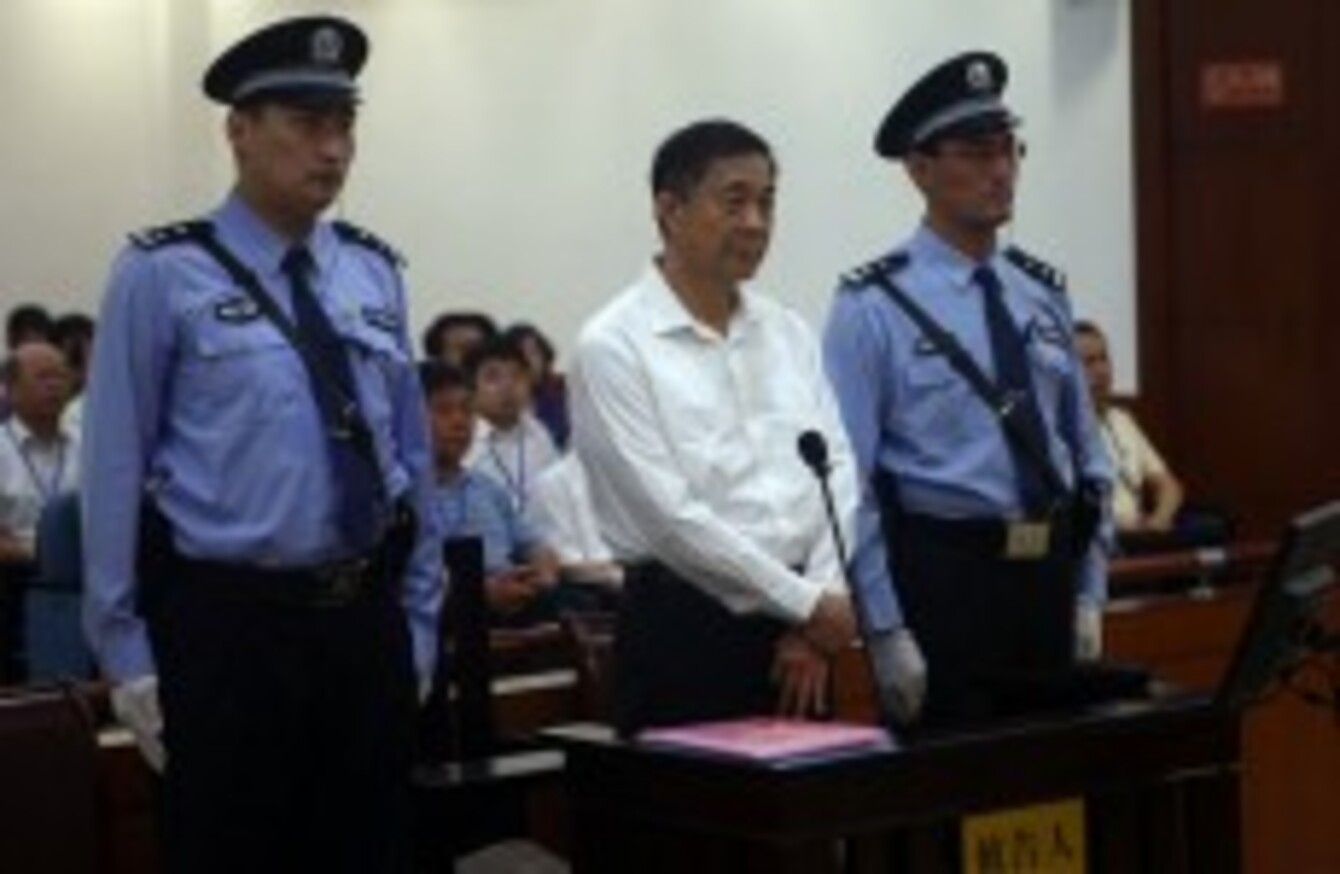 Image: (AP Photo/Jinan Intermediate People's Court)
Image: (AP Photo/Jinan Intermediate People's Court)
DISGRACED CHINESE POLITICIAN Bo Xilai denied taking $3.5 million in bribes from businessmen and cross-examined one of them with a lawyer's precision today, launching an unexpectedly spirited defence at a trial aimed at capping China's biggest scandal in decades. It appeared to be a last-ditch effort by the former political star to repair the reputation he had so carefully cultivated of being a man of the people.
Prosecutors ended months of suspense about the details of his charges, rolling out accusations that featured a villa in France, a hot-air balloon project and a football club, giving a glimpse of how colourful corruption can look in China.
"I'm not a perfect man, and not a strong-willed person, I'm willing to take responsibility for that," Bo said. "But as to the basic facts of whether I am guilty or innocent, I must say my piece."
Once the powerful party boss in the megacity of Chongqing, the charismatic Bo fell into disgrace early last year following revelations that his wife had killed a British businessman, and that he had allegedly attempted to cover it up. Today marked the first time he was seen in public in 18 months, since shortly after the scandal emerged.
In photos and state TV footage from the court, Bo was shown standing in the dock wearing a white long-sleeved dress shirt and dark slacks. His hair was cut short and grey, and he later sat somewhat slumped in a chair with little expression on his face.
Conviction
The trial is widely presumed to have a predetermined outcome: conviction. But in an unusual display of openness for a major political trial in China, court officials released frequent microblog updates on the testimony, suggesting ruling Communist Party officials are confident of minimizing damage from a scandal that exposed a murder and machinations among China's elite.
Prosecutors said Bo used his wife, Gu Kailai, and his son, Bo Guagua, as intermediaries in accepting $3.5 million in the northeast city of Dalian, where Bo Xilai once held key posts. They also alleged that Bo instructed an underling to keep quiet an $800,000 payment to the city, and that Bo diverted the money into personal funds with the help of his wife, according to updates on the microblog site Sina Weibo posted by the Jinan Intermediate People's Court.
In response, Bo said he had been coerced into falsely confessing to party investigators that he had taken payments from a general manager of a company owned by the Dalian government.
"I once admitted this matter against my will," Bo said. "However, at the time, I had absolutely no knowledge of the nature of the matter. My mind was a total blank."
Prosecutors also said Bo helped a Dalian businessman, Xu Ming, in efforts to buy a football club and obtain land for a hot-air balloon project without proper procedures. They said Xu helped Bo's family finance the purchase of a villa in Nice, France, and that Xu bought a Segway, an electric stand-up scooter, for Bo's son. Bo denied the accusations and said the two were not even friends.
Bo also cross-examined Xu, forcing him to repeatedly concede that he had not directly raised such matters with Bo.
Piles of cash
Prosecutors presented written testimony from Bo's wife that said the couple kept safes in their various homes across China in which piles of cash were stashed, but Bo raised doubts about her account.
Calling her testimony "comical, very funny," Bo also questioned Gu's suitability as a witness, saying she was a convicted killer with a history of mental illness. But in further questions he chose more gentle words in describing his wife as "a person of culture and taste, a woman of modern thinking."
The prosecution said the confession obtained from Bo was valid and defended the testimony provided by Gu and Xu.
In denying the corruption charges, Bo seemed to be using the trial to make a final stab at ameliorating the damage the scandal has done to his image, which he honed in Chongqing with an anti-crime crackdown that gave him nationwide fame.
The trial went into recess after about eight hours of testimony and will resume in the morning.
- AP