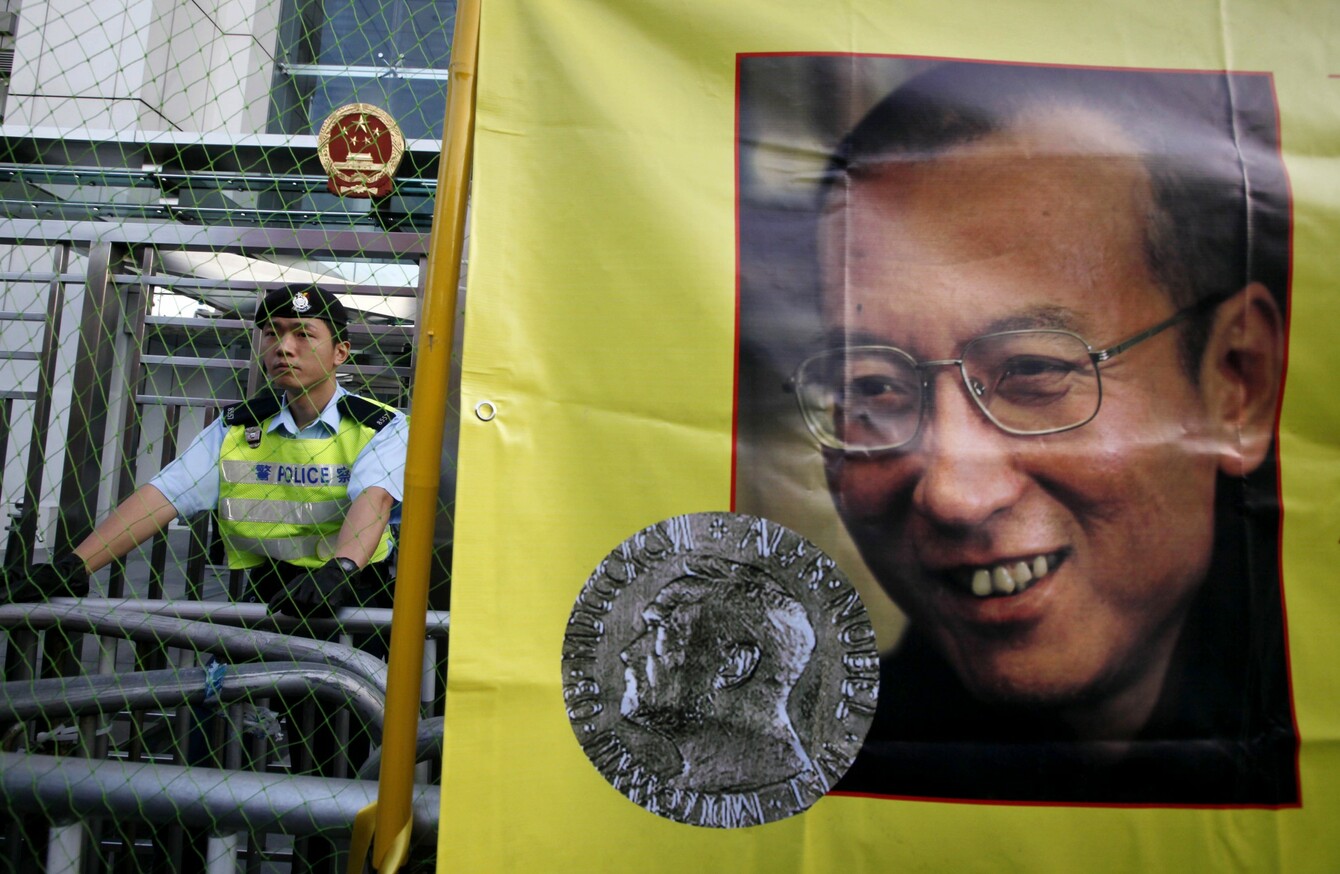 File photo of a police officer standing guard beside a picture of Liu Xiaobo.
Image: AP Photo/Kin Cheung, File
File photo of a police officer standing guard beside a picture of Liu Xiaobo.
Image: AP Photo/Kin Cheung, File
CHINA'S NOBEL PEACE prize laureate  has been transferred on parole from prison to a hospital for terminal cancer treatment, his lawyer said, but concerned supporters called for his unconditional release.
Liu Xiaobo, who has about three years of his 11-year sentence to serve, was diagnosed with late-stage liver cancer on 23 May and granted medical parole days later, lawyer Mo Shaoping told AFP earlier today.
The 61-year-old democracy campaigner was being treated at a hospital in the northeastern city of Shenyang, capital of Liaoning province, where he was imprisoned.
The Liaoning Prison Administrative Bureau confirmed Liu's parole, saying in a statement he was being treated by "eight renowned Chinese oncologists" at China Medical University No 1 Hospital.
While it confirmed he was being treated for liver cancer, it did not say whether it was terminal.
"He has no special plans. He is just receiving medical treatment for his illness," Mo said.
The writer was sentenced in 2009 for "subversion" after spearheading a bold petition for democratic reforms. He was awarded the Nobel prize while in jail a year later and was represented by an empty chair at the ceremony in Oslo.
Human rights groups and supporters demanded that Liu be granted the best medical care in China or abroad and criticised his treatment.
Su Yutong, a Chinese activist exiled in Germany, shared a video on Twitter which she said showed the campaigner's wife, Liu Xia, sobbing during a video-call with a friend and saying her husband "can't have surgery, can't do chemotherapy".
Other friends of the couple told AFP they recognised Liu Xia in the footage.
While the Nobel Committee said it was "delighted" to learn that Liu was finally freed, it "strongly regrets that it took serious illness before Chinese authorities were willing to release him from jail".
"Chinese authorities carry a heavy responsibility if Liu Xiaobo, because of his imprisonment, has been denied necessary medical treatment," it said in a statement.
Human Rights Watch and Amnesty International called on the authorities to ensure Liu's family can visit him.
"Adding injury to insult, Liu Xiaobo has been diagnosed with a grave illness in prison, where he should never have been put in the first place," Amnesty's China researcher Patrick Poon said.
Citing two other cases of critics who died in detention, Human Rights Watch's China director Sophie Richardson said:
The government of President Xi Jinping needs to be held to account for permitting yet another peaceful critic to fall gravely ill while unjustly detained.
Bold petition
Asked about Liu's parole, foreign ministry spokesman Geng Shuang told a regular news briefing:
I am not aware of the situation you're talking about.
Liu is one of only three people to have won the Nobel award while jailed by their own government.
China strongly condemned the prize as foreign interference in its internal affairs.
Diplomatic ties and trade talks between Beijing and Oslo were frozen, with China halting Norwegian salmon imports. Relations were only normalised last December.
The international community has for years been calling for Liu's release.
Liu was arrested in 2008 after co-writing Charter 08, a bold petition that called for the protection of basic human rights and reform of China's one-party Communist system.
Charter 08, which was posted online, specifically demands the abolition of subversion as a criminal offence.
His poet wife has been under house arrest since 2010. She suffered a heart attack in 2014, when she was diagnosed with depression after years of detention, a rights group said at the time.
#Open journalism No news is bad news Support The Journal

Your contributions will help us continue to deliver the stories that are important to you

Support us now
She could not be reached for comment today.
 Tiananmen role
Liu is also known for his efforts to help negotiate the safe exit from Tiananmen Square of thousands of student demonstrators on the night of 3-4 June, 1989 when the military bloodily suppressed six weeks of protests in the heart of Beijing.
He was arrested immediately after the crackdown and released without charge in early 1991.
Liu was rearrested and served three years in a labour camp from 1996-1999 for seeking the release of those jailed in the Tiananmen protests and for opposing the official verdict that their actions amounted to a counter-revolutionary rebellion.
Liu, who holds a doctorate in Chinese literature, was once a professor at Beijing Normal University, but was banned from teaching at state institutions after his involvement in the 1989 demonstrations.
He was also banned from publishing in China but many of his writings advocating greater democracy and respect for human rights appeared in Hong Kong and overseas Chinese publications.
Some of these articles served as evidence in his most recent trial.
Liu was a leading member of the Independent China PEN Centre, a grouping of Chinese writers.