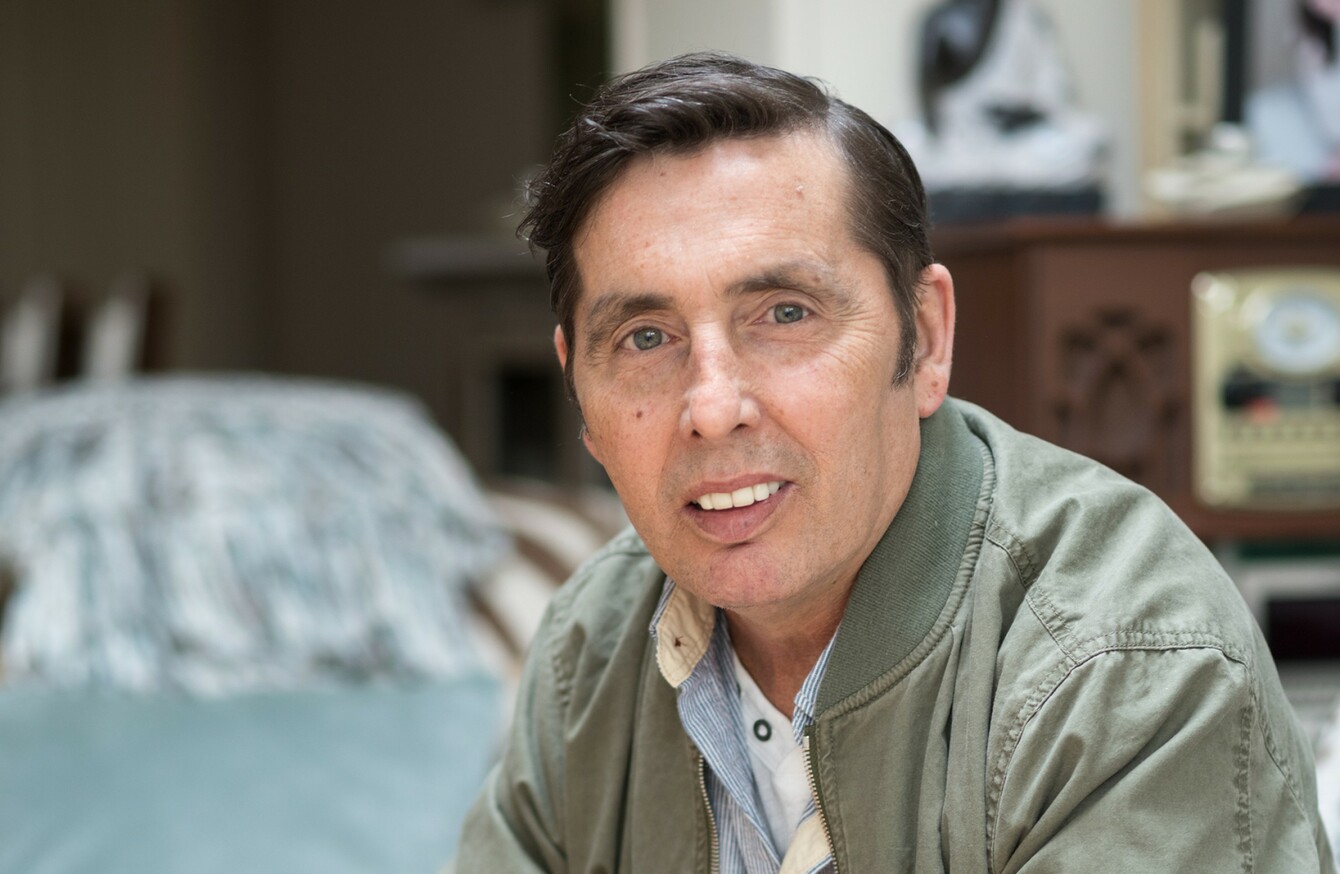 Christy discusses sexual abuse he suffered as a child, and drug addiction in the RTÉ doc tonight
Image: Melissa Mannion
Christy discusses sexual abuse he suffered as a child, and drug addiction in the RTÉ doc tonight
Image: Melissa Mannion
ON FRIDAY NIGHT, Aslan played their first outdoor gig in Dublin for nearly 30 years in the Iveagh Gardens.
"It was the best night of my career," lead singer Christy Dignam told TheJournal.ie today.
Tonight, a special RTÉ documentary will look at Dignam's life in the run up to the Iveagh Gardens gig, his drug addiction, his cancer diagnosis and the career of one of the country's most well-known musicians.
Before the documentary airs, we caught up with the Finglas native and spoke about being followed by a film crew, his health worries, and the feeling he gets every time he walks out on stage.
"They triggered memories"
The filmmakers for RTÉ have followed Dignam around since March, and he said the last few months have been "fairly hectic".
"It's been great as well though," he said. "They came to the hospital with me, they came to watch my grandson boxing in the stadium, and they watched me with the band.
"I'm sick of the sight of them at this stage," he joked.
Dignam said he'd been approached by the production company involved after he appeared on RTÉ's The Tommy Tiernan Show in early January. "I thought, fuck it I'll give it a go," he said.
Just a few weeks later, Dignam reminded audiences of his terrific singing voice on the Late Late Show, with a performance of the song Green Fields of France with Finbar Furey.
Source: The Late Late Show/YouTube
In the documentary, Dignam reveals how he was a victim of sexual abuse from a neighbour when he was six-years-old.
He says in the documentary: "People don't realise the amount of damage sexual abuse can cause to a person.
Right through my history and everybody that it has affected. It has affected my wife, it has affected my family, it affected all my brothers and sisters, it affected all the band and all their families. It is like a ripple effect.
Dignam told TheJournal.ie: "I think this is the first time I've really spoken publicly about it.
A lot of that stuff you had to dig deep for. I wanted to try be as honest as I possibly could. I wanted to give an honest account of me in it.
The documentary also dives in to his regrets on fatherhood, and the affect that his well-publicised drug addiction had on his family.
He says: "I've made a lot of dodgy decisions. I try not to regret things because I think it is a bit of a waste of time having regrets but I knew that I wasn't the best father I could have been. With Kiera, I just felt so bad that I wasn't there for her as a father."
As well as divulging intimate details from his own life, Dignam also got a shock during the production when the producers showed him archive footage that he had believed was long forgotten.
"It was weird," he told us. "They triggered memories – a lot of really, really great stuff that I'd forgotten ever happened. And then there was some dodgy stuff, I'd have preferred not to remember."
"Turn on a sixpence"
Dignam was diagnosed with cancer in 2013. He has received extensive treatment since then, including chemotherapy, and said that even now he is aware that he may not have that long left.
"I'm just being realistic," he told us. "There was a gig down in Limerick recently. I was feeling a bit dodgy and maybe should not have gone, but I said I didn't want to let people down.
"The next day I felt worse and had a really high temperature. Within two hours I was rushed to hospital where I was told I had sepsis as my immune system was utterly depleted.
It can turn on a sixpence. I know I could be gigging on a Saturday night and in hospital on the Monday.
At the time of his cancer diagnosis, a benefit concert was held for Dignam in the Olympia Theatre, with a plethora of Irish musicians showing their support from Horslips and Paul Brady to the Coronas and Damien Dempsey.
U2 also made an appearance, via a live stream from their New York recording studio.
"That was an amazing night," he said. "On so many different levels. I'd always wanted to see Aslan live – see what other people see – and this is the closest I'll ever get.
It was a huge compliment. I remember sitting there and seeing this picture of me on the stage and thinking "this is what happens when you're dead". It was just very surreal.
#Open journalism No news is bad news Support The Journal

Your contributions will help us continue to deliver the stories that are important to you

Support us now
Pigsty to the Point
Aslan wrote their acclaimed first album Feel No Shame in a pigsty on a farm near Dublin airport. "It was a literal pigsty," Dignam told us.
The album was released to phenomenal success in 1988. "It was a very healthy time for music in Dublin at that time," he said. "U2 had made it big and a lot of record companies were over looking for the next big Dublin band. That made all the bands up their game."
However, with top 10 hits, sold out tours and lucrative recording contracts on the table the decision was made to sack Dignam from the band.
"The record company said "these things happen, we'll get him into rehab", but the rest of the band didn't go for it," he said.
It's nothing to do with me being great. But there was a missed opportunity there. When the five of us got together, we were bigger than the sum of our parts, and we still are.
So whether it's the pigsty or the Point, Dignam still feels the same playing music with the group as he did over 30 years ago.
"We've gigged so much over the years, we've become a great live band," he said. "I still love doing it. The same joy is still there, and probably more so with me now."
Crediting the band's deceased manager Svenn Braamark with showing the band what they were truly worth, Dignam says that the band are more popular now than they were a decade ago.
"Before we hit it big," he said, "we were this north side band that nobody gave a fuck about. We've surprised a few people along the way.
There's a lot of smoke and mirrors in the music business. There's a lot shit, a lot of badness. I've always said the only thing that makes me tolerate it is those two hours on stage… It's fucking lovely.
This is Christy airs tonight Tuesday 11 July on RTÉ One at 9.35pm.