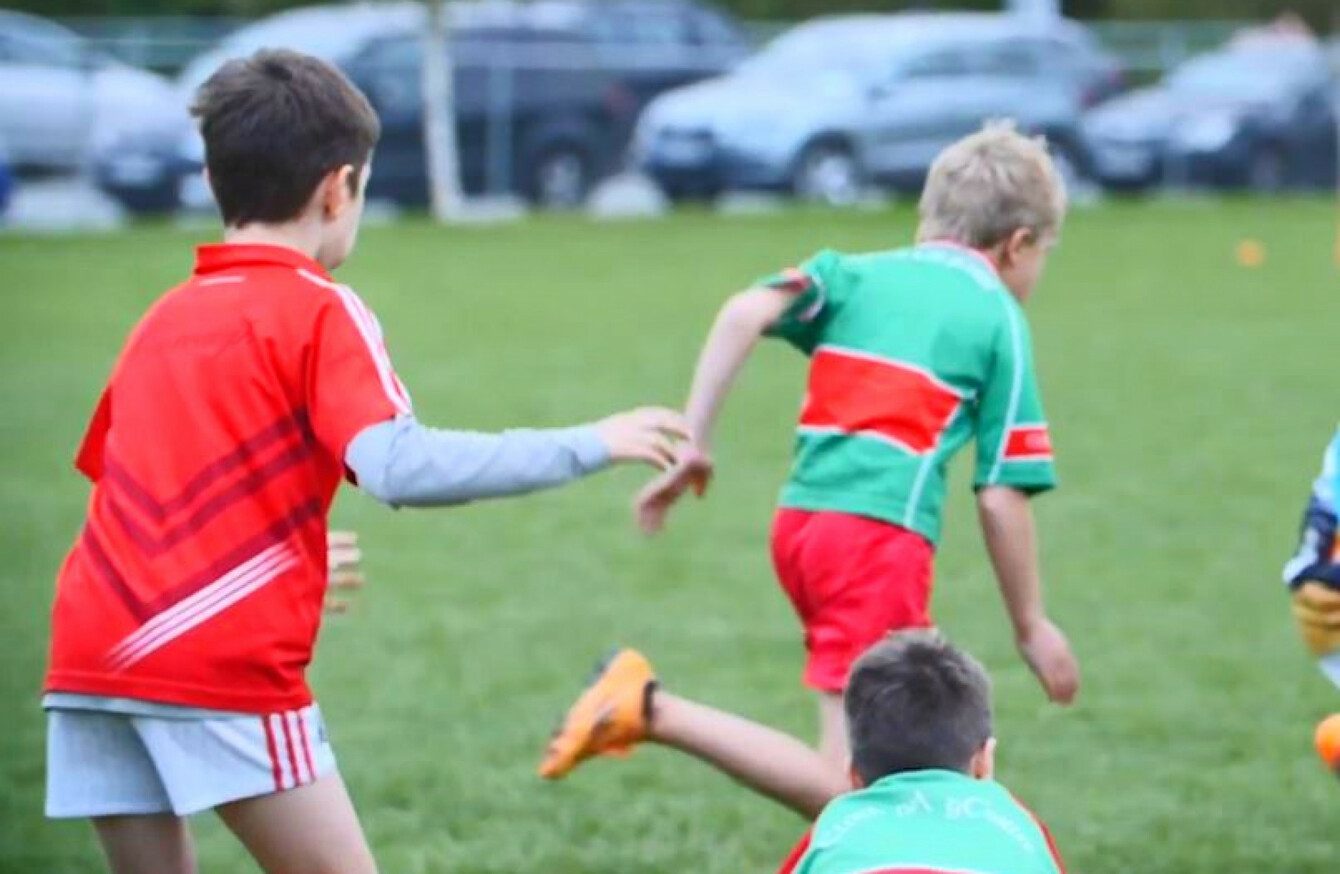 Young players at Clonakilty GAA Club.
Image: YouTube/SuperValuIreland
Young players at Clonakilty GAA Club.
Image: YouTube/SuperValuIreland
"SOMETIMES THE COACH will blow his whistle. This is a noisy whistle and can frighten me. I do not need to be afraid."
Clonakilty GAA Club is around five minutes' drive from the centre of Clonakilty, a busting West Cork town. It's home to the local hurling, football and camogie clubs, and is also one of many local organisations in the area to have created a 'visual guide' for people with autism – a short document with photos and text, outlining exactly how your first visit might go.
"Sometimes it is dark when I am training," reads another line. "There are big lights that light up the pitch when it is dark. These lights are bright."
Back in July of this year, the people of Clonakilty began working on an ambitious project with commitment from businesses, clubs and organisations in the area: becoming Ireland's first autism friendly town. 
Source: SuperValuIreland/YouTube
The initiative was part of a national autism awareness and education journey launched by SuperValu with the Irish autism organisation As I Am and the Middletown Centre for Autism
Making changes
After being approached by SuperValu to join the steering committee for the Clonakilty project, club chairman Ger McCarthy began to explore other changes that could be implemented in the clubhouse, on the pitch and beyond.
"My daughter is an educational psychologist so autism awareness was already on our radar. Before the project officially started we had run a pilot summer camp programme for kids on the autism spectrum," says Ger.
The feedback from that was brilliant, but really it was just dipping a toe in the water of what we could do to support people with autism. We were delighted to be able to join together and work towards the Autism Friendly status. It gave us more of a sense of direction and structure about what we could be doing as a club.
As part of the accreditation process, staff have set up a new quiet room to go to if sensory stressors like bright lights become an issue, and there's also signage showing that support dogs are welcome – an exception to the club's 'no dogs' rule. 
Inclusion matters
Coaches at the club participated in a two-day training course to help them offer support to autistic club members, and also to identify any barriers to offering that support.
"It's not just admin," says Ger. "We wanted to help raise awareness among all of our staff and members. Inclusion in all its dimensions is one of the core values of the club and it's very important that we uphold that. One in 65 Irish school-age children have an autism diagnosis, and with 710 kids in our club, you can see why inclusion matters."
Earlier this month, Clonakilty was officially awarded its Autism Friendly status, and a three-year plan will continue in the town with the support of SuperValu and AsIAm.
At the club, members have hugely welcomed the new resources. "The feedback has been so positive," says Ger. "Not just from families who the changes will directly impact, but from everyone."
As a sports club, we're a big influencer within the overall community, so it's important that we actively participate on an ongoing basis and help to raise awareness. Being an autism friendly town is about stepping into other people's shoes and looking at life from their point of view.
SuperValu is at the heart of 217 Irish communities and is committed to making positive changes to build inclusivity across Ireland. Find out more about SuperValu's autism friendly initiatives here.