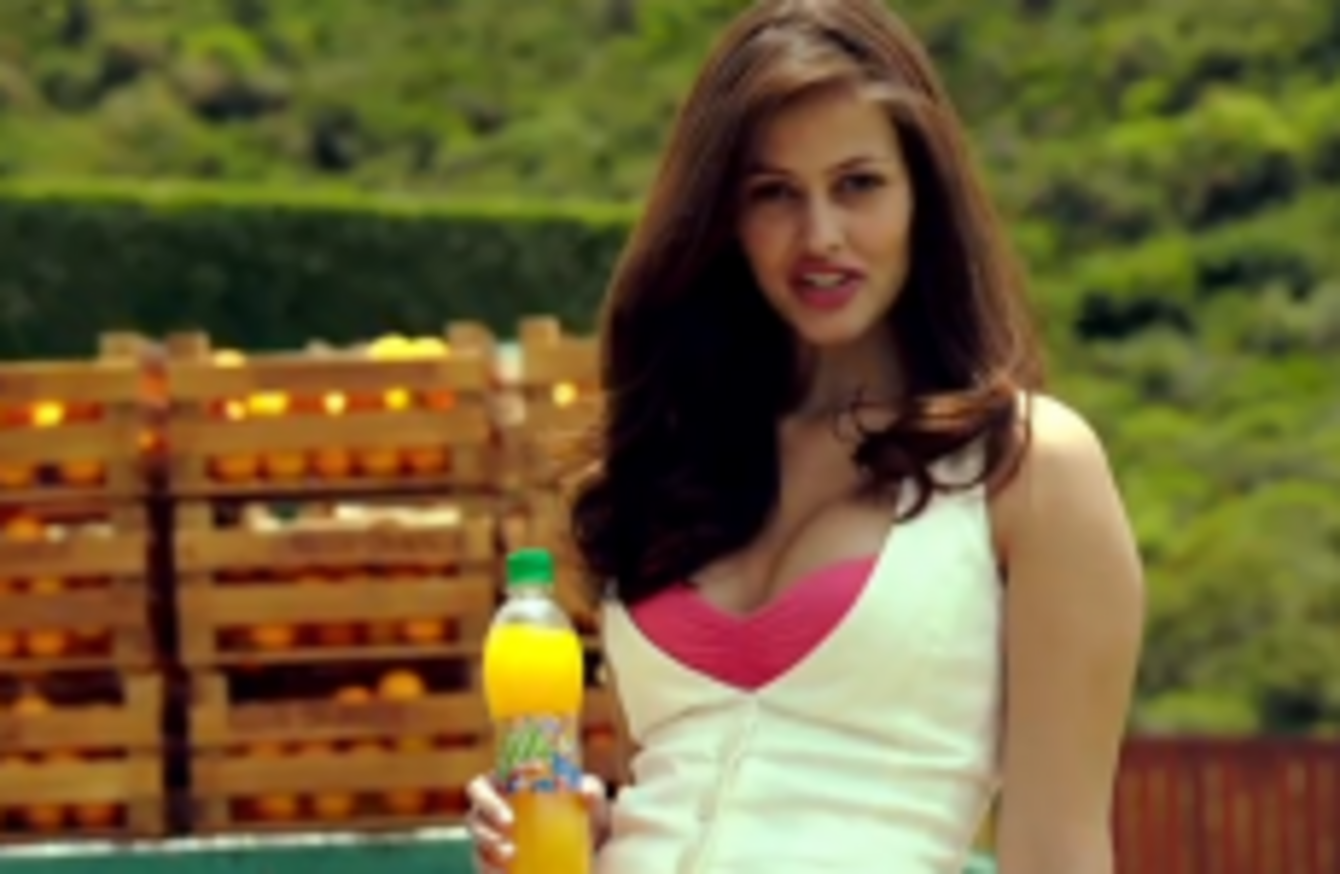 Image: YouTube screengrab
Image: YouTube screengrab
IRELAND'S ADVERTISING WATCHDOG has upheld complaints against Club Orange over its tongue-in-cheek adverts inviting viewers to sample its 'bits'.
The Advertising Standards Authority of Ireland upheld complaints against the outdoor bus shelter versions of the advertisements, which feature women wearing tight and revealing clothing – carrying oranges – and asking the viewer whether they want to 'get their hands on our bits'.
The body said the imagery of the ad, where oranges were intended to represent women's breasts, had been combined with the suggestive headline of 'the best bits' to use sexual innuendo "merely to attract attention, as there was no tangible link between a pair of women's breasts and the brand Club Orange".
The investigation had followed complaints that the ads were not suitable for public display, with one complainant arguing that women standing at a bus shelter might feel uncomfortable doing so if the ad was displayed there.
Club had defended the ads, saying the 'bits' were a well-known part of the Club Orange product which the ads had sought to accentuate. It added that the Club Orange brand was "known for its quirky and unconventional sense of humour".
"They stated that the advertisement did not contain graphic imagery but used light-hearted innuendo in an attempt to draw attention to the natural ingredients included in the product," the ASAI said in its summary of the complaint.
"They also did not consider that the use of outdoor media was inappropriate for this campaign."
The decision means the ads must now be edited or withdrawn – though because the complaints were only made against the outdoor version of the ads, and not the more widely-known TV equivalent, the broadcast versions are still cleared for air.

(YouTube credit: cluborange)
Other complaints upheld included those against Ryanair, who were found to have advertised an air fare which transpired not to be available when customers tried to take it up. In that instance, Ryanair was invited to submit a response to the complaint, but declined the opportunity.
An Eircom radio ad was also criticised for mistakenly referring to 8Mb (megabit) broadband as an 8MB (megabyte) service, meaning the advert claimed that the service was up to eight times faster than it actually was.
A complaint against a TV ad for DoneDeal.ie – where a viewer had complained that an ad, in which a woman sells her husband, had depicted slavery or human trafficking – was rejected, however.
The ASAI said that while human trafficking was naturally a real and serious issue, the situation portrayed in the ad "was so unrealistic" that it was "not intended to be an endorsement of a particular type of behaviour".
Similarly rejected was a complaint against ads for Lynx deodorant lampooning the fictitious complaint of 'premature perspiration'. The complainant unsuccessfully argued that the advertisement portrayed sweating "as something other than a natural bodily function".