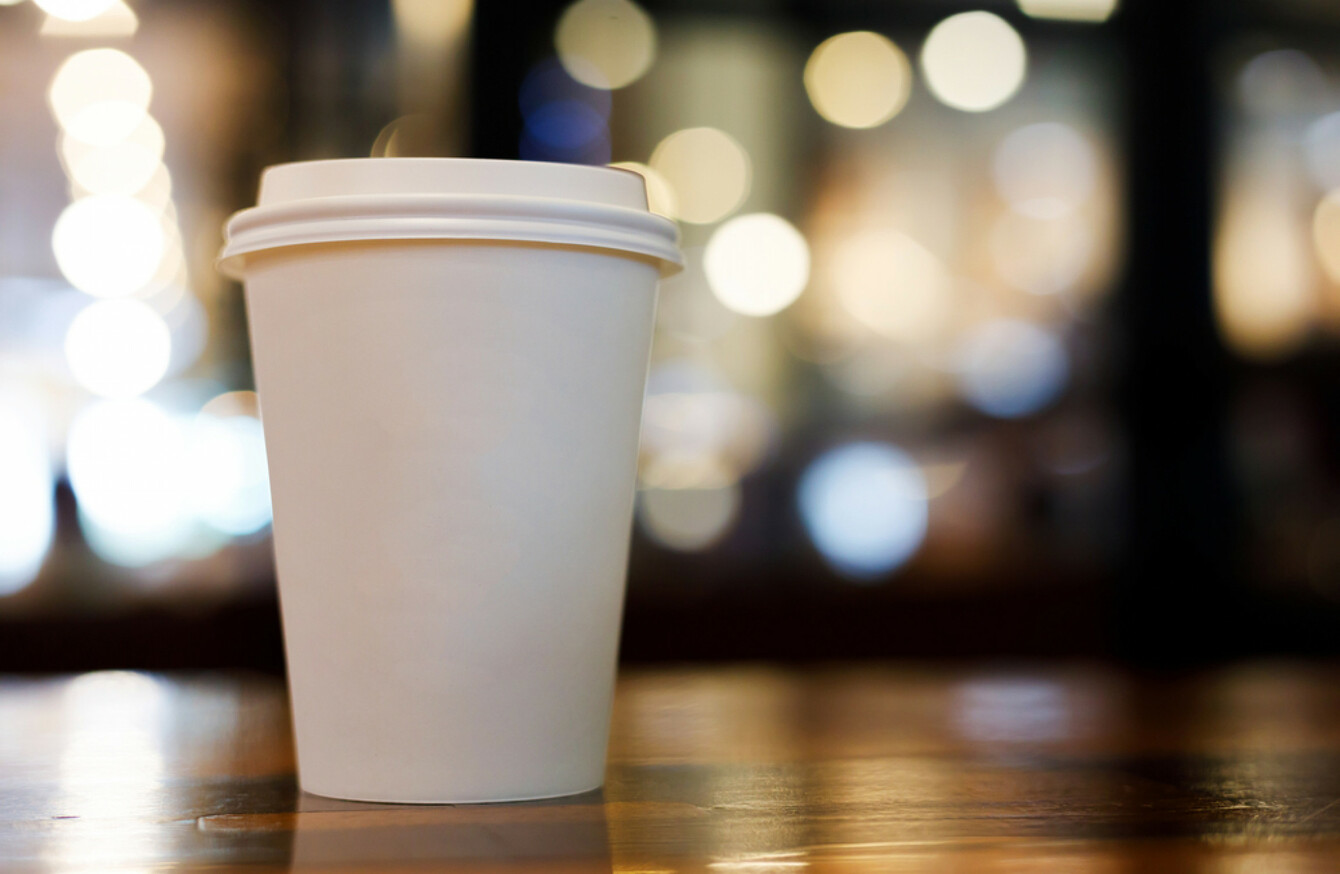 Image: Shutterstock/Suti Stock Photo
Image: Shutterstock/Suti Stock Photo
Up to 200 million single use coffee cups are thrown away every year in Ireland, according to a new recycling report.
The study by the Government-funded Recycling List Ireland found that 528,000 are thrown away every day which works out 22,000 an hour or 366 every minute.
The group warned that while many disposable cups carry the recyclable logo, the actual cup is not currently recyclable in Ireland and must be disposed of in general waste.
The logo refers only to the plastic lids and the cardboard sleeves on some cups, which can be removed and placed for recycling.
Waste Prevention Officer with the Southern Region Waste Management Office and Recycling List Ireland's Pauline McDonogh said we need to make changes as a country.
She explained: "As disposable cups are made largely from paper many people believe they can be recycled, but unfortunately this is not the case. These cup are lined with plastic polyethylene which is fused to the paper making the cups waterproof but also difficult to recycle.
"Of course single use cups are also contaminated by the drink they contained, which is yet another reason why they cannot be added to the bin of clean and dry recyclables."
As many as six single use coffee cups are disposed of every second in Ireland, which results in a lot of non-recyclable waste in the form of 528,000 single use cups every day. Right now the only way to combat this waste is to reduce our dependency on these single use coffee cups.
Recycling list Ireland is appealing to consumers to consider using a ceramic cup in their local cafe or bring along a reusable cup for their take away coffee. The group said that once the reusable cup has been used more than 15 times, it is more sustainable than a disposable cup.
McDonogh added:"It is worth noting that more than 1,000 cafés in Ireland are now giving a discount to consumers with a reusable cup so long-term a reusable cup can make environmental and economical sense. Participating cafés are geo-tagged on www.consciouscup.ie."
Minister Denis Naughten has recently written to all supermarket CEOs calling on them to reduce their use of non-recyclable plastic packaging for fruit and vegetables.
The letter, seen by TheJournal.ie, was sent to all the major supermarket chains operating in Ireland, asking them to set out what measures they could introduce to minimise the use of non-recyclable plastic packaging of fruit and veg.
Naughten is currently considering a range of environmental levies on non-recyclable, single-use plastic products, such as a 'latte levy' on non-compostable coffee cups and plastic cutlery.
Last year, he also announced that plans were underway to introduce large-scale recycling bins outside supermarkets in a bid to tackle waste at source.