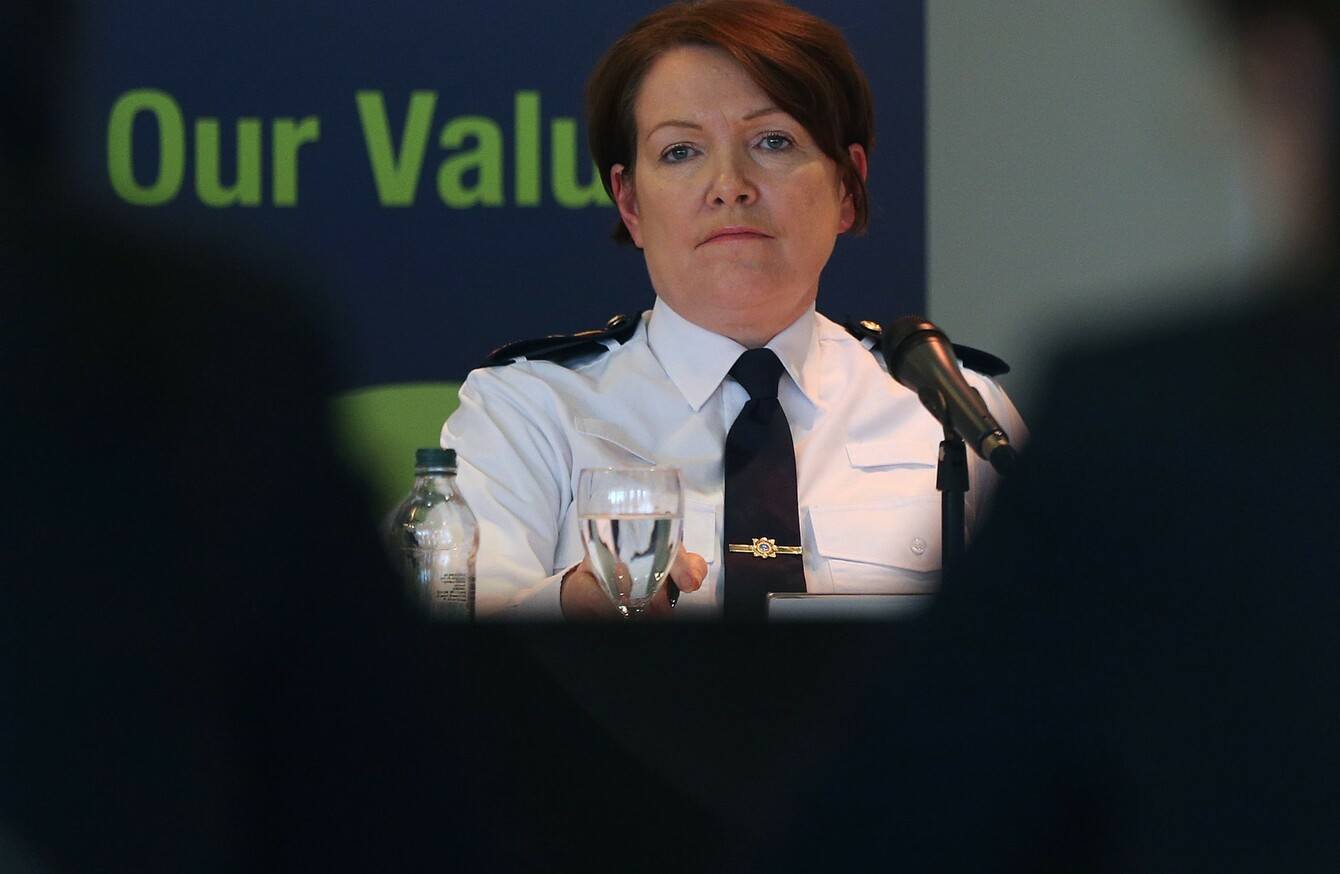 Image: PA Wire/PA Images
Image: PA Wire/PA Images
GARDA COMMISSIONER NÓIRÍN O'Sullivan's evidence to the Public Accounts Committee (PAC) in relation to the alleged misappropriation of millions of euro at the Garda College has been contradicted by one of the force's most senior civil servants.
O'Sullivan had initially told the PAC that she had found out about the cash controversy at Templemore during "a brief chat" with An Garda Síochána's Head of Human Resources John Barrett over a cup of tea, something he instantly denied.
Barrett told the PAC that he had taken extensive minutes of the meeting which he said lasted over two hours.
And tonight, after a report by RTÉ Prime Time and The Irish Times earlier today, it emerged how Barrett was told to be "very careful" in how he goes about raising concerns over the missing money.
The 122 page document which was handed to the PAC today details how Barrett had raised concerns after an audit which was carried out found evidence that public monies were being spent on entertainment and luxury gifts.
According to Barrett's notes, he urged the Commissioner to make the Justice Department aware of the situation, as was her duty.
He had made extensive notes detailing who was at the meeting, what was said and when it ended.
O'Sullivan decided to set up an internal inquiry into what had happened instead of contacting the Department of Justice, something which frustrated Barrett.
According to RTÉ, he said he saw "a real risk that the matters being addressed internally [could] be later misconstrued as a cover-up if we do not reach out to the appropriate offices of State externally and internally".
In the months following his meetings with senior garda figures, a number of responsibilities which Barrett would have had as the Head of HR were taken from him. These included controlling internal affairs and garda procedural matters.
In the more than five-hour hearing at the PAC meeting last week, the Commissioner told politicians that she first became aware of the extent of the issues when she received a report with recommendations from her head of legal affairs on 28 July 2015.
Barrett had become aware of audits from 2008 and 2010 that identified accounting irregularities, and flagged them with his chief administrative officer. He had then compiled a report bringing the contents of these two audits together.
"My memory is that it was a brief meeting," the Commissioner commented, in response to his contradiction.
Contradiction
Addressing journalists at Farmleigh House late last week, O'Sullivan  rejected any claims that she had misled the PAC, she said: "Regardless of how long the meeting took place in the Garda College, I think the issues speak for themselves."
Assistant Commissioner John O'Driscoll will now examine a report conducted by the force's head of audit, Niall Kelly, and will make recommendations including whether or not an official criminal probe into activities of senior gardaí at Templemore should begin.
The Commissioner said:
I have an Assistant Commissioner examining the report to see if there are any issues from civil, criminal or administrative law perspectives arising from it. He will make recommendations and they will be fully addressed.
O'Sullivan also stressed that "under no circumstances" did she mislead a Dáil committee last week.
Sinn Féín has once again called for O'Sullivan to step down.
Gerry Adams said: "Further damning documentation has been given to the Public Accounts Committee which completely undermines the account given last Thursday by Commissioner O'Sullivan about her conversation with Executive Director of Human Resources, Mr John Barrett regarding financial irregularities in Templemore.
"This is just the latest in a long list of scandal surrounding the management of An Garda Síochána.
"It is incredible that the Taoiseach has reiterated his confidence in the Garda Commissioner.
"The Commissioner's position is untenable."
With reporting by Michelle Hennessy