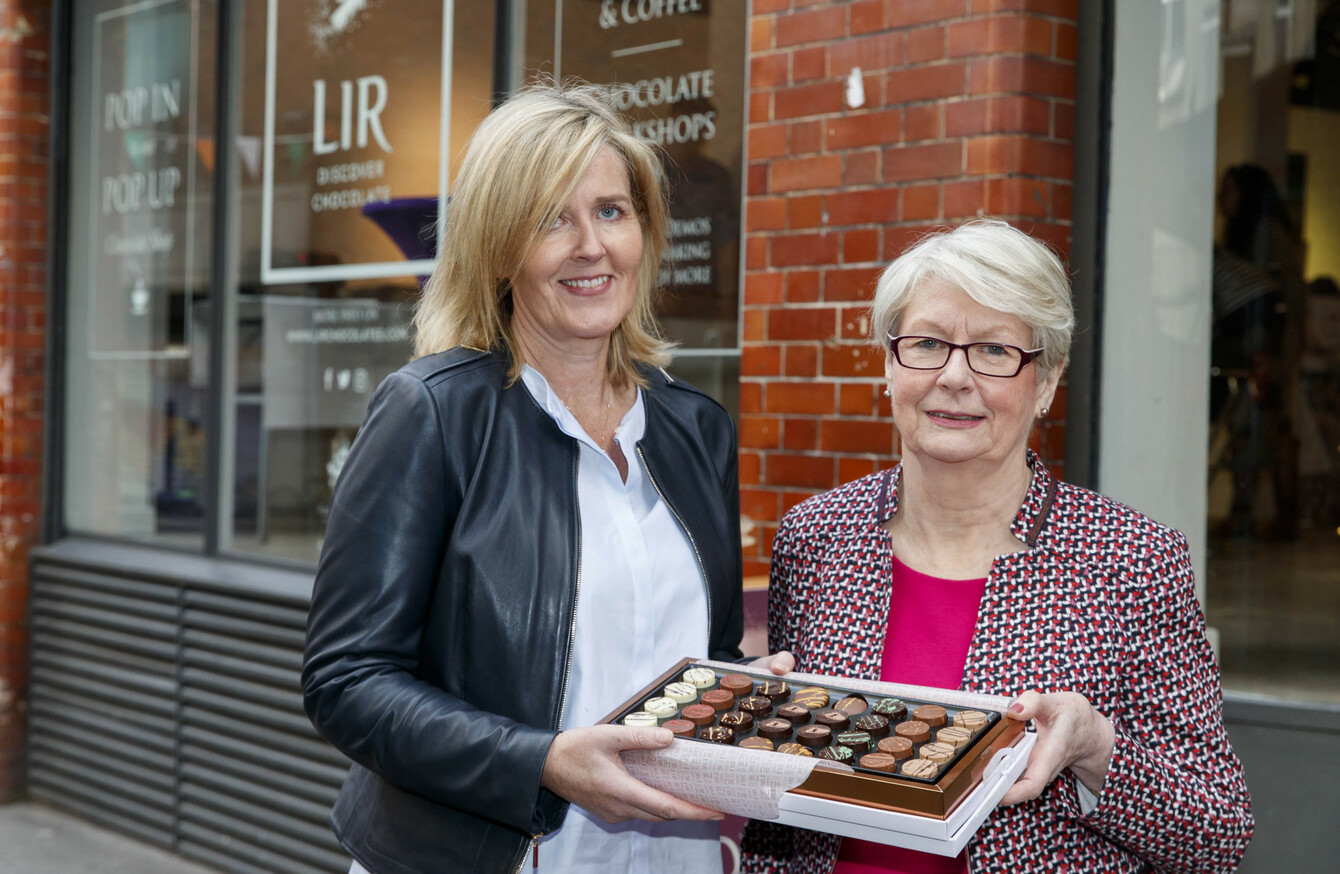 Image: Andres Poveda
Image: Andres Poveda
MANY PEOPLE WHO are working now will be lucky if they can retire at 66. Connie Doody was forced to retire from her first job at just 23.
That was because Doody, the co-founder of Lir Chocolates, one of Ireland's best-known chocolate businesses, got married.
Upon completing her Leaving Cert at 18, Doody landed a job with the civil service working as an executive officer at the now-defunct Department of Post. Doody was responsible for examining insurance policies and dealing with break-ins.
She half-laughs as she says that some may have found it a bit boring, but she was happy with the work.
"It was very well paid, I was delighted," she tells Fora. "(But) I got married at 23 and had to retire; it was the way that it happened in those days.
"Looking back it seems archaic, but that was the reality. The idea was that men had to have jobs, so women could be dispensed with. We didn't question things much, there were no surprises. It was the deal that you had when you went in."
The marriage bar was lifted two years later as Ireland slowly started to modernise its labour market, but Doody was already ahead of the times.
While she returned to the public service to teach, by night the Roscommon native was studying for a bachelor of commerce so that she would be able to launch her own business.
It would be more than 10 years before Doody was in a position to seriously try to start her new project, by which point Ireland was in the grips of the 80s recession, one of the most severe in the country's history.
"I knew that I couldn't do all the functions that were required to run a business, so I was keen to meet someone with marketing interests," she says.
"In the mid-80s there was a group called 'Dundrum for Success' that was about creating employment. I joined that and met Mary White there.
"We had chats about chocolates and Mary decided to give up her permanent and pensionable job in architecture to join me. I was 40 by the time we started, (but) I was totally determined that I would do it. I wasn't planning on giving up."
Starting out
The pair started out making chocolates in Doody's kitchen in 1986, employing other local women to help them. At the start they focused on producing truffles "because that was all we could make".
The chocolates proved a hit, leading Doody to set up a full-time operation in Dublin's East Wall. The company slowly began to sell to more major retailers as it continued to grow.
Doody and White both began to step back from overseeing all parts of the business, with White's role greatly reduced when she was elected to the Seanad in 2002.
Nevertheless, the company continued to grow, moving to a larger manufacturing facility in Navan, and in 2007 it piqued the interest of Zetar Plc, a UK-based chocolate maker.
"My role in the company at that stage was all about chocolate, I wasn't doing accounts or managing staff," says Doody.
"I was at the stage in my life where I was happy to take a lesser role in the company. We closed a deal by the end of 2007 (and sold Lir to Zetar). You do things when the time is right, and it was the right step at that time."
She adds: "Nothing much changed for me afterwards. Me and Mary were still board members. We got money to help with production and getting a warehouse.
"Zetar didn't send in a new team of managers …. we managed to maintain our independence. I had no sense that I lost out, it was a good opportunity for me to be less involved."
Different sales
As part of Zetar, which was itself taken over by German food giant Zertus, Lir has expanded rapidly. The firm is now headed up by managing director Ann Murray and employs about 300 staff, who are mostly based at its production facility in Navan.
It is one of the largest confectionery companies in the state, with sales of almost €27 million in 2015. The company made a €1.5 million profit during the year, bringing its accumulated profits to €6.5 million.
Lir has three main arms to its business. The first is the chocolate trays sold under its own name and brand.
The second is its retail operation, in which Lir makes chocolates that are sold by retailers under the stores' names – Dunnes Stores, for example, sells chocolates made by Lir as an own-label brand.
Source: dunnesstorestv/YouTube
Finally, Lir also has a licensing agreement under which it produces chocolates for two other brands, Baileys and Guinness.
While a decent chunk of its produce is sold in Ireland – about a fifth of its output – the majority is exported.
Markets
The UK is the Lir's second biggest market, followed by continental Europe and the US. While the chocolates are geared more towards the higher end of the market, the company says it targets all consumers and retailers.
"We sell through grocery stores and airports. We're targeting everyone who could buy them," says Doody.
#Open journalism No news is bad news Support The Journal

Your contributions will help us continue to deliver the stories that are important to you

Support us now
The company has plenty of competition from indigenous companies when it comes to the sales of its Lir-branded products, while it also competes with larger multinationals in its business selling to third-party brands.
Doody says that Lir tries to set itself apart by keeping up to date with chocolate trends and continuously producing something new to keep retailers engaged.
"The chocolate that we use has a good taste as well as attractive packaging which is very important; you eat with your eyes," she says.
"We would have a reputation for using the best ingredients and we have hand-finishing as well."
Doody says that the long-term goal for the company is to continue to expand outside of Ireland.
"We want to internationalise ourselves. We are selling into continental Europe and the US and we are aiming to grow and develop that," she says.
The firm is also planning a big 'relaunch' into the Irish market over the next few weeks, with a packaging re-design and a major marketing campaign.
Doody, now 71, says she has no plans to stop working anytime soon. She works two days a week during which she functions as the company's self-proclaimed "chocolate guru", thinking up new designs and sweets.
"My love is chocolate. I work two days a week and am very happy with that, and it's what I'll continue to do.
"It's my hobby as well as my work, I really enjoy it. If I'm not happy with my situation I change it, it was why I started the business in the first place as I wasn't happy in other employment. If I become unhappy I'll address that issue then."
This article is part of our weekly series examining the nuts and bolts of businesses. If you would like to see your company featured please email news@fora.ie.
Written by Paul O'Donoghue and posted on Fora.ie