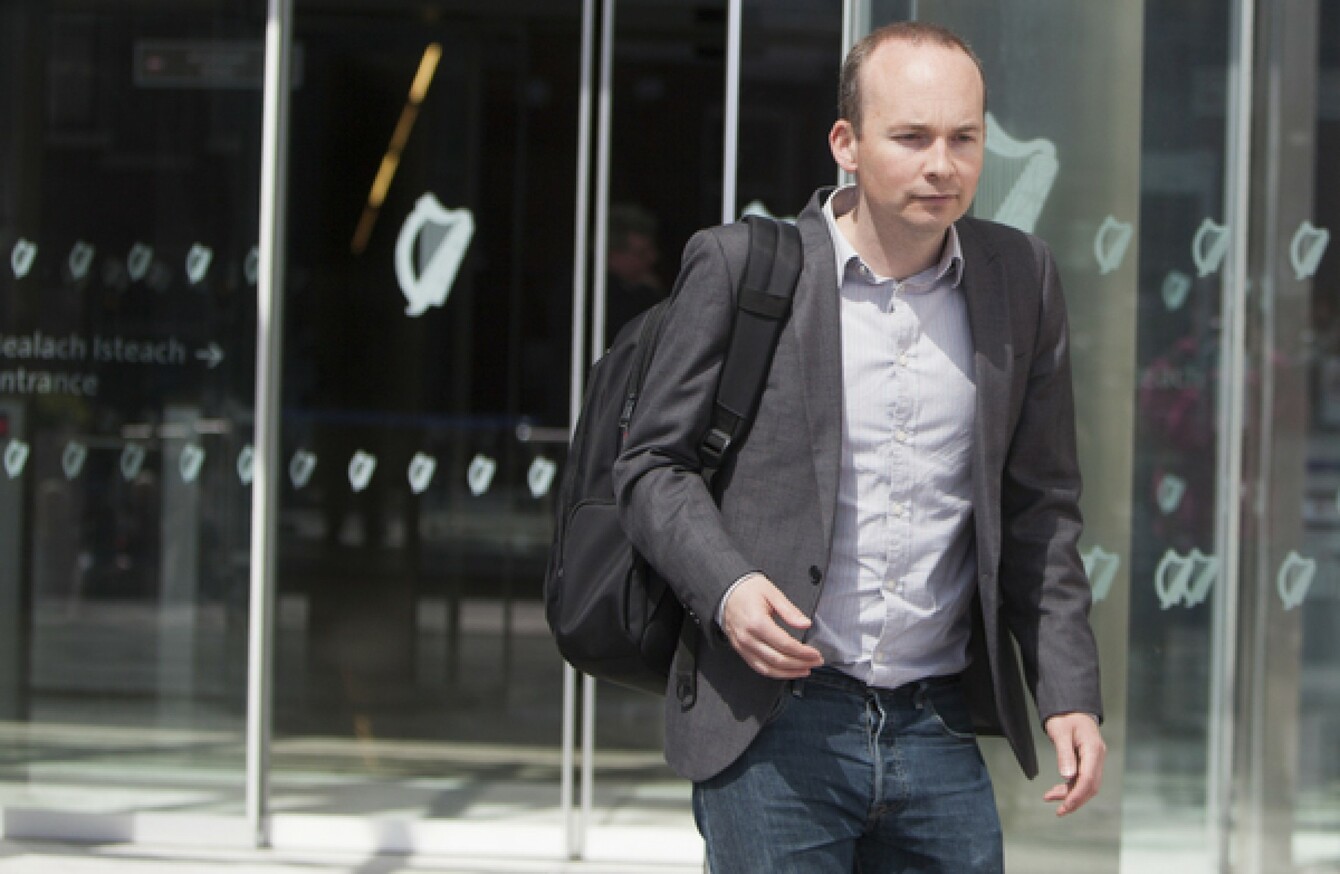 Solidarity TD Paul Murphy outside court.
Image: Leah Farrell
Solidarity TD Paul Murphy outside court.
Image: Leah Farrell
Updated 6.35 pm 
VIDEO FOOTAGE HAS been played in the trial of Solidarity TD Paul Murphy showing fellow protesters apparently shouting at the politician and telling him to "mind his own business".
"The crowd had some animosity towards Paul Murphy", defence barrister Raymond Comyn SC said at the Dublin Circuit Criminal Court trial today.
Comyn was cross-examining Garda Inspector Derek Maguire, who was giving evidence on the 12th day of the trial of Paul Murphy and six others who are charged with falsely imprisoning Ms Burton and her adviser in cars for about three hours.
Murphy (34) along with South Dublin Councillors Michael Murphy (53) and Kieran Mahon (39) and four other men have pleaded not guilty to falsely imprisoning Burton and her advisor Karen O'Connell on 15 November, 2014.
The two women were attending a graduation ceremony at An Cosán adult education centre in Jobstown when anti-water charges protestors began demonstrating around them.
RTÉ footage was played which showed protesters apparently shouting at Murphy as he spoke to members of the gardaí. One man could be heard shouting "Mind your own business," at Murphy, Comyn said.
Comyn put it to Insp Maguire that the crowd had "some animosity" towards Paul Murphy.
"There were a lot of people shouting at Mr Murphy," Comyn said. Insp Maguire said he didn't know if the people were shouting at Murphy.
However, he agreed with Comyn that Murphy appeared to be making "soothing motions" with his hands towards the crowd.
Comyn put it to Insp Maguire that another man said, "Paul, if you go on with that propaganda shite, I'll break you."
Insp Maguire said he thought that man was talking to someone else.
Earlier, Insp Maguire denied that he made an agreement with Murphy in an attempt to bring the protest to an end.
The court heard Insp Maguire and two other senior officers had a conversation with Murphy towards the end the protest while protesters were surrounding the car.
Sean Guerin SC, representing Paul Murphy, put it to Insp Maguire that Murphy told the officers that if they pulled the Public Order Unit back, then protesters would resume a "slow march", allowing the Jeep to resume its slow progress.
"I suggest to you there was an agreement," Guerin said.
Insp Maguire said it was a garda decision to pull back the Public Order Unit. "The tactic of using the Public Order Unit hadn't worked," he said.
Insp Maguire said he "conceded" that after the Public Order Unit was pulled back, the slow march got going again.
Guerin put it to Insp Maguire that he agreed under oath during a previous court hearing that there was an agreement with Murphy that the Public Order Unit would withdraw and the slow march would continue.
"I don't recall saying there was an agreement," Insp Maguire said.
He said the public order unit "was pulled to the side because it was a tactic that hadn't worked and a slow march continued. I hadn't agreed to this. There was no agreement between the two of us."
#Open journalism No news is bad news Support The Journal

Your contributions will help us continue to deliver the stories that are important to you

Support us now
Insp Maguire said he couldn't remember what he or the other officers said to Mr Murphy during the discussion. "That's a remarkable failure of recollection," Mr Guerin said, adding it was the first time the situation was "leaning towards a resolution".
Insp Maguire said Guerin was "painting a false picture".
"I don't think any conversation with protesters brought a resolution to the situation," he said.
Vote
Footage was also played of Murphy calling on the crowd to vote on whether to "march her out of here or keep her here".
Murphy and his co-accused, Michael Murphy, voted for Burton to be marched to the bypass within the next half hour, Guerin said. However, protesters voted to keep Burton there.
Murphy then asked the protesters again what they would prefer.
"Having lost his first vote, a little bit like the Lisbon Treaty referendum, Mr Murphy re-ran the vote," Guerin said.
Insp Maguire agreed, but added, "He said he didn't care either way."
Paul Murphy of Kingswood Heights, Tallaght; Kieran Mahon of Holbrook Grove, Tallaght; Michael Murphy of Whitechurch Way, Ballyboden, Dublin; Frank Donaghy (71) of Alpine Rise, Tallaght; Ken Purcell (50) of Kiltalown Green, Tallaght; Michael Banks (46) of Brookview Green, Tallaght and Scott Masterson (34) of Carrigmore Drive, Tallaght have denied the charges.
The trial resumes tomorrow before Judge Melanie Greally and a jury.
Comments have been turned off as legal proceedings are ongoing.