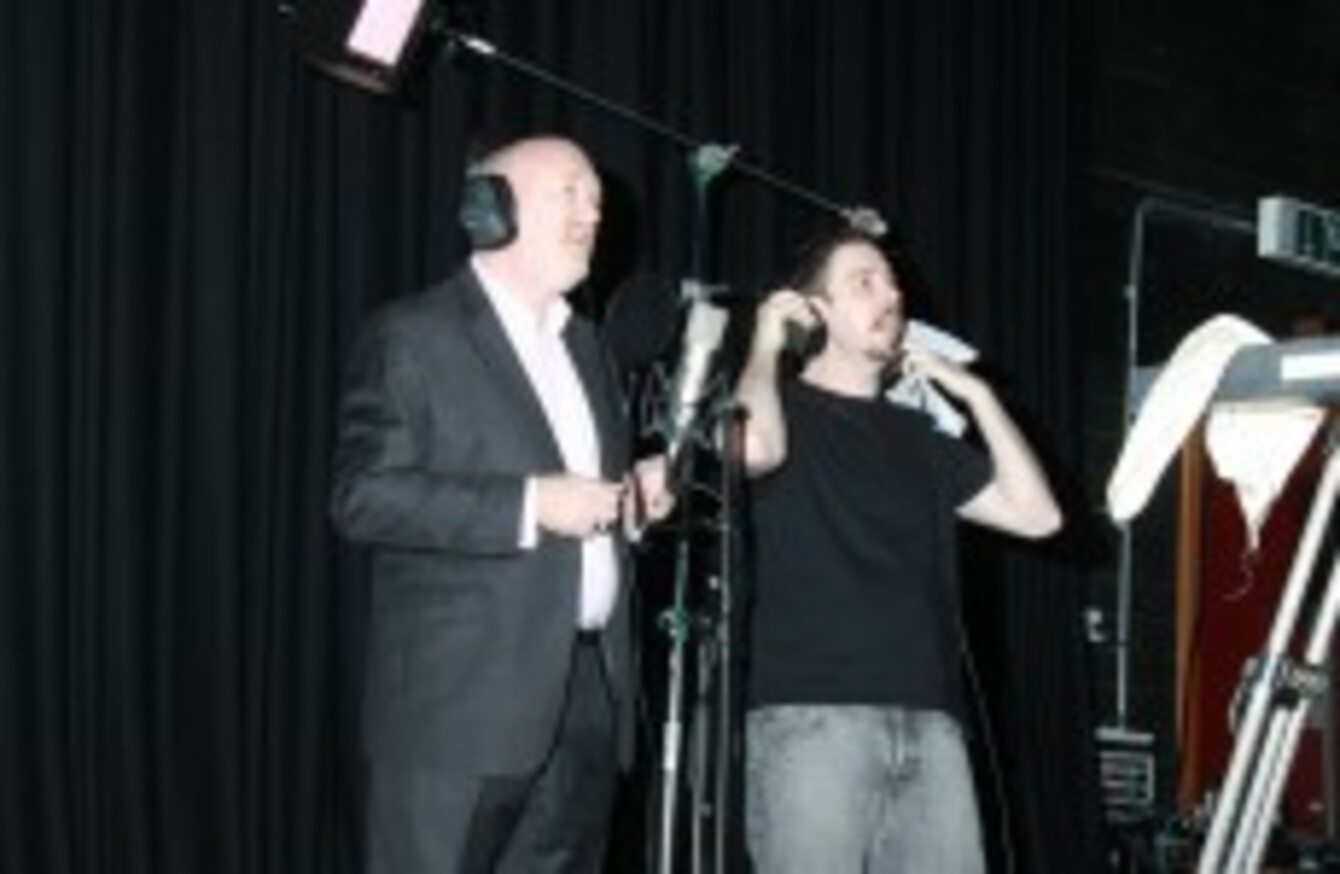 Fine Gael TD Derek Keating gets in tune at the recording of the single at the weekend
Fine Gael TD Derek Keating gets in tune at the recording of the single at the weekend
This year's X Factor winner could face competition from an unexpected source in the race to the Christmas number 1 next month – the Oireachtas.
Ok, it's not exactly Matt Cardle or Joe McElderry, but a bunch of TDs and Senators have put aside their party allegiances and recorded a song together for a suicide prevention charity.
The all-star version of 'Bridge Over Troubled Water' will be released in a few weeks, and organisers are hopeful that it could grab the coveted Christmas number 1 spot.
Eighteen TDs and Senators took part in the recording, the initial part of which took place at the weekend in Ballyfermot Senior College – and there are "quite a number of solos" in the song, according to organiser Fine Gael TD Derek Keating.
"Everyone sounded great. I do think it takes a certain amount of courage especially for people not used to that role," said the TD for Dublin Mid-West, speaking to TheJournal.ie.
Some of the Oireachtas members who are taking part include Fine Gael TDs Lucinda Creighton, Simon Coveney and Peter Mathews, Labour TD Joan Burton, Fianna Fáil Senator Averil Power, and Independents Stephen Donnelly, Mick Wallace and Finian McGrath.
Several Oireachtas members who couldn't make the recording session at the weekend will lay down their individual vocals later this week.
Volunteers came from all parts of the Dáil and Seanad – "I wanted to ensure that all parties and none were represented, male and female, Dáil and Seanad," says Keating. "I think we've managed to get a good representation there. People were very committed to the project".
Keating said that it's something he had been hoping to do ever since he was elected to the Dáil earlier this year. The TD is a director of Pieta House, which works to prevent suicide and self-harm, and royalties from the single will be going to help fund its work.
"I chose the song because it's very beautiful and very well-known," says Keating. "The sentiments expressed in the song are a reminder that people often go through troubled times in their lives but there a bridge that is available over troubled waters, and that is places like Pieta House".
Once Keating put the plan into action, help came from a number of sources. The Dublin Gospel Choir and LGS, a gospel choir from Lucan, provided help with the vocals, while Jim Sheridan, the musical director of the Late Late Show oversaw the project. Noel Recruitment are the main sponsor behind the project.
"The purpose was to send out the clearest and strongest message to the people of Ireland, particularly those most at risk or vulnerable, that we care, we want to help, and we want to let people know that they're not on their own," says Keating.
Other Oireachtas memebrs taking part are Padraig MacLochlainn (SF), Regina Doherty (FG), Robert Troy (FF), Terence Flanagan (FG), Michael Ring (FG), Lorraine Higgins (Lab) and Eamonn Coghlan.
The song and accompanying video will be released in the run-up to Christmas – and we'll post it here as soon as we have it…