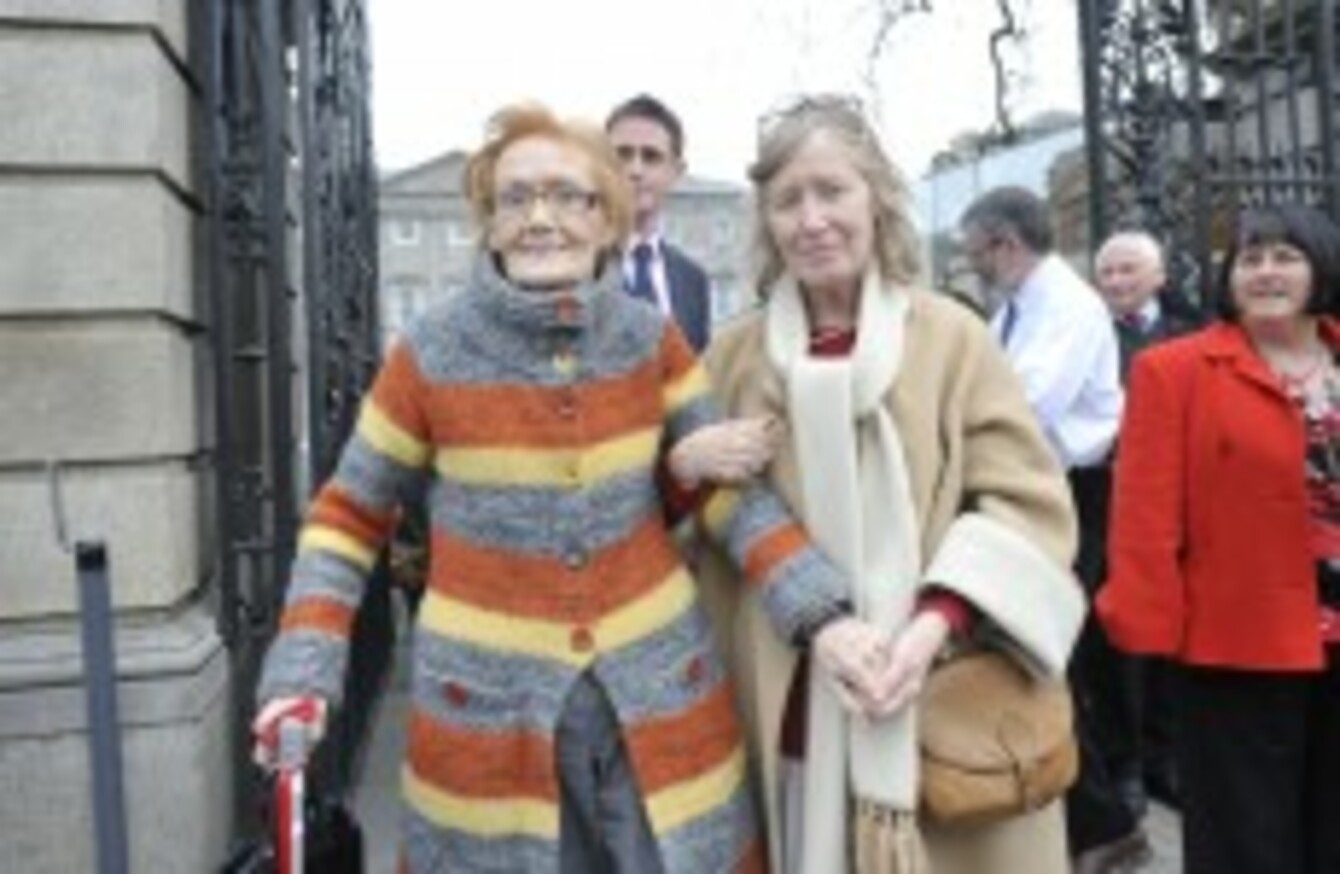 Marin O'Moore, symphysiotomy survivors with her daughter as they leaving the Dail
Image: Sasko Lazarov/Photocall Ireland
Marin O'Moore, symphysiotomy survivors with her daughter as they leaving the Dail
Image: Sasko Lazarov/Photocall Ireland
A NUMBER OF women from the Survivors of Symphysiotomy (SOS) group were in Leinster House today for a Dáil debate on the procedure that left many of them with life-long chronic pain and a host of other medical problems.
The group is seeking to have the statute bar lifted so they can seek redress through the courts for the permanent damage they suffered as a result of symphysiotomy, during which their pelvises were unhinged.
They also want a public, independent inquiry to be established to examine why the procedure was still used in Ireland, long after it was discontinued in other European countries.
During the operation, a woman's pelvis is widened by up to 3.5 cm to allow for vaginal birth when labour is obstructed. It was an intervention used in the 18th and 19th centuries to reduce maternal and infant death when Caesarean section was not the chosen path.
The Survivors of Symphysiotomy group, however, claims that many of the operations in Ireland after 1940 were carried out – without prior knowledge or consent – "mainly for religious reasons, by obstetricians who were opposed to family planning".
"The surgery was exhumed at the National Maternity Hospital by doctors who were hostile to the idea of family planning and who were looking to replace Caesarean section with an operation that would facilitate large families," they say.
The support group has also called for full access to promised health benefits and entitlements to be enshrined in law.
The Minister for Health James Reilly has received a draft report from an independent researcher who examined the practice – how often it was used, why it was used and when practices were changed. On submitting her report in January 2012, she told the Department of difficulties she experienced accessing historical data. Reilly has now asked the Attorney General whether he can make that report available for consultation purposes.
In the Dáil today, the Minister outlined that the medical procedure was primarily used before the advent of safe Caesarean sections.
He admitted that the practice was used for some time after it was discontinued in other developed countries, most notably in Our Lady of Lourdes Hospital in Drogheda.
It has been suggested that some 1,500 symphysiotomies took place between 1944 and 1992. At the Coombe and National Maternity hospitals, it was used in 0.35 per cent of deliveries.
Reilly said he was "conscious of the distress…and pain" that symphysiotomy has caused, adding that the Government was committed to dealing with the matter "sensitively".
My first priority is to make sure that the health needs of those who have had a symphysiotomy are met quickly and effectively. With this in mind, I am committed to ensuring that the greatest possible supports and services are made available to women who continue to suffer effects of having undergone this procedure.
A cross-party Oireachtas committee has been established to highlight the plight of the women who underwent the procedure between 1940 and 1984. They heard from the victims last night and Fianna Fáil TD Billy Kelleher said the "sad stories" were "emotive, disturbing and upsetting".
"Many of the survivors have been left permanently disabled, incontinent and in constant pain. I find it astonishing that no person or agency has ever been held accountable for these cruel and unnecessary operations," said Senator Mary Moran ahead of today's debate.
Carlow Kilkenny representative Ann Phelan pleaded for full access to the legal system for victims of symphysiotomy. She said that because the Statute of Limitations has run out, they cannot seek redress in the courts.
This could – and should – be amended, added the Labour TD, who also called for the HSE to help survivors gain access to their medical records, something some have not yet been able to do.
She met with victims last week and said the "awful practice" was made worse because consent was not given in  many cases. "Nor was the full extent of the operation and its aftermath fully explained to the women who underwent the operation."
Her party colleague Anne Ferris echoed the sentiments, stating the practice has had a "devastating legacy" for many women.
"Groups like SOS are fundamentally important in bringing to light the dark side of an Irish society that liked to hide in shadows," she said.