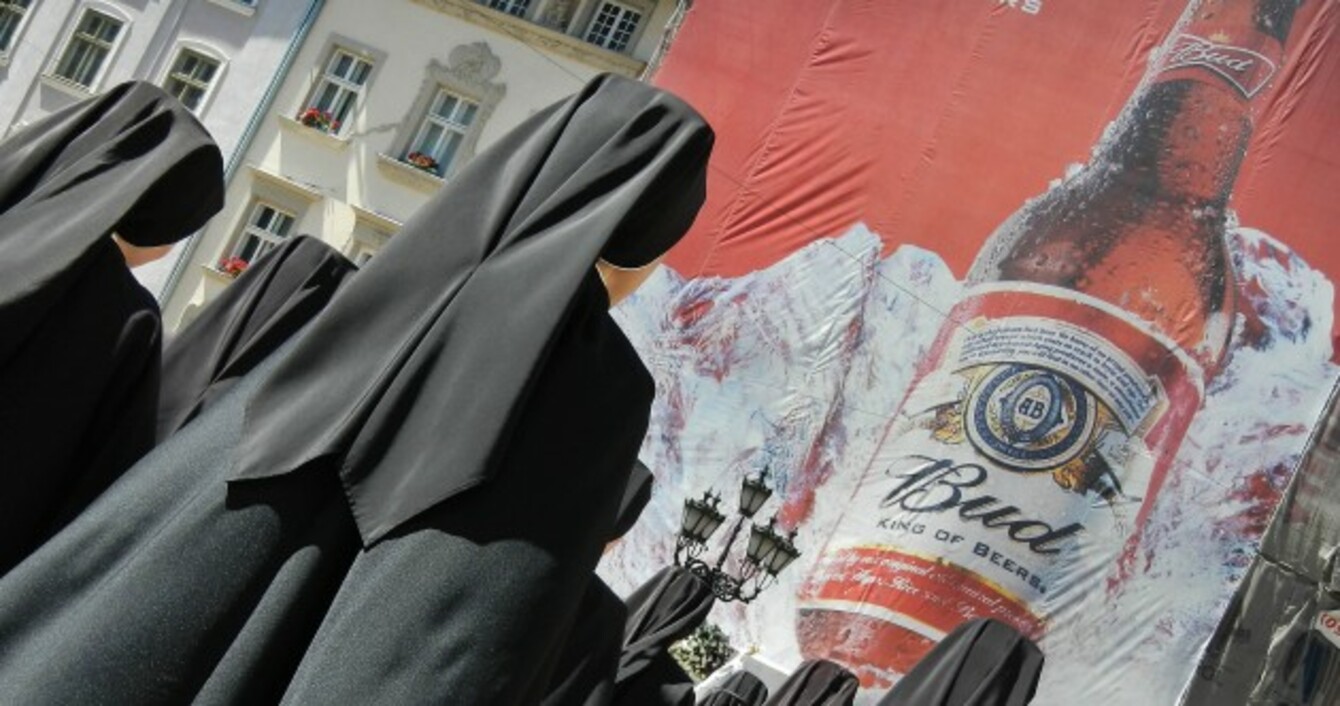 Not what it seems...this Christian group are demonstrating for recognition in Ukraine (not worshipping the King of Beers)
Image: Michael Probst/AP/Press Association Images
Not what it seems...this Christian group are demonstrating for recognition in Ukraine (not worshipping the King of Beers)
Image: Michael Probst/AP/Press Association Images
EVERY DAY, TheJournal.ie brings you a round-up of all the day's main news as well as the bits and pieces that you may have missed.
Updated exit polls show that Greece's conservative New Democracy party will come first in a tightly-contested election but no group has won a majority so more coalition talks lie ahead. It appears that New Democracy and the other traditional party PASOK will have enough seats between them to form a government.
Pope Benedict XVI has said that clerical sex abuse in Ireland undermined the credibility of the Catholic Church's message but added that it remains "a mystery" how people "who regularly received the Lord's body" could offend in such an appalling way.
The papal message was made by video at the final day of the International Eucharistic Congress at Croke Park where about 80,000 pilgrims gathered for the Statio Orbis. We have the pics.
A difficult summer of disruptions could lie ahead for Aer Lingus as workers threaten serious strike action if the sale of its Shannon Hangar goes ahead.
Rodney King, the man who became a national figure in US race politics, has died at his home. He was 47. King was 25 in 1991 when a number of LA police officers were caught on tape beating him up. The acquittal of the policemen a year later – despite the amateur video evidence – sparked fury and kicked off riots that completely changed the city, its policing and its view on race.
A pro-choice group has hit out at an anti-abortion campaign by the Life Institute which has seen a number of provocative billboards erected in recent weeks. Choice Ireland says the posters have angered and offended some women.
RTÉ News has spoken to a German chef who says he is the man in CCTV footage showed to the jury in the Michaela McAreavey murder trial on Friday. Harold Hoyer has said that he would testify to that fact in the Mauritius court if necessary. Lawyers for the accused have claimed that the video stills are of Michaela and her husband John.
Mark Killian, Feidhlim Lenehan and Paul Leonard wear Roy Keane masks in the main square in Poznan, Poland. (Image: Niall Carson/PA Wire)