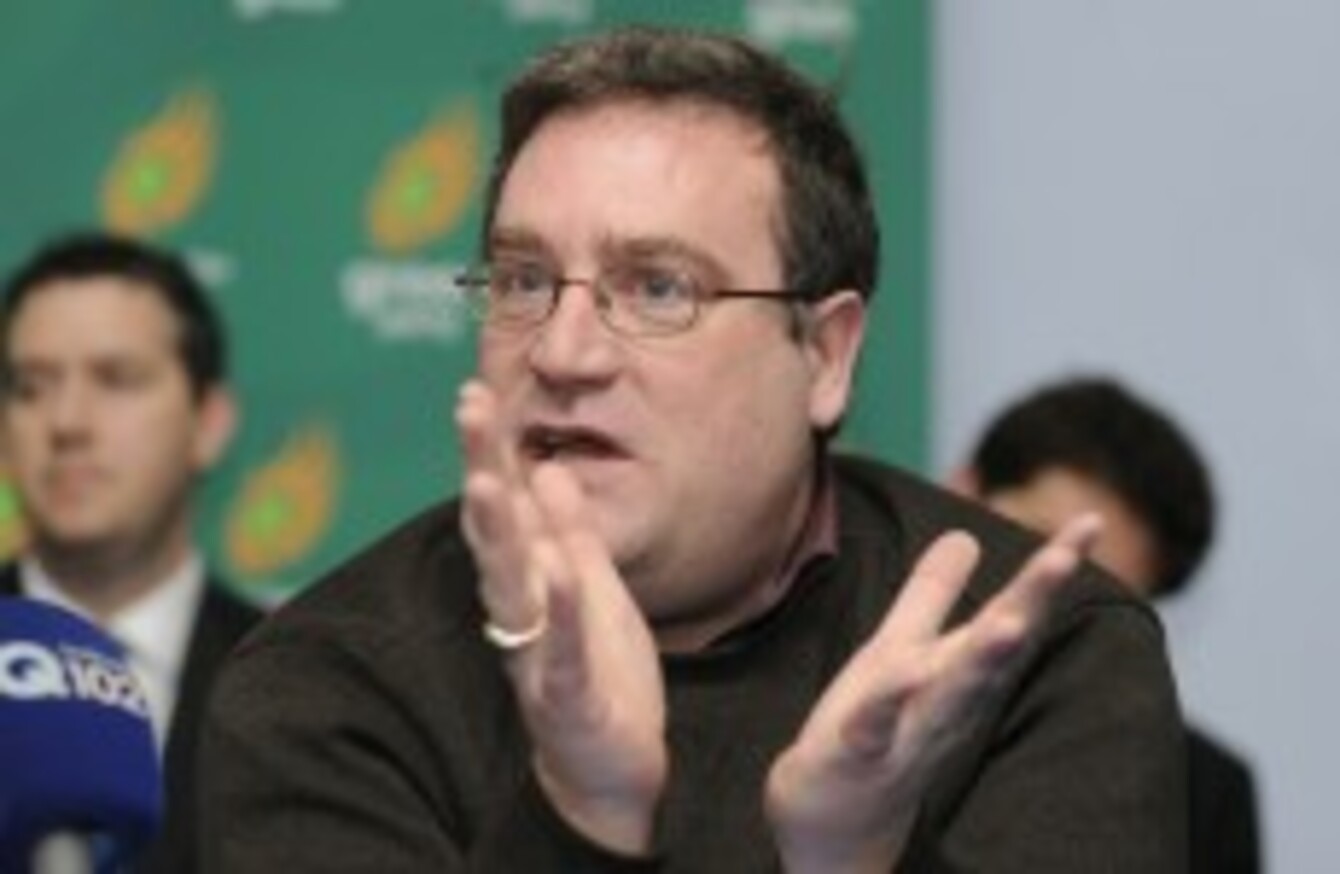 Image: Sasko Lazarov/Photocall Ireland
Image: Sasko Lazarov/Photocall Ireland
THE FORMER CHAIRMAN of the Green Party has said the performance of Phil Hogan as Minister for Environment may help the party win enough support to take back some of its seats in the Dáil.
Dan Boyle told TheJournal.ie that there was "a need for a Green Party in Irish politics" and said the sort of policies that the party had pursued while represented in Leinster House were not being replicated elsewhere.
"To what extent we can win votes and seats – that's open to question," Boyle said yesterday.
"We've got some advantages in that the current Minister for the Environment is as good an anti-Green as we could get," he added.
Boyle – whose memoir of the Greens' time in government with Fianna Fáíl is being published this week – said the party was lucky in that it had "a bit of time" to reorganise itself before the next elections, the Local and European elections in 2014.
The former TD and Senator conceded, however, that "a lot is dependant on the economy analysis in the coming years," saying the actions undertaken by the Greens in government had been taken "in the worst possible circumstances" – but that those policies were almost identical to those now being pursued by Fine Gael and Labour.
Boyle said he had decided to write his book, entitled 'Without Power or Glory', because he had become frustrated at the "simplistic analysis" sometimes put forward in explaining the relationship between the Greens and Fianna Fáil. He explained:
This is still an evolving process, and having been involved in the events that occurred over the last three to four years, I get impatient when I see a very simplistic analysis of the key events.
'More water polo than football'
He added that he had hoped to "inform the wider and long-term picture" by giving a first-hand account of the Greens' own role in government, saying it was not always possible to explain actions simply by saying the Greens were being overruled by their Fianna Fáil partners.
"It was more a game of water polo than football," he suggests, saying the government had been "constantly treading water" in fighting the economic crisis.
In particular, the book describes the events surrounding Boyle's now-infamous tweet of February 2010 when he appeared to undermine his own party's decision to support a motion of confidence in beleaguered defence minister Willie O'Dea.
"The use of Twitter as a way of communicating with the wider public caused a lot of distrust within Fianna Fáil," Boyle remarked. ""A lot of Fianna Fáil backbenchers came out to question the use of technology."
While many TDs' reservations about the use of social media had now disappeared, "I think the understanding of its potential is not widely grasped by many in politics," he believed.
There's a resonance that to communicate at all is to expose themselves to being exposed.
'Favourable' attorney-general
The former senator also said it was important for government parties to have access "to someone who is favourable to your philosophical point of view in the attorney general's office", something he did not feel was the case under Paul Gallagher's tenure as attorney-general.
The Greens' fate was also influenced by the fact its members did not have previous experience of being in government, Boyle believes, saying its "inexperience and naivety counted against us".
"You're running blind from the start," he said.
You hear the cliché about being between a rock and a hard place – for us it was more like that sequence from Indiana Jones, running through the cave and dodging every obstacle.

Ireland was suffering more because of previous policies, but there was more a global dimension to what was going on.
Boyle says he had not yet decided whether he would return to politics himself, though he affirmed that if he was to do so, he would run in the 2014 local elections as he believed the party would only regain credibility if it performed strongly at a local level.
"I'm still working that out – there's part of me that has enjoyed the last year, I have a freedom and enjoy life in a more real way than I was able to," he said.
"The other part of me is that I'll always be an active citizen."