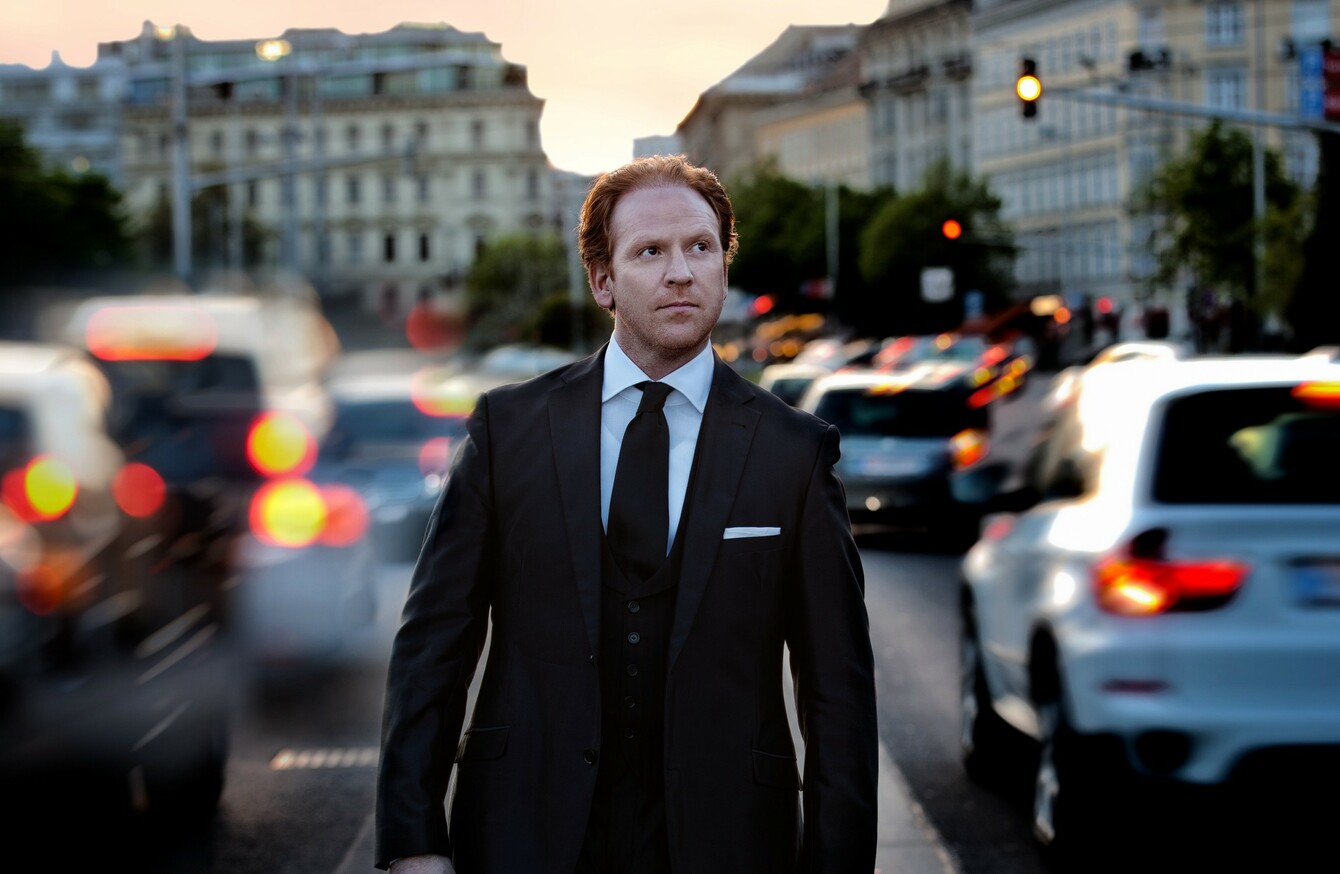 THERE ARE PEOPLE who take a keen interest in the struggles of the oppressed, and there are those whose interest pushes them to try to create change in the world.
Daniel Hope isn't just one of the world's most successful violinists, (who's here to play with the RTÉ National Symphony Orchestra in Dublin's National Concert Hall on Friday), but he's also a champion of the silenced and the oppressed.
Irish links
Hope, who is 43, was born in Durban in South Africa to a father with Irish parentage, and a German mother. He grew up in England and has lived in a number of countries, but today is settled with his family in Berlin – and travels on an Irish passport.
It was his Irish family side (his grandfather was from the country) that helped his parents escape South Africa during apartheid, when life got too difficult for them as critics of the regime.
It's no surprise to hear that Hope himself has carried on his parents' legacy in championing the cause of the oppressed, most notably with a documentary on music made my imprisoned Jewish composers during World War II. Then there is his latest project: performing a concerto based on the life of a man who escaped Nazi Germany and became a civil rights champion in the USA.
It's remarkable that, given his globe-trotting ways, this is his first performance in the Ireland's capital. "I must say I have a very strong connection, call it a spiritual connection to Ireland because on my father's side going back hundreds of years they were all Irish, I have an Irish passport, that's the only Irish passport I have. I travel on that even though I don't spend nearly enough time in the country," he told TheJournal.ie down the line from a break in rehearsals for his latest tour.
"There is something about Ireland that has always been part of my roots. My father often talks about and writes about Ireland."
A family history
The idea of familial roots and ties to the land are ones which have cropped up often in Hope's own writing (he has written a number of books), most notably in his Family Album: Following the Trail, which explores his own family's history.
The story is full of remarkable facts and incidents. For example, Hope's grandfather on his mother's side once owned a house named Villa im Dol in Berlin, which was bought after his death by the German government and turned into a centre for cryptography. On the same side of the family, he lost members to the Nazis.
Given his own past, Hope has been taking a keen interest in what has been happening since Donald Trump came to power in the USA.
"I was in America last week – in fact it was very curious, exactly at the same time as the inauguration I was in Los Angeles where they showed the documentary film I helped to make about the Theresienstadt," he said.
The film, called Refuge in Music, is about composers from who were taken to the Theresienstadt ghetto during World War II. "At exactly the same time [Trump] was being sworn in they were showing the documentary," said Hope.
Source: Deutsche Grammophon/YouTube
The screening was set up a number of years ago, said Hope, so they had no idea the events would coalesce.
Hope had also spent the week playing music composed by Bruce Adolphe, called I Will Not Remain Silent, based on a speech by the civil rights activist Rabbi Joachim Prinz at the 1963 March on Washington.
"This piece is dedicated to his memory and I Will Not Remain Silent kind of covered the entire theme of that week we were making music, I think. Like many people I have been watching the unfolding events [the travel ban introduced by Donald Trump] with absolute horror in the last few days," said Hope.
"America is a country I love and love playing music in, and I have great friends there. And a huge amount of my friends are in absolute turmoil because of what's going on there," said Hope.
Does he think that musicians can make a difference in speaking out?
"I've always said that I don't believe that music can change the world," was his reply. "But I do believe that music can make people think and what we need is dialogue. I think if we shut down on dialogue all we have left is war. Anything that incites dialogue or helps people to stop and think for a minute [is good].
"Music is a really important tool with that. Whether it's used to just take people's minds off things or inspire them or, used in the context of music therapy, with illness and treating them with music, we know that music has an incredible power. So I do think it is important to speak out and have an opinion."
He learned this from his own family. "I was raised that way… my father would say you need to have an opinion, you don't have to have the same opinion but you need to have a position, And the same position when it becomes one-sided or the answer is building walls [not just the wall in Mexico] – or locking people up, that's when dialogue breaks down. I'm not just talking about the [United] States, but everywhere."
His connection to the Theresienstadt music came by accident – he heard a composition by one of the prisoners, Gideon Klein, one night while driving and thought "my God, it's incredible music, what is that, and had to pull over".
During his research, Hope discovered that there were prisoners who "had somehow found a way to create music and to help other people and take their minds off an unimaginable situation. And telling that story 70 years on, I think it's part of our duty to keep that story alive."
As the site Holocaust Music, which tells the story of Theresienstadt, explains, the camp was an "old age ghetto" or "show camp" where prisoners were allowed to have musical instruments. The fact that the artistic creations could also be used for propaganda purposes meant that they were also encouraged by the Nazis.
Nevertheless, the artistic activities in Theresienstadt did not only serve propaganda or as ends in themselves.  In the musicians' appearances at old age homes and at hospices, in their mentoring of newly arrived artists, and especially in their performance of Brundibár, one gets a sense not only of the solidarity of the musicians with their fellow prisoners, but also of the educational, cultural-political, and psychological mission of music at Theresienstadt.  Just by refusing to accept their current situation, the musicians were giving a sign to the others.
Does he think that what's currently going on in the world will influence the classical music scene as it is today? "What's going on in the world in general I think will have a huge effect on people's expression, and the way they express themselves. That goes for music and the arts but goes for us as people," said Hope.
He points to the recent Women's March as proof of how people can band together for change.
"I don't think people would have imagined millions of women marching around the world in an event that was coordinated, maybe three months ago, but it happened – what an incredible signal, what an incredible sign of strength and uniformity around the world by so many different cultures and countries."
Moving forward
Never a man to take a rest, it seems, Hope has a new album due out in March which looks at the climate and the seasons, blended with Vivaldi's Four Seasons.
Then he has his work with the Savannah Music Festival to do – which involves about 100 concerts in a range of musical genres. But the current political situation could possibly affect this event.
"Of course now because it's in America I am sure there will be question marks over whether we will have trouble getting some of the musicians to us or not, all of that now is in this light, and will bring some challenges to it," said Hope. "But it's a phenomenal festival with really incredible musicians and I think at the very least they will be there making music as much as they possibly can."
For Hope, "the next few years we are in for a pretty bumpy ride, I am sure of that". He's not just referring to one particular country, but what's going on the world in general. Yet despite any dark moments, he remains hopeful.
"I am also an optimist – that is the Irish in me. Maybe it can't be all bad."
Daniel Hope will play Mendelssohn with the RTÉ National Symphony Orchestra tomorrow night at the National Concert Hall in Dublin. Details are on the NCH website.