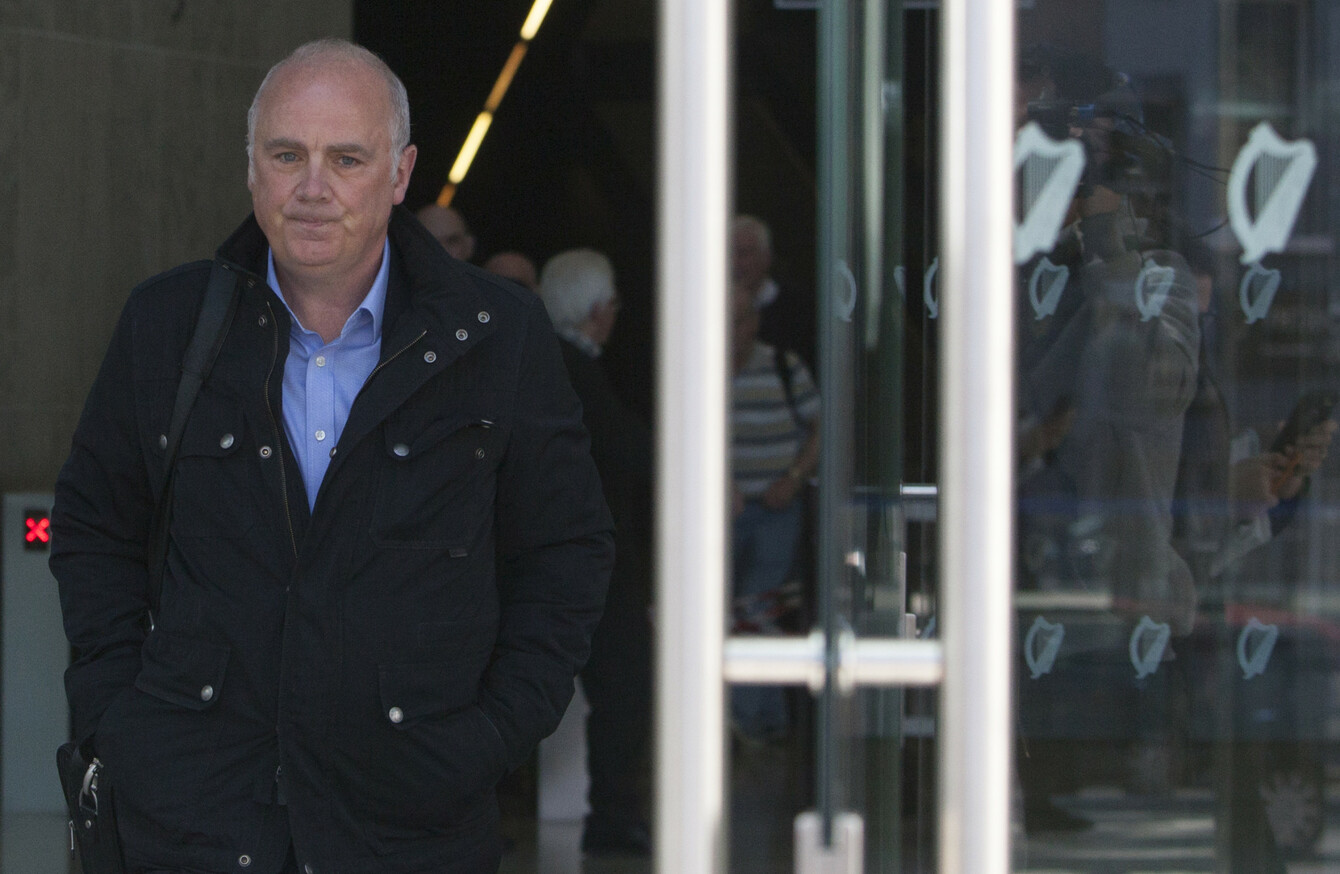 David Drumm
Image: Leah Farrell/RollingNews.ie
David Drumm
Image: Leah Farrell/RollingNews.ie
CONVICTED FRAUDSTER DAVID Drumm is beginning his six year jail term in Dublin's Mountjoy Prison.
The former Anglo chief was yesterday sentenced for his part in a multi-billion euro bank fraud scheme in 2008.
Earlier this month, a jury at Dublin Circuit Criminal Court returned unanimous verdicts of guilty on one charge of conspiracy to defraud and one of false accounting, after just over ten and a half hours of deliberations.
After his sentencing in Dublin yesterday, Drumm would have been taken to the committal area of Mountjoy Prison to be admitted to the Irish prison system. His photograph and fingerprints would have been taken and his previous medical history recorded.
It's standard protocol for a prisoner to then undergo medical tests before being advised of his rights by prison staff.
A member of prison staff would then have told Drumm, who has already spent five and a half months in a US prison while awaiting extradition, what to expect from life in prison.
Sources said that unless there was knowledge of any threats against the former Anglo Irish Bank executive, he would have been put into the prison's general population, likely taking up a bed on one of the landings with the least violent prisoners.
He will also likely have been advised to stay away from the prison's gym, which is frequented by some of the more notorious figures in the prison. Because it is his first time in an Irish prison, Drumm will be subject to monitoring.
Drumm was kept under observation in Mountjoy on Wednesday night. He is expected to be transferred to Wheatfield Prison in west Dublin today.
While unable to comment on a specific case, the Irish Prison Service says this is how prisoners can expect to spend their days:
"In general, prison cells are unlocked at approximately 8.15am each morning for breakfast. Prisoners collect breakfast and return to cells, which are then locked from 8.45am to 9.15am. Cells are again unlocked for prisoners to attend work, school, visits and exercise.
"Prisoners return for lunch at 12pm and cells are locked at 12.30pm. Afternoon unlock commences at 2.15pm, prisoners return to structured activities in schools, workshops and visits. Evening tea is served from 4pm and cells are locked from 4.30pm to 5.20pm when evening recreation commences until all cells are locked at 7.30pm. This allows for total out of cell time of up to 8 hours."
Mountjoy is no stranger to convicted bankers – former Anglo Irish Bank executives John Bowe and Willie McAteer and the former chief executive of Irish Life and Permanent, Denis Casey all served part of their sentences there.
With reporting by Garreth MacNamee