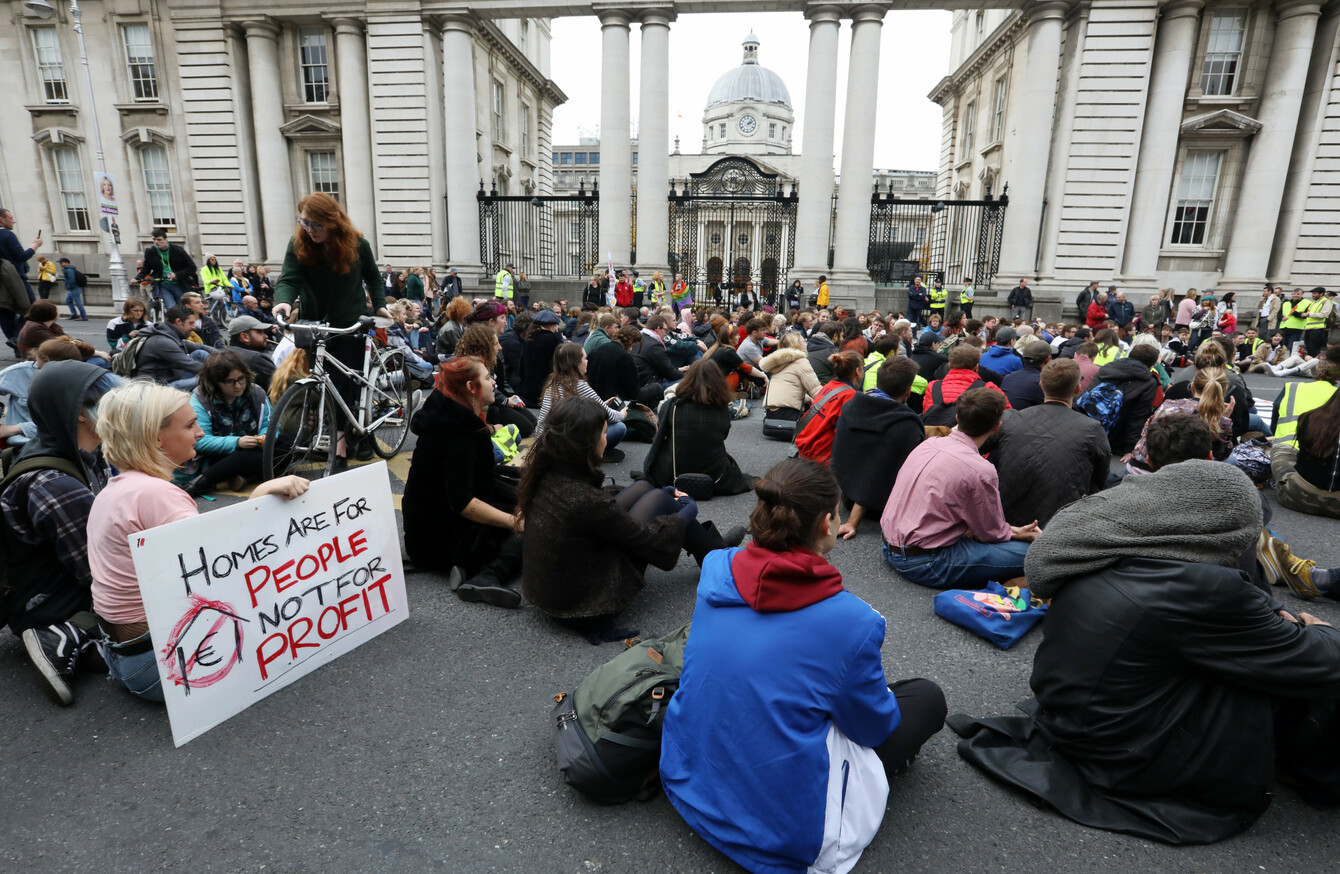 Crowds of housing protesters gathered outside government buildings on 30 October
Image: Leah Farrell via RollingNews.ie
Crowds of housing protesters gathered outside government buildings on 30 October
Image: Leah Farrell via RollingNews.ie
A NATIONAL DAY of action is being held today to highlight Ireland's housing crisis, ahead of a major protest planned next month in Dublin city centre.
Since the summer, the country has seen an increase in housing activists raising awareness over housing issues, as the rental crisis in Ireland deepens and homelessness continues to increase. 
Over the past number of months, Take Back The City (TBTC) held numerous protests in Dublin city centre, alongside a range of occupations of properties in the north inner city. 
The National Homeless and Housing Coalition (NHHC), which is made up of trade unions, politicians and campaign groups, made headlines last month after holding the Raise the Roof rally in Dublin city centre alongside a number of other campaign groups, which saw thousands take to the streets in protest.
Today, the group is looking for actions to be held around the country to highlight the crisis ahead of a planned protest on 1 December at Dublin's Garden of Remembrance. 
NHHC has planned a banner drop at the Ha'penny Bridge in Dublin city centre tomorrow at 1pm, and members will hand out leaflets to the public. 
Other demonstrations and stalls are being run across the capital, details of which can be found here. 
Meanwhile, other actions are taking place in Cork, Mayo, Donegal, Louth and Sligo. 
"We want to reach out to as many people across the country who are really angered by the situation and/or are affected by the situation to get involved and join us as we build this movement," NHHC co-chairperson Tina McVeigh told TheJournal.ie, speaking about why the day of action has been called. 
The only thing that's going to really shift government policy is a mass grassroots movement across the entire country.
"We want that message to resound with the government parties that people are sick and tired of this." 
Rising rents
The latest Daft.ie quarterly report, published earlier this week, found that the average monthly rent nationwide is €1,334, that is €304 higher per month than at the Celtic Tiger peak. 
In Dublin, rents are 36% higher than their previous peak a decade ago, with people now paying €520 more to rent in the capital. 
The increased pressure within the private rental sector is something that has driven NHHC to push forward with its movement.
"Really what's underpinning all of this is that there are new demands coming from people on the ground about a turn in public policy around housing," McVeigh said. 
"People need access to housing and it's becoming increasingly obvious that the private market is not delivering."
With that in mind, McVeigh added that NHHC is "unifying with all groups and individuals out there to build a grassroots movement" as it "demanding radical action" from the government. 
Building a grassroots movement
TBTC, a group that has also made headlines repeatedly since the summer, is built up of a number of grassroots organisations which are also members of NHHC. 
Following the occupation of three properties in Dublin, TBTC held its own national day of action in September, where it too aimed to highlight Ireland's housing crisis. 
When asked whether she believes housing activists, such as TBTC and NHHC, will be successful in their fight for a shift in housing policies in Ireland, McVeigh said that it was important to look back at other movements that have been successful in recent years – noting the rally against water charges, the fight for marriage equality and the repeal of the Eighth Amendment. 
"All of those had gone through the same process as what we're going through in the housing campaign, which was building and building a movement over time, and things take a turn," McVeigh said. 
"I think we've turned that point in the housing campaign," she added, taking note of the thousands who turned up for the Raise the Roof rally last month. 
Further protests
As noted above, another major housing demonstration is being planned by NHHC on 1 December at 2pm outside Dublin's Garden of Remembrance. 
The turnout for this protest, McVeigh believes, will be just as big as the Raise the Roof rally. 
"This is a movement that is growing all the time. Of course, numbers and protests are massively important and we really appeal to everyone to come out on 1 December," she said. 
[It will be] the anniversary of Jonathan Corrie's death, but we remember not just Jonathan Corrie, we remember all people who have died on the streets as a result of the immense pressure that's put on people as a result of the housing crisis. 
The body of 43-year-old Jonathan Corrie was found in a Dublin doorway on 1 December 2014. His death sparked an increase in action from housing activists around the country.
"It's just reminding [the government] that this movement is growing, we are growing and it's growing in ways and places that the government can't even imagine."