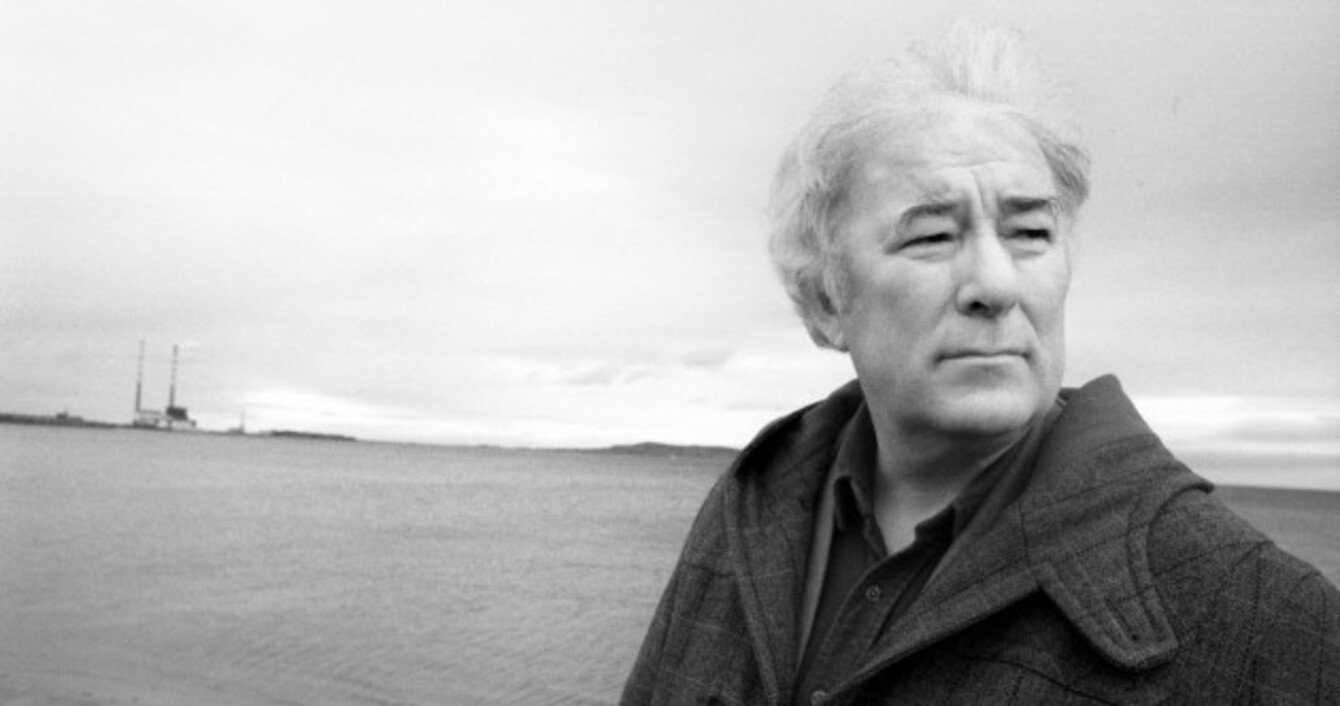 Image: Eamonn Farrell/Photocall Ireland
Image: Eamonn Farrell/Photocall Ireland
THE TRAGIC DEATHS of young actors and talented musicians, the loss of global leaders and the passing of Ireland's most recognised poet made global headlines throughout the year.
South Africa had been bracing itself for the final departure of its father, Nelson Mandela, but that did not diminish the outpouring of grief or the subsequent celebration of his life earlier this month.
The world also joined in as Ireland lost Seamus Heaney, a man whose words and wisdom had sustained the nation's love of literature for decades.
As family, friends and fans mourn their loved ones, join us as we remember some of the people we have lost over the past 12 months.
January
Irish climber Ian McKeever died suddenly while leading an expedition on Mount Kilimanjaro. The 42-year-old was struck by lightning while on the Tanzanian mountain, and according to his family, he died "doing what he loved best".
News of the death of internet activist and Reddit co-founder, Aaron Swartz, shocked the world on 12 January.  The 26-year-old was found dead in his Brooklyn apartment after he had taken his own life.
Best known for his role as the father of two young brothers in Diff'rent Strokes, actor Conrad Bain passed away peacefully at his California home on 14 January. He was 89.
Watch the opening sequence featuring the American's most famous character:

(YouTube: shoutfactory)
British filmmaker and columnist Michael Winner died at the age of 77 on 21 January. Paying tribute to her husband, Geraldine Winner described him as "a wonderful man, brilliant, funny and generous. A light has gone out in my life".
Inez McCormack was singled out by Hillary Clinton as one of the most extraordinary and inspirational people she had ever met. The human rights activist who was named among 150 Women Who Shake the World passed away after an illness on 22 January in Belfast.
Dublin footballing hero Kevin Heffernan is remembered as "one of the real legends of the GAA". The Taoiseach was among the first to lead tributes to the 83-year-old when he passed away on 25 January.
Watch 'Heffo's Army' collect Sam in 1974:
(YouTube: GAA Archive)
It was with shock, sadness and anger that Ireland greeted the news of a fallen member of An Garda Síochána on 25 January. Detective Garda Adrian Donohoe was shot dead in the line of duty during an armed robber at the Lordship Credit Union in Dundalk.
Members of An Garda Siochana gather outside St Joseph's the Redemptorists Church in Dundalk as the funeral of murdered Detective Garda Adrian Donohoe takes place. (Image: Laura Hutton/Photocall Ireland)
Film-maker, environmentalist and former senator Éamon de Buitléar died at his Delgany home in Wicklow on 27 January. He was 83 years old and is survived by five children, grandchildren and great-grandchildren.
February
According to the New York Times, former mayor Ed Koch won three terms in office "with all the tenacity, zest and combativeness that personified his city of golden dreams". He was 88 years old when he died on 1 February.
PSNI Constable Philippa Reynolds was killed on 9 February in a road collision during a shift. "She was out on duty, working to keep people safe, when she died," said Chief Constable Matt Baggott.
RTÉs Sunday night radio sports programme was a family affair in the 1940s when GAA broadcaster Seán Óg Ó Ceallacháin took over presenting duties from his father. After a massively successful career, the bi-lingual write and commentator passed away, aged 89.
Richard Briers was best-loved for his starring role in 1970s classic sitcom The Good Life. The British actor died on 18 February after years of suffering from emphysema. He was 79.
Watch Briers in action as Tom in The Good Life:

(YouTube: BBC Comedy Greats)
March
Minister James Reilly led tributes to one of his predecessors, Dr John O'Connell, after his passing on 8 March. He described the 83-year-old as a "major figure in the world of medicine and in the world of politics".
Premier League commentator – and more recently, the voice of ITV's Dancing on Ice – Tony Gubba died after a short illness on 11 March. He was 69 years old.
LGBT and civil rights activist Christopher Robson is remembered for founding the Gay and Lesbian Equality Network (GLEN) and other trailblazing organisations. Just before his death on 25 March, he and his partner of 35 years, Bill Foley, had celebrated their civil partnership.
British character actor Richard Griffiths died from complications following heart surgery on 28 March. The 65-year-old's obituary in the Guardian remembered him for his roles in theatre, television and film. Michael Billington wrote:
What we shall all recall, with pleasure, is his silvery voice, his genial presence and his priceless ability to empathise with characters who, for whatever reason, exist somewhere on the margins of conventional society.
Grammy award-winning engineer, arranger and producer Phil Ramone whose platinum touch included recordings with Ray Charles, Billy Joel and Paul Simon died on 30 March. He was 79.
Phil Ramone with Paul Simon in 1976. (AP Photo)
April
With a career spanning five decades, Irish actor Milo O'Shea was much-decorated when he passed away in New York, aged 86. His film roll includes parts in Cheers, The Golden Girls, The West Wing, Who's the Boss?, Frasier and Oz. Yes, basically that's all your favourite shows ever.
Here he is in The West Wing:

(YouTube: Connellingus)
On 4 April, the most well-known film reviewer of all time, Roger Ebert, passed away. He was 70.
Britain's first female prime minister, Margaret Thatcher, died on 8 April after suffering a stroke. The reaction to the death of the highly-controversial figure was divided with some of the UK mourning, while others almost-celebrated with bonfires and other events.
Test-tube baby pioneer Robert Edwards is remembered for spending his whole career making the dream of having a baby come true for millions of people across the world. The Nobel prizewinner died in his sleep on 10 April, aged 87.
The coffin bearing the body of Baroness Thatcher arrives at St Paul's Cathedral on 17 April. (Image: David Crump/Daily Mail /PA Wire)
Following a battle with cancer, Irish international footballer Tony Grealish died on 23 April. In his 45 appearances in green, the London-born midfielder scored eight goals.
Former Fianna Fáil TD Harry Blaney, a member of a famous family dynasty in Donegal, passed away at Letterkenny General Hospital on 29 April. He was 85.
A publican, a politician and an auctioneer, Fine Gael's Dick Barry was well known in his Cork constituency. The one-time junior minister died on 29 April, aged 93.
May
The untimely death of Chris Kelly, who was one half of the nineties pop sensation Kris Kross, occurred on 1 May in Atlanta. He was just 34 years old.
Here he is with the famous hit, Jump:

(YouTube: KrisKrossVEVO)
On 2 May, founding member of Slayer Jeff Hanneman died of liver failure. The 49-year-old's career had been irrevocably changed by a spider bite a year previously as he almost lost his arm.
Author Mary McCarthy had just started a book about a woman with terminal cancer when she was diagnosed with the disease earlier this year. Writing in TheJournal.ie ahead of her death on 3 May, she said:
I have had a nice life. I loved my teaching job for 34 years and took early retirement five years ago. I truly loved writing my books. I have seen the places I wanted to see and I have extraordinary people around me. I've managed to retain my sense of humour, thankfully. There really is a funny side to everything. To my delight, I have my fifth book published. Things could be a lot worse! Or as Emer in the novel says: things always seem better after the rain.
Did you know that Ottavio Missoni was a prisoner of war and Olympian, as well as a fashion designer. The Italian innovator died at his home in Italy on 9 May, aged 92.
Ottavio Missoni comes in sixth during the hurdles at the 1948 Olympics in London. (Image: S&G/S&G and Barratts/EMPICS Sport)
The Abbey Theatre's Vincent Dowling passed away on 10 May in the US. Known as an 'actor's director', he led the Dublin theatre on its first tours to Russia and Hong Kong. He was 83.
Suicide has touched the lives of almost every Irish person and the crisis amongst young people is a growing concern. Before his death on 12 May, Donal Walsh, a 16-year-old from Kerry decided to try and change how his peers saw life. He spoke opening about his fight with cancer and how attitudes towards life and death need to change.

(YouTube: RTÉ)
After founding member of The Doors, Ray Manzarek, said his last goodbyes to family on 20 May this year, drummer John Densmore wrote this emotional tribute:
There was no keyboard player on the planet more appropriate to support Jim Morrison's words. Ray, I felt totally in sync with you musically. It was like we were of one mind, holding down the foundation for Robby and Jim to float on top of. I will miss my musical brother.
Old Trafford favourite Brian Greenhoff died at the age of 60 on 22 May. The defender made 271 appearances for Manchester United, scoring 17 goals. He also won 18 caps for England.
Following the death of former Cork City manager Noel O'Mahony on 31 May, the FAI's John Delaney said the 73-year-old will "always be remembered as a legend".
June
When author Iain Banks was diagnosed with cancer in April, he asked his partner to "do me the honour of becoming my widow (sorry – but we find ghoulish humour helps)". The 59-year-old died on 9 June.
Two days later, the sporting world lost another hero to cancer. British racing trainer Sir Henry Cecil passed, aged 70. He was best known for being the mastermind behind superstar racehorse Frankel.
Michael Hastings, the Rolling Stone journalist who revealed the inappropriate conduct which ended the career of the Supreme Commander of the US-led war in Afghanistan, was killed in a car accident on 18 June.
Hollywood was sent reeling on 20 June this year as news of James Gandolfini's death reached the airwaves. The 51-year-old succumbed to a heart attack while on holiday in Rome.
Widely regarded as one of television's greatest characters on the best show ever made, Gandolfini portrayed Tony Soprano through nine years:

(YouTube: monchochocopete)
The ice-cream parlour where the Sopranos finale was filmed paid a touching tribute to the actor by placing a 'Reserved' sign on the booth where he sat.
Julio Cortez/AP/Press Association Images
Motorsport Ireland mourns the loss of rally driver Paul Mulcahy following his death on 30 June during the Carrick-on-Suir Stages Rally.
July
Even after his death on 2 July, Doug Engelbart's legacy lives on through our everyday lives. The inventor of the computer mouse died from acute kidney failure at his California home. He was 88.
Singer and actress Bernie Nolan passed away peacefully on 4 July after a three-year battle with cancer. She was 52 years old.
Canadian police announced the tragic death of actor Cory Monteith on the morning of 14 July. The 31-year-old who had previously revealed his struggles with drug abuse was found dead in a hotel room. A coroner's report revealed a heroin and alcohol overdose.
Watch his on- and off-girlfriend Lea Michele's heartbreaking performance in Glee's episode dedicated to its cast member:

(YouTube: GLEE)
Madonna travelled to Dublin to attend the funeral of her friend, renowned architect David Collins, following his passing on 17 July.
The German Football Association confirmed the death of Manchester City goalkeeper Bert Trautmann on 19 July. He is remembered for playing the last 17 minutes of the 1956 FA Cup final with a broken neck.
On the same day, British comedian Mel Smith suffered a heart attack and died at his northwest London home.
Comedian Mel Smith (left) with his friend and fellow comedian and Rowan Atkinson. Pic: John Stillwell/PA Wire
Veteran White House correspondent Helen Thomas died, aged 92, on 20 July. The tenacious journalist broke the mould when she started reporting as she stayed away from cookery, fashion and 'women's interests'.
Did you know Dennis Farina was a real cop before he took the role of Joe Fontana on the popular show Law & Order? The actor suffered a blood clot in his lung and died on 22 July this year.
Songwriter, singer and guitarist, JJ Cale, whose songs were covered by everyone from Lynryd Skynrd and Eric Clapton from a heart attack on 26 July. He was 74.
Staff at RTÉ were heartbroken on 30 July as they came to terms with the loss of their friend and long-time colleague Colm Murray. The sports editor spoke openly about his diagnosis of Motor Neuron Disease as is highlighted in this beautiful tribute voice by Bryan Dobson:

(You Tube: RTÉ – Ireland's National Television and Radio Broadcaster)
August
Radio broadcaster Bob Gallico passed away in the US on 5 August after a long illness. He was famous during the 1980s in Dublin because of his job as a newsreader on the popular Radio Nova.
High Court judge Justice Kevin Feeney died unexpectedly while on holiday in Cork on 14 August. The Attorney General Máire Whelan said his passing leaves a "great void in the Irish legal community".
Best-known for her portrayal of Eric's big sister Laurie on That '70s Show, Lisa Robin Kelly saw her career and health freefall on leaving the show as her drug addiction grew increasingly more hazardous. She died at a treatment centre on 14 August, aged 43.
On August 20, crime writer Elmore Leonard died. He had suffered complications from a stroke he endured earlier the same month.
Welsh rugby's Cliff Morgan, who died at the age of 83 on 20 August, became a commentator with the BBC when his sporting career came to an end.
He was remembered by TheScore.ie team for the brilliant commentary on The Greatest Try of All Time:

(YouTube: jsk995)
One of the best known Irish language writers of all time, Maidhc Dainín Ó Sé, will be familiar to many because his autobiographical work 'A Thig Ná Tit Orm' that made its way onto the Leaving Cert syllabus. Described as "one of the country's most important writers" by Minister Jimmy Deenihan, the Kerry native died on 29 August.
(Image: Gumtree)
The very next day, Ireland's literary world lost another hero. The unexpected death of Seamus Heaney (74) on 30 August was met with sadness around the world. For days, we shared our favourite poems, remembered his passion for story-telling, listened to the dear memories held by others, signed our condolences and grieved with his family.
The New York Times obituary, which was placed on the front page of the newspaper, summed up his work and his person beautifully.
"He Wove Irish Strife and Soil Into Silken Verse", the headline read.
When the news of David Frost's 31 August death was announced, tributes flowed from all corners of the world, staring with the British Prime Minister David Cameron who was due to be interviewed by the broadcaster the following week.
The 74-year-old was immortalised in the 2008 film Frost/Nixon, which was based on his lauded interviews with the US President in 1977. Here's some of the real thing:

(YouTube: mistere999)
September
Former heavyweight boxer and Rocky V actor Tommy Morrison died in hospital on 1 September. He was just 44 years old.
One of the most recognisable faces in Irish theatre, Susan Fitzgerald died on 9 September at home and surrounded by her family. She had suffered through a long illness. Arts Minister Jimmy Deenihan led the tributes:
Susan is the pre-eminent stage actress of her generation and beloved of theatre audiences. Susan played leading roles in the Gate Theatre in plays by both Irish and overseas writers.

With the poise of the truly gifted she could move from comedies of manners to contemporary plays and also, with equal facility, to television and film.
Speaking about the recently deceased Paddy McFlynn on 25 September, GAA Presdient LIam O'Neill said he was a "wise, fatherly figure whose kind presence was noted by so many across all levels of the Association". The Derry native served as President of the GAA from 1979 to 1982.
October
The body of 47-year-old Dublin actor Gerry McCann was sadly discovered on Dollymount Beach on 1 October. "He's gone to heaven now," said his sister, Helene O'Cleary, after a six day search.
The creator of the Jack Ryan character, Tom Clancy, died at a hospital in Baltimore on 1 October. His final book, Command Authority, was published posthumously this month.
The oldest person on this year's 'In Memoriam' list is Vietnam war general Vo Nguyen Giap who was 102 years old when he passed on 4 October.
Phil Chevron – longtime guitarist of the Pogues – passed away peacefully on the morning of 8 October. The band announced the sad news on its website.
Waterford councillor Gary Wyse passed away unexpectedly on 22 October and a "genuine feeling of shock" swept through the city. He is survived by his wife and four children.
The next day, Galway was sent reeling when news hit of the tragic passing of 22-year-old hurler Niall Donoghue. The Kilbeacanty club man had played in last year's All-Ireland final against Kilkenny. The club's beautiful but heartbreaking tribute to its hero included the following words:
You can feel the sorrow, nearly see it. It's totally calm even the dogs aren't barking. It's as if they know. It's like Kilbeacanty , Galway, the whole of Ireland, Australia and beyond is covered in a blanked of sorrowful, painful, raw emotion. It's so hard to believe our star, our hero, our idol has been taken from us in his prime.
We didn't know her face but Marcia Wallace was the voice of much-abused Simpsons teacher Mrs Krabappel. She died on 25 October and the programme's makers changed the show's iconic intro sequence in tribute.
Image: Dave Itzkoff/Twitter
Rolling Stone magazine described Lou Reed as "a relentlessly inventive solo artist…chameleonic, thorny and unpredictable, challenging his fans at every turn."  He died, aged 71, on 27 October, months after a liver transplant.
This multi-artist cover of Perfect Day for the 1997 BBC Children in Need event is led off by Reed himself

(YouTube: billydeeuk)
November
Founding member of the Social Democratic Labour Party (SDLP), Eddie McGrady, passed away on 11 November. He was 78.
Another man who played a crucial role in the Northern Ireland Peace Process, Fr Aled Reid, departed this world on 22 November, aged 82. Most famous for administering the last rite to two British soldiers who were killed at the scene of an IRA funeral in 1988, the priest also mediated talks between Gerry Adams and John Hume.
Key witness in the Mahon Tribunal, Tom Gilmartin, also died at Cork University Hospital on 22 November.
A survivor of the 1958 Munich air disaster, former Manchester United footballer Bill Foulkes died on 25 November. He was 81.
Foulkes (centre) with Bobby Charlton and Alfredo Di Stefano. Credit:  Martin Rickett/PA Archive/Press Association Images
Hollywood mourned one of its stars on 30 November when news of a car accident in which Paul Walker was killed emerged. In the days following his death, the story of a random act of kindness by the Fast and Furious actor became public.

(YouTube: CBS This Morning)
December
Footballer and All-Ireland final winner Liam O'Connor passed away on 3 December. He was just 58 years old. Offaly fans remember him for setting up the most famous goal in GAA history.

(YouTube: kilkennyfootball)
Arguably the most famous man on the planet, Nelson Mandela, died at his South African home on 5 December after a long battle with lung problems. Global leaders gathered in the Rainbow nation to mourn the great loss, while South Africans celebrated his life and work.
Image: 21 Icons South Africa/Image.net
His spirit and joy for life was remembered through singing, chanting and dancing at a special memorial in the FNB Stadium. In Ireland, we looked fondly back at his 2003 visit during which he danced to The Corrs traditional music in Galway.

(YouTube: rockartMEDIA)
Star of Lawrence of Arabia, Peter O'Toole, died on 14 December at the age of 81. A Hollywood great, he was nominated for an Oscar eight times. Although he never won, he did accept an honorary Academy Award in 2003. Here are some of the Irish actor's best bits. Including the time he told a joke to the Queen Mother in 1965.
Source: S&G and Barratts/EMPICS Archive
Joan Fontaine did win an Oscar – on just her second nomination in 1941. The acting legend – and Alfred Hitchcock favourite – passed away at the age of 96 on 16 December.
Reacting to her Academy Award win in 1941. Source: AP/Press Association Images
The Great Train Robbery took place 50 years ago, and on 18 December one of the men involved, Ronnie Biggs, died aged 84. The robbery has been immortalised on film and saw Biggs becoming an infamous criminal. His colourful life included going on the run and getting plastic surgery.
Ronnie Biggs in 1963. Pic: PA Wire
Marie Fleming took her right-to-die case to the Supreme Court this year but failed in an attempt to ensure her partner Tom Curran would not be prosecuted if he helped end her life. She passed away on 20 December while suffering the final stages of MS.
Legendary BBC presenter David Coleman died at the age of 87 on 21 December. BBC's Director-General Tony Hall said he set the standard for all today's sports broadcasters.
The inventor of the AK-47 automatic rifle, Mikhail Kalashnikov, died on 23 December. He was 94 years old.