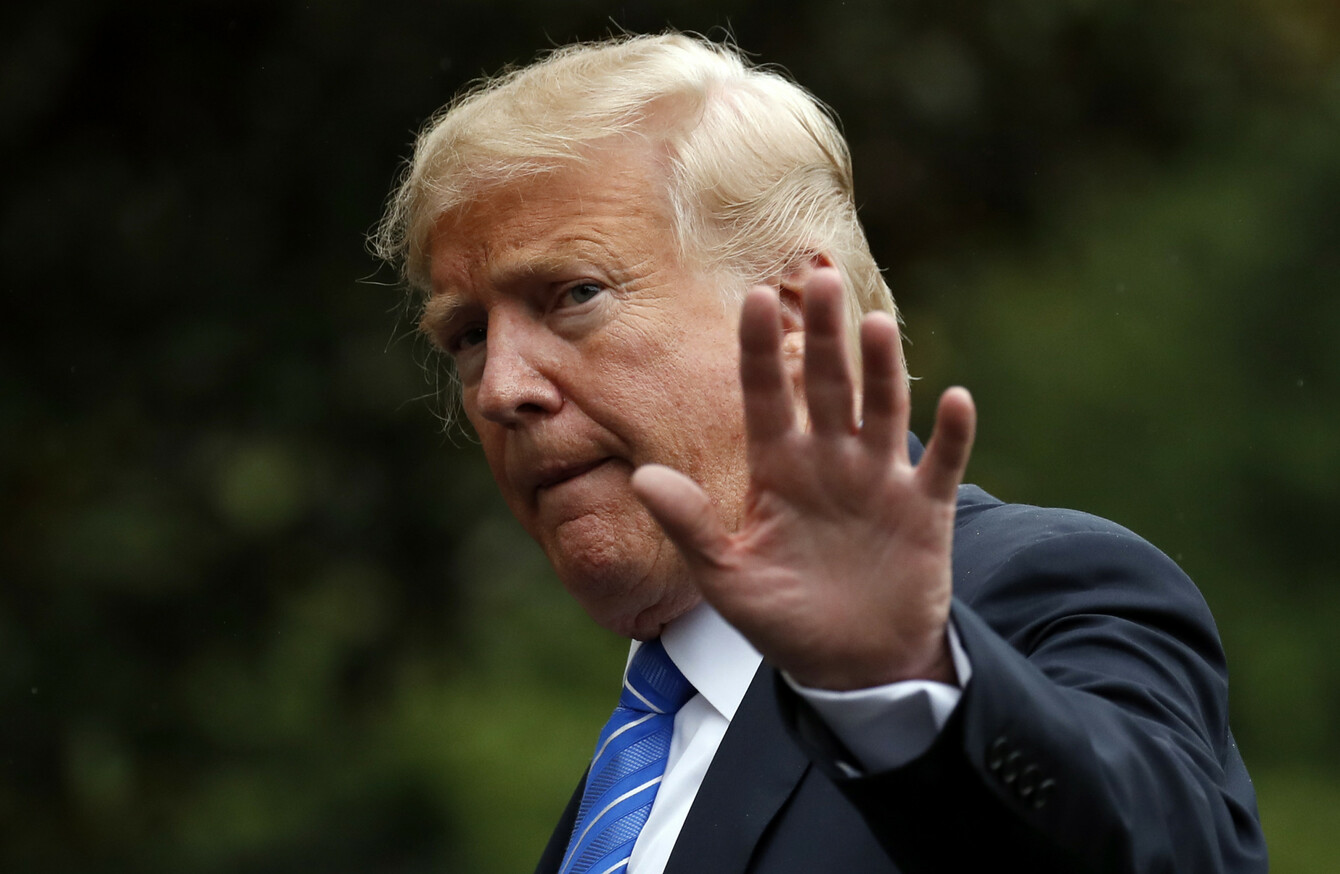 President Donald Trump waves as he walks on the South Lawn after stepping off the Marine One helicopter at the White House
Image: Alex Brandon/Associated Press
President Donald Trump waves as he walks on the South Lawn after stepping off the Marine One helicopter at the White House
Image: Alex Brandon/Associated Press
A RECORDING OF Donald Trump has emerged in which the US president can be heard discussing paying a Playboy model with whom he is alleged to have had an affair.
The recording, played on CNN on Tuesday night, was made surreptitiously by Trump's former lawyer, Michael Cohen, two months before the 2016 presidential election.
Trump can be heard discussing whether to "pay with cash" just weeks after the National Enquirer's parent company reached a $150,000 deal to pay former Playboy model Karen McDougal for her story of the alleged 2006 affair.
It is suspected that his demand is a request to buy the rights to McDougal's story from the Enquirer's parent company.
The story was never published and Trump denies the affair ever happened, while his campaign maintains he knew nothing about the payment.
Cohen can also be heard on the tape saying that he needed to start a company "for the transfer of all of that info regarding our friend David".
This is believed to be a possible reference to David Pecker, Trump's friend and president of the National Enquirer's parent company, American Media Inc.
Later, when Cohen discusses financing, Trump interrupts and asks, "What financing?"
"We'll have to pay," Cohen responded.
The audio is muffled, but Trump is heard saying "pay with cash," although it remains unclear if he is suggesting to pay with cash or not.
Afterwards, Cohen replies "No, no, no", before Trump can be heard saying "check".
Trump's current lawyer, Rudy Giuliani, later told The Associated Press that he had an expert enhance the recording and that the president says "don't pay with cash."
"It clearly indicates that the president did not want to pay with cash," Giuliani said.
"Suggesting otherwise is ridiculous and is inconsistent with the rest of the conversation, during which it was discussed doing it through a corporation."
Giuliani said Cohen, as Trump's lawyer, thought it would be best if he bought the rights to the story, adding that the recording captured them discussing how to do so.
"Cohen says 'I have to pay him'," Giuliani said. "The president brings up cash and says 'don't pay with cash' and says 'check'. He wants it memorialised.
"Cohen then says 'No, no, no, no' and he cuts off the tape. He obviously cuts it off in mid-sentence, and that in itself is suspicious.
"The president wanted to do it the right way. If you wanted to hide something, you would not do it by corporation or check," he said.
The payment was never made, although Giuliani said he did not know why and hadn't discussed it with Trump.
Cohen's lawyer, Lanny Davis, who gave the tape to CNN, said: "Listen to the tape. Donald Trump is not shocked money is being paid about someone named Karen McDougal."
He added that said his client — who is under investigation by federal officials in New York — has been "disparaged and insulted and called all kinds of things".
#Open journalism No news is bad news Support The Journal

Your contributions will help us continue to deliver the stories that are important to you

Support us now
"He's got truth on his side and he'll continue to tell the truth," Davis said.
Davis did not immediately respond to a request for comment from the AP on Tuesday night.
American Media, Inc.'s payment effectively silenced McDougal during Trump's election campaign, although news of the deal was reported in The Wall Street Journal.
At the time, a Trump spokeswoman said his campaign had "no knowledge of any of this".
The FBI raided Cohen's office, home and hotel room in April, searching in part for information about payments to McDougal and porn actress Stormy Daniels.
Daniels claims she had a sexual relationship with Trump in 2006 — which Trump denies — and that she was paid $130,000 as part of a non-disclosure agreement signed days before the 2016 election.
A dozen audio recordings seized during those raids were forwarded to federal prosecutors last week, after lawyers dropped challenges on attorney-client privilege grounds.
Giuliani said those recordings captured Cohen discussing the president with third parties, whom he would not identify, and that these recordings are also being enhanced by experts.
On the recording released on Tuesday, Trump and Cohen can also be heard discussing other legal issues, including a request by The New York Times to unseal court records concerning Trump's divorce from his first wife, Ivana.