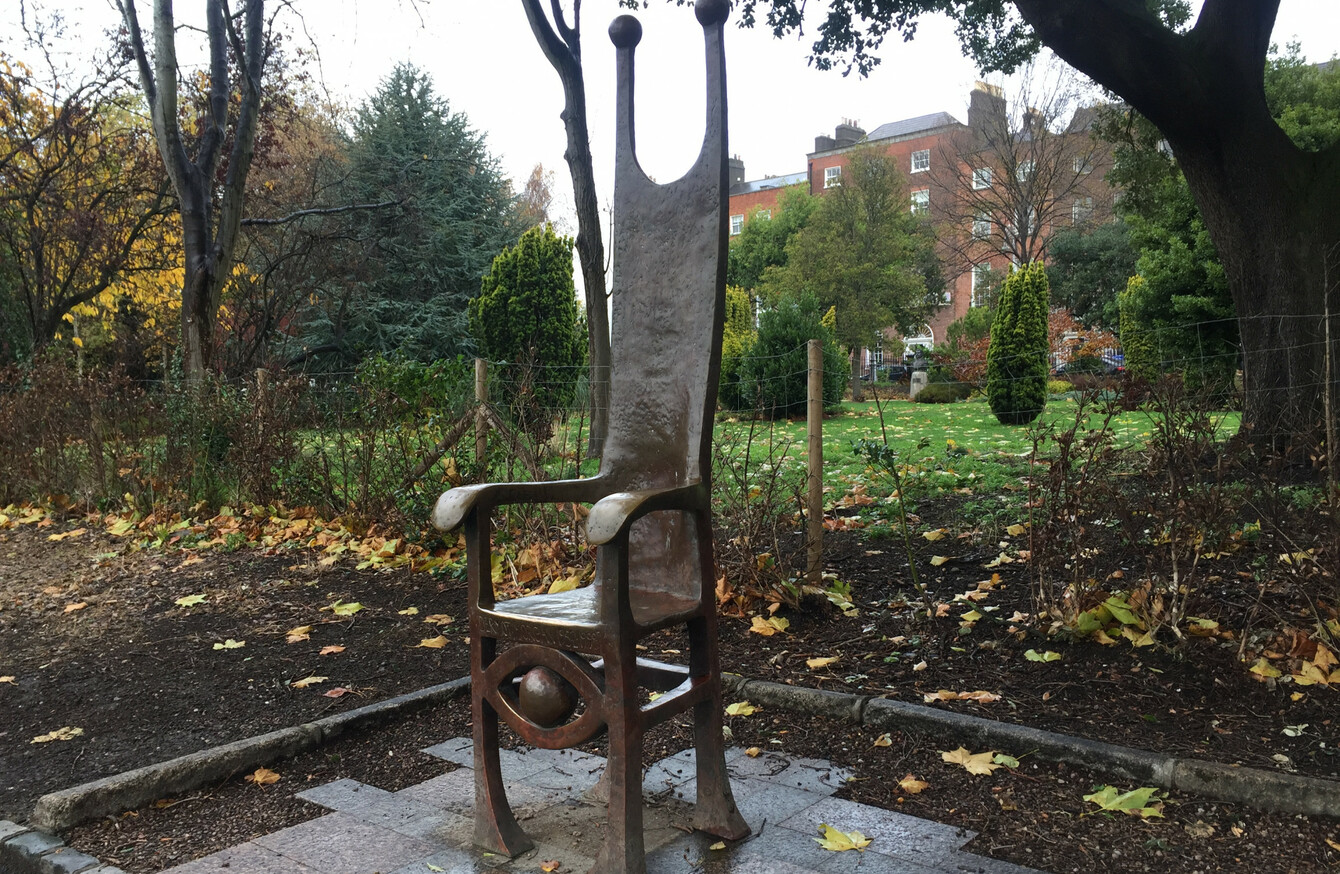 Image: Zara Hedderman
Image: Zara Hedderman
DUBLIN'S MERRION SQUARE is populated with commemorative statues of notable Irish figures. Immortalised in bronze or stone, each is celebrated for their outstanding contribution to the country's political and cultural heritage.
In the heart of the Georgian park, a few paces from a bust of Michael Collins and Oscar Wilde reclining on a boulder, is a commanding bronze throne. The seat, detailed with an eye and two balls atop a crown-like feature, is known as The Joker's Chair.
Come a little closer, and you'll see a plaque in memory of beloved satirist, writer and actor Dermot Morgan.
So why is Morgan remembered in the form of a throne and not a figurative statue?
In 2002, Morgan's partner commissioned Galway-born sculptor Catherine Greene to design and produce a memorial statue. It was funded by RTÉ, a former employer of the controversial comedian, and Dublin City Council. 
A 2015 profile of Greene in the Irish Arts Review notes that "Allegory is an important ingredient in Greene's conceptual process." And this is evident in the treatment of Morgan's character and career in The Joker's Chair. 
Inspired by the writing of William Shakespeare, Greene found a parallel between Morgan and the medieval role of The Fool.
The Fool is perhaps best known from Shakespearean drama, most famously in King Lear, where he dispenses unfiltered truth to the morally blind members of a monarchy. Greene saw Morgan in a similar role thanks to his social and political critiques of Irish society on Scrap Saturday.
In Art in Parks, an extensive document detailing the capital's numerous statues, published by Dublin City Council, Greene described Morgan as a "modern-day seer who never feared to tell the truth." The detail of the eye, beneath the seat, represents this quality. 
The Joker's Chair was erected in Merrion Square in 2002, four years after Morgan passed away, suddenly, aged 46, in February 1998. Beside the statue, a plaque reads: 
….and all the rest is laughter
laughter liberating
laughter to be remembered.
In an irony that Father Ted himself might have appreciated, Merrion Square itself was purchased in 1930 by the Catholic Church as a prospective location for a new cathedral. Construction never began and it was opened once again as a public park, where Morgan's memorial stands today.