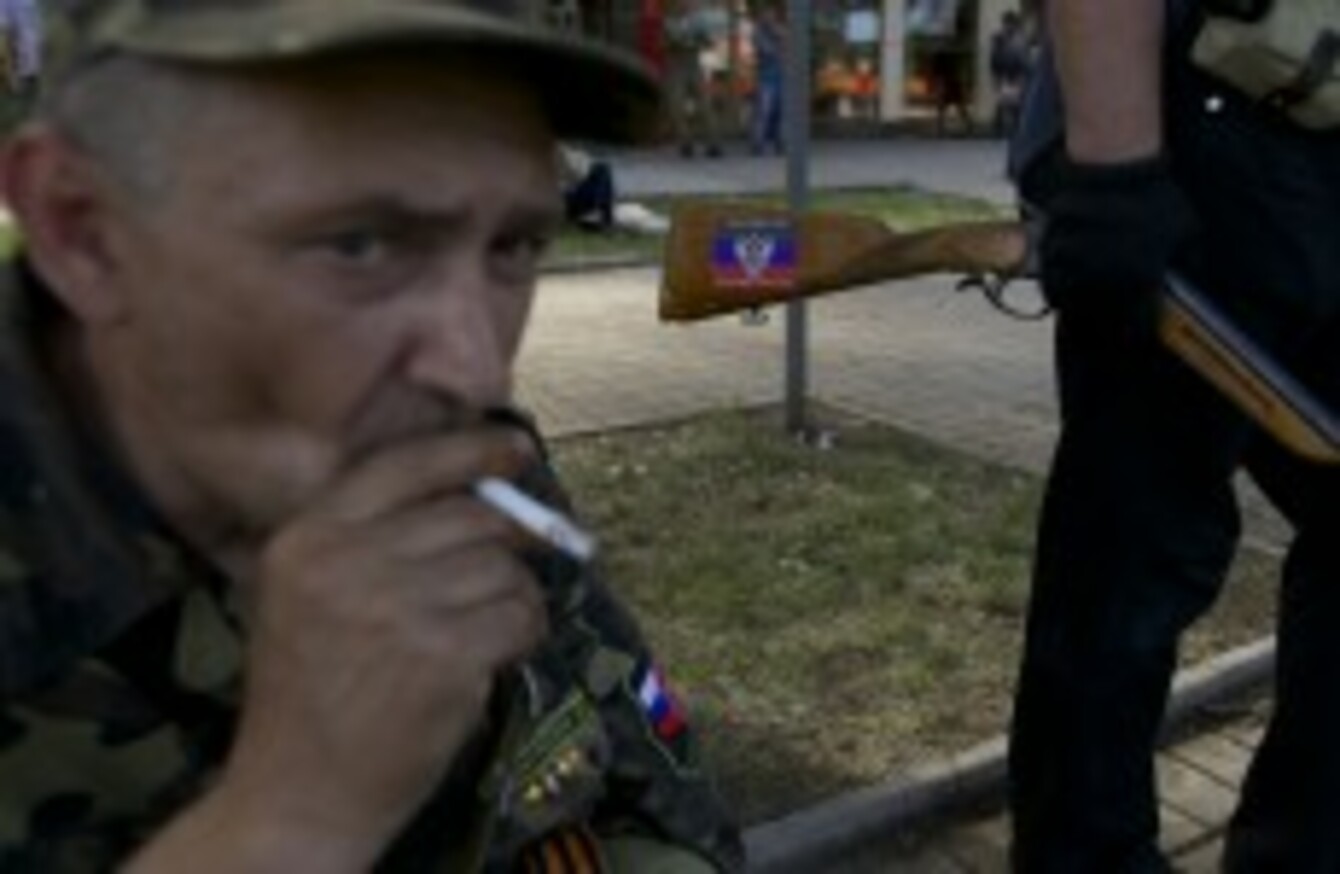 A sticker with Donetsk people's republic colors is seen on the hunting rifle of a local man who came to a check point on a road leading to the airport, in Donetsk
Image: AP/Press Association Images
A sticker with Donetsk people's republic colors is seen on the hunting rifle of a local man who came to a check point on a road leading to the airport, in Donetsk
Image: AP/Press Association Images
NOTE: THERE IS A GRAPHIC PHOTO BELOW.
UKRAINE SAYS THAT it has recaptured the airport in the eastern city of Donetsk after a day of air strikes and fierce gun battles with pro-Moscow separatist militants that left dozens of people dead.
Caught up in the drama in Donetsk were a team of international monitors with the OSCE who have gone missing after being detained at a checkpoint.
As fear gripped the city's streets, Russian President Vladimir Putin called on Ukraine to end its "punitive" operation in the rebel-held east and for talks between Kiev and the insurgents.
The battle for the main transport hub in Ukraine's industrial heartland erupted Monday just hours after president-elect Petro Poroshenko vowed to take a tough stand against the "terrorists".
"The airport is under our full control. The enemy suffered heavy losses. We have none," Interior Minister Arsen Avakov said.
He said however the military was continuing its operation and AFP journalists reported hearing sporadic gunfire and explosions during the day.
US President Barack Obama called the president-elect and offered him "the full support of the United States" but UN Secretary General Ban Ki-moon urged Ukraine to use "exclusively peaceful means" to regain control in the east.
Makeshift blockades
Donetsk mayor Oleksandr Lukyanchenko said two civilians and 38 combatants had died and another 31 were wounded, including Russians and possibly Chechens.
An AFP correspondent reported seeing body parts and blood splattered near a bullet-riddled truck on the airport road, where makeshift blockades had been set up with dumper trucks and piles of tyres.
The streets of Donetsk were eerily deserted as people stayed inside, and shops and restaurants shut early.
"The people around here don't know what is going on. Everyone says something different," said one resident called Sergei.
"It is terrifying."