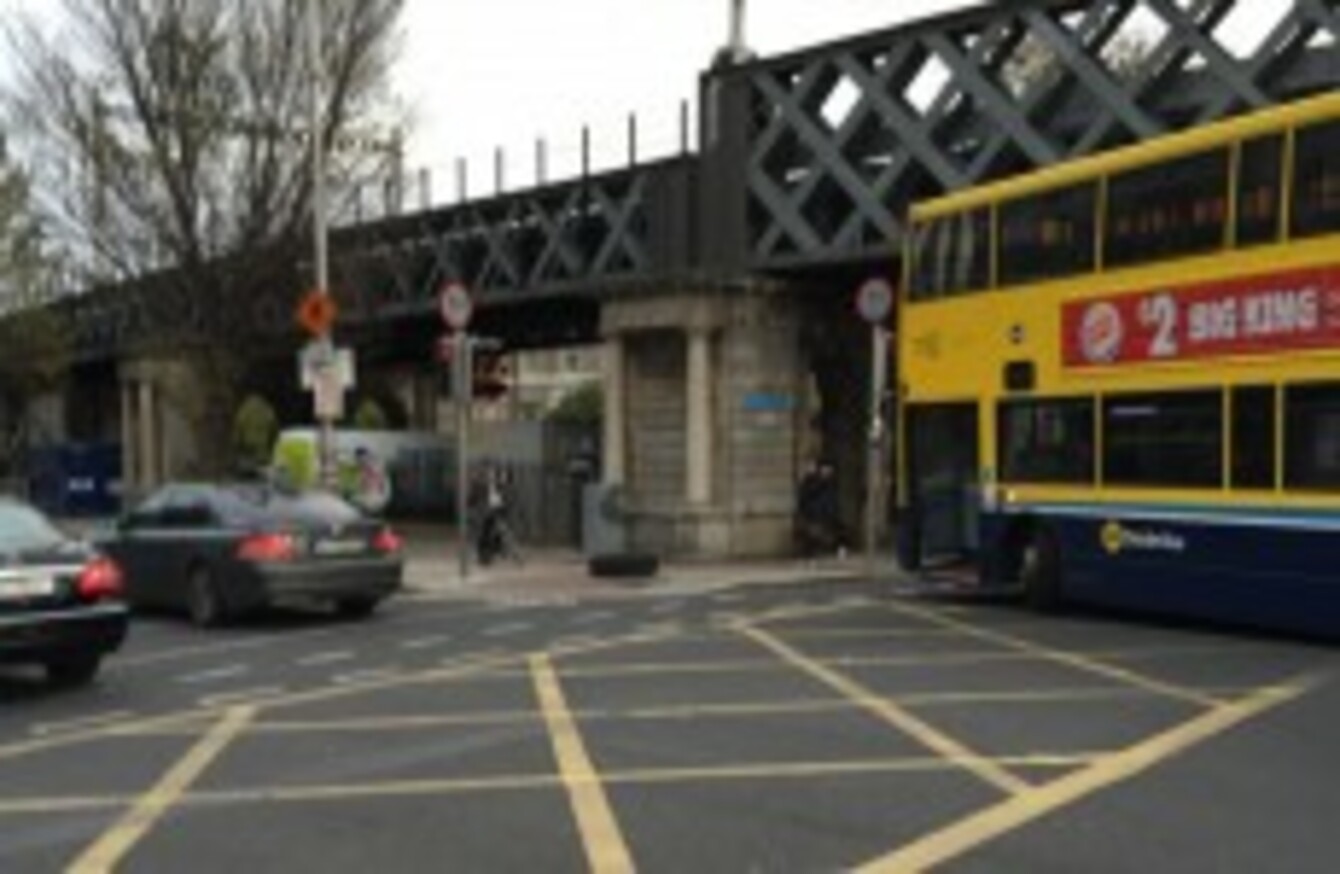 DRIVERS AT DUBLIN Bus have expressed concern about health and safety in the company after a wheel came loose and fell off a bus in the city centre this week.
The wheel came off the 15b bus at Butt Bridge, close to Liberty Hall on Tuesday. Only a small number of passengers were on the bus at the time and no one was injured in the incident.
However a number of drivers have told TheJournal.ie they feel an incident like this was bound to happen and fear people will be hurt in the future if safety checks are not stepped up.
I would be concerned about it, the pressure on the public transport system. We're probably going to hit 120 million passengers this year and all you need is to have one bus with an issue and it could be a disaster.
It is understood nuts from the wheels of the bus involved in Tuesday's incident were found two streets away.
"It was only pure luck that no one was killed," one driver commented.
Checking wheel nuts
Before a bus can leave a depot in the morning, the first driver is required to go through a list of safety checks. Included in this is a visual check on the wheels, including ensuring the wheel nuts are in place. This form has to be signed before the bus leaves the depot.
Some drivers have taken issue with this part of the form as they do not feel they have the adequate tools or training to check whether all of the nuts in the wheels are securely tightened.
You have to walk out in a dark yard at 4am and look at that wheel and make a judgement and say if those wheel nuts are in place. Are you classed as competent person? No, because you're not mechanically trained. You've never changed the wheel.
A small number of drivers have been refusing to sign the forms at the start of their shifts.
In response to a query from TheJournal.ie, a Dublin Bus spokesperson said drivers are not expected to physically check that wheel nuts are in place.
Every four weeks a maintenance controller physically checks each bus and each bus is also checked every 25,000 km with torquing equipment, which is on average every 12 to 16 weeks.
"This is the first time we've had a problem with wheels since these checks came in place [in 2008]," they said.
They also said it was a "minority of drivers" who had a problem with the list they were asked to sign.
Feedback
The spokesperson said the company welcomes driver feedback and has "structures in place to deal with queries". However, drivers from a number of different depots across Dublin told TheJournal.ie they had used these structures to raise concerns, both through their health and safety representatives and their unions.
With passenger numbers rising, drivers said they believe the fleet is overworked. Passenger numbers grew from 114 million in 2013 to 119 million last year. Though 90 new buses have been added this year, the company is operating 22 new schedules.
Bus drivers now want the company to look at putting systems in place to ensure there is never a repeat of Tuesday's events.
An investigation into the circumstances of the incident has been launched by Dublin Bus.