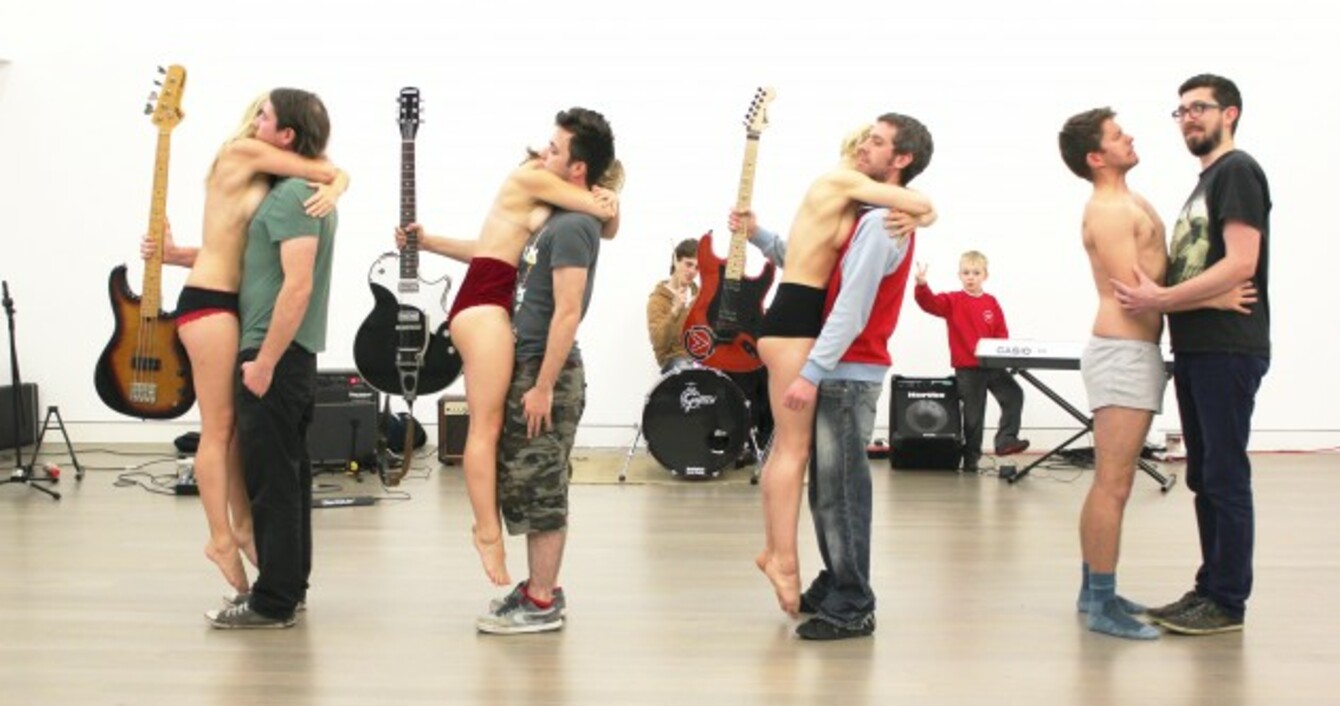 Ponydance
Image: Neil Hainsworth
Ponydance
Image: Neil Hainsworth
IF CONTEMPORARY DANCE seems like something you just don't 'get', then consider this advice from dancer Leonie Pony: when you're at a dance show, pretend you're in an art gallery.
She's the artistic director of Ponydance, a dance troupe who fuse elements of cabaret, clowning, theatre, and music to create shows that are almost impossible to describe.
In fact, that's just how Ponydance want it, so that the audience goes with no real idea of what to expect. And really, that ties into Leonie's art gallery comment – the audience is free to get what they want out of the show.
Dublin Dance Festival
This coming week, Ponydance will bring their latest work, Ponies Don't Play Football, to the Dublin Dance Festival.
The festival has been running for a decade, and in this landmark year is bring a varied range of shows to stages around the capital.
If you thought that a dance show wasn't for you, or are a little confused about what to expect, we spoke to Leonie, and Peter Daly from the show Swing, about how their shows break the mould.
Who are Ponydance?
"It looks chaotic and we look like we don't know what's going on, but we do know what's going on," laughs Leonie when speaking about Ponydance's show.
"Sometimes dance is the least most important bit."
For Ponies Don't Play Football, Ponydance are working with Belfast band Uncle Social. It's a marriage of creative minds, with Leonie saying the band were "so game, so sporting" about taking part.
Why they dance
Ponydance had a budget for a four-man show. "We had an 11 man show in the end," shrugs Leonie. "Financially, as a business model Ponydance is a farce."
But, of course, finances are not why they dance.
Why bring a band on board for the show? "I'm years trying to make a show with a live band. Live music connects with people so much," explained Leonie.
After working with Uncle Social, she knew they were the ones. "I can't really afford you – but let's do it anyway," she told. "It didn't make any financial sense but it made loads of artistic sense."
Having a live band made things easier in some ways. "There was like an instant gratification, music wise," said Leonie.
She describes the show as "a number of short pieces that run into each other… it's like a cabaret without an MC. It is very clown-like".
The dance, she explains, makes up the substance to carry the clown material. There's some nudity and pop culture references, and Ponydance take the notice of a fourth wall and smash it to smithereens.
"We change on stage, everything is on stage. It's the set-up of a rock gig with the feel of dance gig," described Leonie.
Source: Dublin Dance Festival/YouTube
The title, Ponies Don't Play Football, is a reference to sport, and people's obsession with it. "The sense of competition and sense of human achievement" fascinates Leonie, just as the human endurance of athletes fascinates her too.
When Leonie is at shows, she tries to see everything that's going on in the wings, and onstage:
The moment that a techie walks across and changes the set – they're the really real moments.
Having a live audience "is the most important part of performing". "I'm conscious that people have spent money and given up time and want to give them a good time."
To Leonie, a good show "reminds us of humanity, of what it is to be human, to feel better about the place in general".
It's not mindless feel-good, it's subversive in how it rejoices in humanity, and it's a hell of a show.
Source: Kilkenny Arts Festival/YouTube
What advice does she give to someone going to a Ponydance show?
Sit in the front row – and risk it for a biscuit. If you already like theatre, live music and comedy, come to our show.
If you're watching any dance show, Leonie's advice is to pretend you're in an art gallery. Don't expect there to be a narrative, or story arc. That's not what it's about. It's about immersing yourself in the show and seeing where it takes you.
Absorb and view the piece. Watch the dancers breathe and sweat. And just enjoy.
Swing
Fishamble's show Swing is a totally different kind of show to Ponydance. It's a show about dancing (of course), and it's about music, but it's about "love and not settling and feeling like an eejit".
Written by Steve Blount, Peter Daly, Gavin Kosick and Janet Moran, it's about trying new things and thinking outside of the box. It tells the story of two people at a dance class, with the actors playing all the other characters too.
After a glowing review in the New York Times, the team sat down to chat about why it had struck such a chord with people.
"Our story is as anti-epic as you can possibly get, pretty much," mused Peter Daly. "Not a huge amount happens,  not a lot moves forward, but for some reason the thing seems to work."
"The parts that we've written call for the actors to be very funny and outgrageous in some parts and very real in some parts." From obnoxious characters to shy men, the men features a range of dancers of different types.
The one thing they all seem to have in common is they're there because all the questions in their wider life don't seem to be answered. Each week they learn steps and they move a little bit forward.
The two main characters are May and Joe. He has been dancing before, and is older than  May. He has had a fairly difficult enough few years in his own life, with his relationship and job breaking down.
May's boyfriend is away for three months and she tries the class while "looking for answer to something", said Daly.
The two meet and seem to click straight away. "We're watching their relationship, watching it inch forward whatever might or might not happen between them."
Writing for the stage
Daly sees himself first and foremost an actor, but relished the opportunity to try his hand at a new aspect of theatre – even if the early scenes were "turgid and awful".
Once the writers stopped being polite with each other, things were tightened up. "The three of us were really good script editors for each other. Nothing got past the goal posts unless all three of us were happy with it," said Daly.
Even at three-quarters way through the process, he said the play was "pretty bad". But then, thanks in part to the help of a more seasoned theatre writer, they realised that they were trying to do too much. They needed to let the audience do more work.
Things started to fall into place. "We were learning on the go and it was a really useful lesson," said Daly.
Swing is a good show for those who want to see a more traditional style of dance and a solid narrative.
"Myself and Stevie and Janet, we are three sentimental fools," said Daly.
We set out to make something that was enthusiastic, optimistic, and hopeful…. we're cynical aul f**kers as well. We want you to leave the theatre with a spring in your step.
Swing isn't a throwaway piece of theatre, but it's not so deep that it's not enjoyable, either. "We could have ended up with a piece of theatre people walk away from and never think about it again, "said Daly. But that's not what happened.
After the festival, Swing can be caught at Bewleys for three weeks, before going on a nationwide tour.