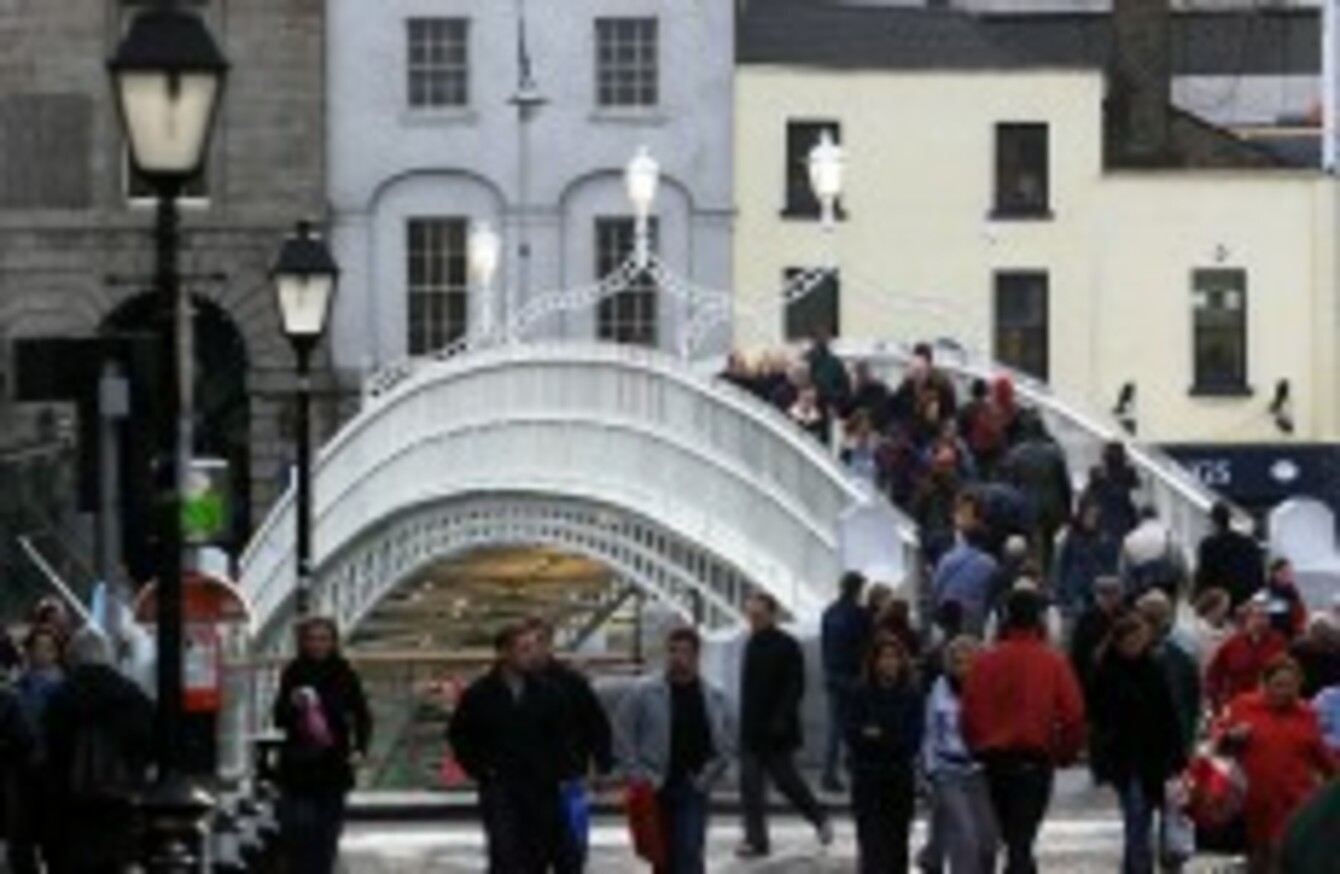 Dublin's Ha'penny Bridge
Image: Chris Bacon/PA Archive/Press Association Images
Dublin's Ha'penny Bridge
Image: Chris Bacon/PA Archive/Press Association Images
DUBLIN IS THE 26th best city in which to live in the world, according to the latest annual Quality of Living list compiled by Mercer.
Important factors considered when ranking a city are education, health care, culture, public transportation, recreation and environment.
Dublin's ranking outstrips some of the world's most cosmopolitan cities – including Paris (30), London (38), Tokyo (46), Madrid (43) and Boston (36).
The Austrian city of Vienna ranked highest for quality of life worldwide out of the group of 221 cities, while Baghdad ranked lowest. Zurich, Switzerland, ranked second on the list, followed by Auckland, New Zealand, and Munich, Germany. Dusseldorf, Germany, tied with Vancouver, Canada, in fifth place.
The lowest-ranking European city is Tbilisi, Georgia (214).
European cities dominate
European cities continue to dominate the list this year, although cities in Australia, Canada and New Zealand also made appearances – and Singapore became the first Asian city to enter the top 25.
Senior Researcher at Mercer Slagin Parakatil said: "European cities in general continue to have high standards of living, because they enjoy advanced and modern city infrastructures combined with high-class medical, recreational and leisure facilities.
"But economic turmoil, high levels of unemployment and lack of confidence in political institutions make their future positions hard to predict. Countries such Austria, Germany and Switzerland still fare particularly well in both the quality of living and personal safety rankings, yet they are not immune from decreases in living standards if this uncertainty persists," he added.
The cities with the lowest quality of living are Khartoum, Sudan (217), Port-au-Prince, Haiti (218), N'Djamena, Chad (219), and Bangui, Central African Republic (220) and Baghdad, Iraq (221).
Personal Safety Ranking
This year, Mercer also complied a Personal Safety Ranking, which rated Dublin at 16th place. The Personal Saftey list was based on internal stability, crime levels, law enforcement effectiveness and the host country's international relations.
Luxembourg topped the personal safety ranking, followed by Bern, Helsinki and Zurich – which all ranked at number two. Vienna come fifth, while Geneva and Stockholm both ranked sixth. Baghdad (221) was determined to be the world's least safe city, followed by N'Djamena, Chad (220), Abidjan, Côte d'Ivoire (219), Bangui, Central African Republic (218), and Kinshasa, Democratic Republic of the Congo (217).
Parakatil said: "The top-ranking cities for personal safety and security are in politically stable countries with good international relations and relatively sustainable economic growth. Most of the low-scoring cities are in countries with, civil unrest, high crime levels and little law enforcement".
The data was collected by Mercer mostly between September and November 2011