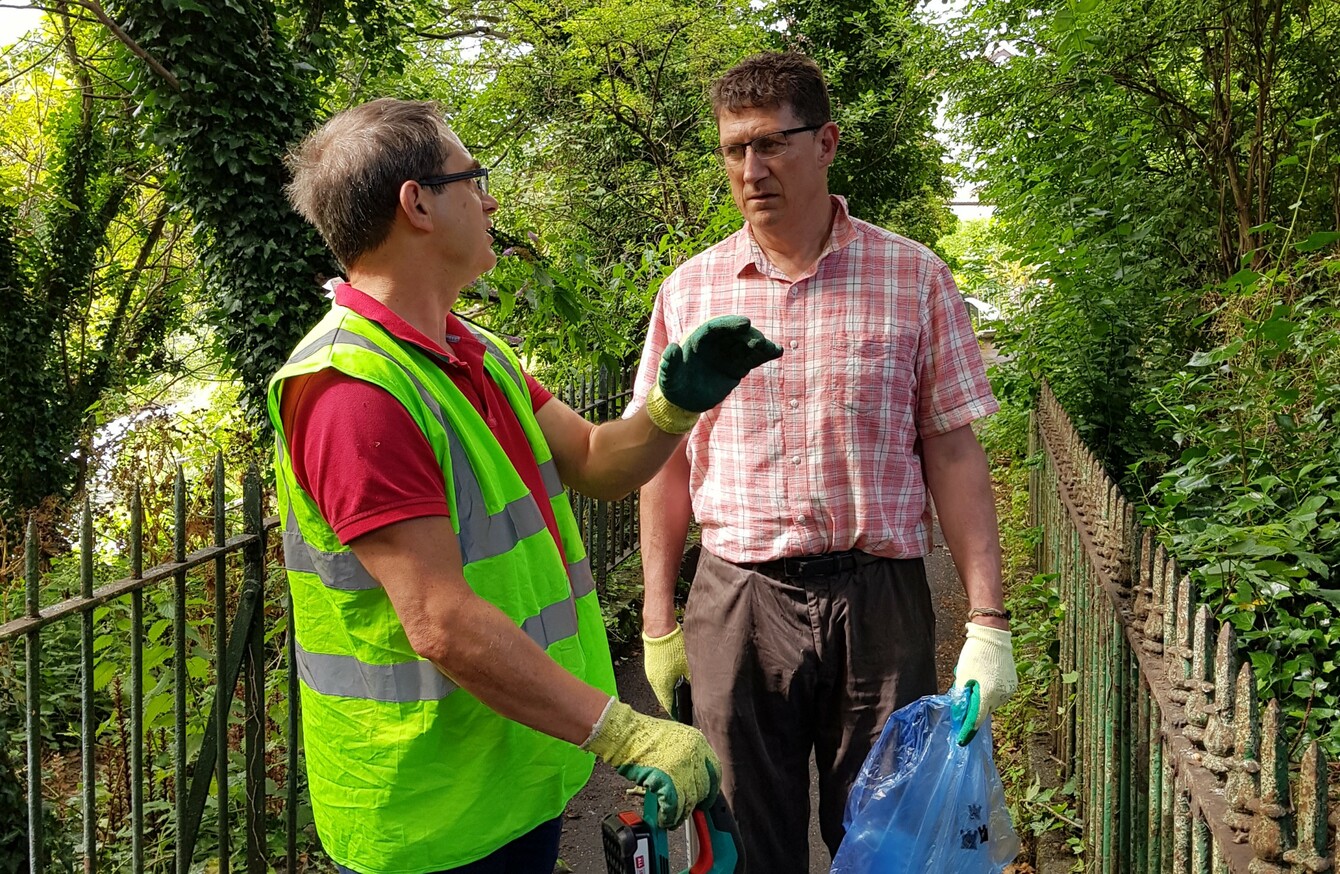 Niall Loftus of Donnybrook Tidy Towns and Green Party leader Eamon Ryan.
Image: TheJournal.ie
Niall Loftus of Donnybrook Tidy Towns and Green Party leader Eamon Ryan.
Image: TheJournal.ie
EAMON RYAN HAS seen it all before. 
He's seen concern for the environment coming and going over the last forty years. For him, it's an interest that started after doing an O-Level in Ecology as a 16-year-old in the late 1970s. 
The wider environmental consciousness waned during the recession of the early 80s before coming back later that decade – Ryan remembers canvassing for John Gormley in the 1989 election and feeling really positive about the green project. 
Environmental concerns went out again the mid-90s before getting a rebirth in the 2000s with Al Gore's Inconvenient Truth and all that went with it. The last recession saw climate issues fall down the agenda again. 
Now, climate is back on the political map Ryan is convinced it won't be falling off like they before. It simply can't.
"I've seen over 30 years the tide coming in and out. I think this time the tide is rising far higher than it has in the past and I don't think it will withdraw quite as easily because, to be honest, the scale of the challenge is so great and it's going to become the big economic, social and government story of our time."
Ryan is speaking to TheJournal.ie while helping out with a cleanup of the River Dodder in the heart of Dublin 4.
It's a Saturday morning and he's joined the Donnybrook Tidy Towns for its monthly cleanup with the Dodder Action group. 
There are five volunteers on today's cleanup including Ryan and his son Tommy.
Niall Loftus of Donnybrook Tidy Town starts the cleanup with a moment's reflection for Trish Brennan, "a proud Roscommon woman" who passed away a few days previously and was married to their chairman. Without her, "Donnybrook Tidy Towns wouldn't exist", he says. 
Loftus says he wishes they had more people out helping but that it's hard to get them out, even if a reduction in litter shows that people are being more careful. 
He points to a plastic bag full of beer cans that's been hung on a gate and notes that even those having cans by the river are trying to be more careful.
I ask the Green Party leader why the green message is breaking through. 
He points to several reports that stopped people in their tracks over the past year or so. 
There was the alarming UN report last October that warned about a transformation of society that is "unprecedented in scale". A few weeks later, that was followed up by research showing a 60% decline in the world's animal population over 40 years. 
Then there was David Attenborough's campaign against ocean plastic and finally, Greta Thunberg. Ryan says the Swedish 16-year-old spoke about the "planet being on fire" in a way that grabbed people's attention. 
"She spoke a truth, that you're messing with my future."
Saying 'I'm not going to have a future if you keep going the way you're going'. And I think we noticed when we were canvassing a lot last year, that you're starting to get parents responding to that and grandparents saying, 'you know, they're right'.
Ryan goes on to say that movements like Thurnberg's and other youth-led protest groups have brought a different dimension to the climate emergency.
"While they were really raising the alarm, they were doing it in an optimistic way. They way saying things like 'we are unstoppable' and 'another future is possible'."
"They had chants like, 'hey ho, hey ho, climate change has to go'. It was craic, it had a bit of hey ho about it."
"It did lead to a change in consciousness. So did in the past three or four years, we had various storms, freakish weather, droughts. People aren't stupid, they can see it."
Mistakes
As a longtime campaigner, Ryan says part of the problem is that the environmental movement made a mistake over the past 30 to 40 years by "putting all the emphasis on the individual".
"It was about: 'Are you doing the right thing? Have you used the right coffee cup? Don't you know the planet's burning, is that the right lightbulb?'"
He says you have to make it easy for people to do the right thing and that he's convinced that it's more about changing the political system rather than changing individual habits.
He's not going to, for example, tell people they shouldn't take a flight abroad, but he will encourage people to look at alternatives. 
His holiday plans for this summer are three weeks on Inishbofin. His oldest son is nearly 20 and mightn't join but the rest of the family will be going.
My job isn't to be waving the finger at someone, you have to have a good alternative. Look, stay in Ireland, it's a nice country, it's a beautiful place. It's miserable flying most of the time. You're stuck on an airplane with screaming kids and you want to go to the south of Spain where it's going to be 35-40 degrees and you can't go out because it's so bloody hot? We live in a beautiful country and you accentuate the positive rather than the negatives.
Extinction Rebellion
Despite seeing climate protest groups as being a key part of the overall environmental movement, Ryan sees a separation between what they do and the role of the Green Party in politics. 
He says campaigners have "a certain freedom" but that the work of his party is in local councils, the Dáil and the European Parliament.
This point is at the heart of a crossroads his party is approaching. The Greens in Ireland went from zero to two MEP seats in the European elections and from 12 councillors to 49. 
It was a transformative result that has seen the party being touted as potential kingmakers after the next general election.
One of its new stars Saoirse McHugh is vehemently opposed to the idea of going into government with a Fianna Fáil or Fine Gael.
She first spoke of this opposition while still in the Mayo count centre back in May but has reiterated it numerous times since, including in a lengthy Twitter thread last week.
Ryan hasn't said the party must prioritise entering government but has been clear that if an opportunity came around to do so it would be considered. So long as he and the party felt they could negotiate "really practical, really achievable but ambitious goals", he says.
Having a public debate among members about the direction your party is going may not seem ideal but Ryan says it's not his place to stop it.
"You don't try to control the debate, you let people speak their mind and you speak yours. One of the advantages of being a political party is that you have people willing to pull you up and say "that's nonsense", and you work as best you can to try and achieve a consensus."
The decision with regards to government comes from members and we need a two-thirds majority, so it's not an easy standard. But that's what we've done in the past and I think that's appropriate.
"My job is to make sure that that decision is as well-informed as it possibly can be if we are in a situation where we are in programme for government negotiations. It is to prepare for them so you're going for really practical, really achievable but ambitious goals."
One of the ambitious goals Ryan wants to talk about is the so-called 'Vienna Model' for public housing. It's one where rental prices are based on construction and maintenance costs rather than market rents. 
He says there are huge areas of publicly owned land being underutilised in Dublin and elsewhere that should be developed with money borrowed from the European Investment Bank or through the issuing of bonds. 
He namechecks the nearby Donnybrook Dublin Bus depot and Rathmines' Cathal Brugha Barracks as land that could be ripe for such housing. Those services would then be relocated to new facilities outside the city.
You'd serve the army by building a really good high-quality new barracks. Then you've got 30 acres, there in the center of Dublin, where you could put in 3,000-4,000 housing units, really high quality, where a whole variety of people can rent. The cost of the construction is covered by the rent.

If someone can't afford that, you give them a rent supplement, not the current system where it's going to the private sector. And the great thing about it is it's in the market, it interferes with the rental market and we need to do that. Fine Gael are saying 'Oh, leave the market alone the market will do that'.
Such ambitious strategies would of course be dependent on those who are currently located on the land playing ball. Ryan says that "entrenched institutions" are often "dug in" and that what's required to overcome this is political will over the course of successive governments, not just one. 
This is why he believes it's necessary to be open to working with all parties, he adds that he's not particularly concerned if they try to "steal our clothes" on green issues. 
"One of the reasons we're working with all parties, some people would say 'would you not pick certain parties and say you'll only work with them'. I think one of the things we need to do in this transition, it needs to be consistent over several governments," he explains. 
So you need three or four governments in a row to have the same view. Yeah, we're going to promote public transport. Yeah, we're going to build back in the centre of towns and cities rather than just sprawl. So therefore, you want to make sure that everyone agrees, yeah, that's what we're doing. Then it's much easier to go to the head of Dublin Bus or the head of CIE and say, listen, we think some of the land is being underutilised.
But what of the argument that the larger parties obstruct the green agenda rather than facilitate it? He agrees that they do but that they "need to change".
"They need to move on, our job is to get them to move. And we could do that by holding our nose and saying we won't ever even talk to you. Or you can start engaging people and say 'come on, look at this, this makes sense. This is how you make change'."
"And I prefer to get down and start working with people. Because to be honest, we don't have that long. We're not going to wait for the nirvana politically before we start finally doing something. We've got to do something today."
The meat of the issue
Speaking about Varadkar specifically, Ryan says he feels that "Leo was hard done by" over his statement about eating less red meat. It's a change he's also made himself and says it's "demonstrably true" that eating less meat is good for both personal health and the environment.
Despite that, Ryan says Fine Gael are following "an industrial agricultural model which is destroying our nature" and is not serving farmers in the long run.
He also takes issue with comments Varadkar made last week at the opening of a new stretch of the M11 motorway in Wexford when the Taoiseach said the government must "counter a pervasive anti-roads agenda". He jokes that the Taoiseach may have been talking about him.
"I mean, sometimes Leo's inner neo-liberal comes out and they're into big into roads. Why?"
We have 51 major motorways or national roads in planning or in construction at the moment, we don't have a single public transport project ready to go. It's just not working.
"They're widening all the approach routes to Dublin. Why? What benefit is that going to be, just bringing more cars into the city."
"They're planning an orbital motorway in Galway that's just going to see Galway sprawl in the same way it has the last 20 years. In Cork they're talking about a big massive motorway, the M20, with an orbital motorway around Cork. More and more cars everywhere, ending up where. We're grid-locking the system."