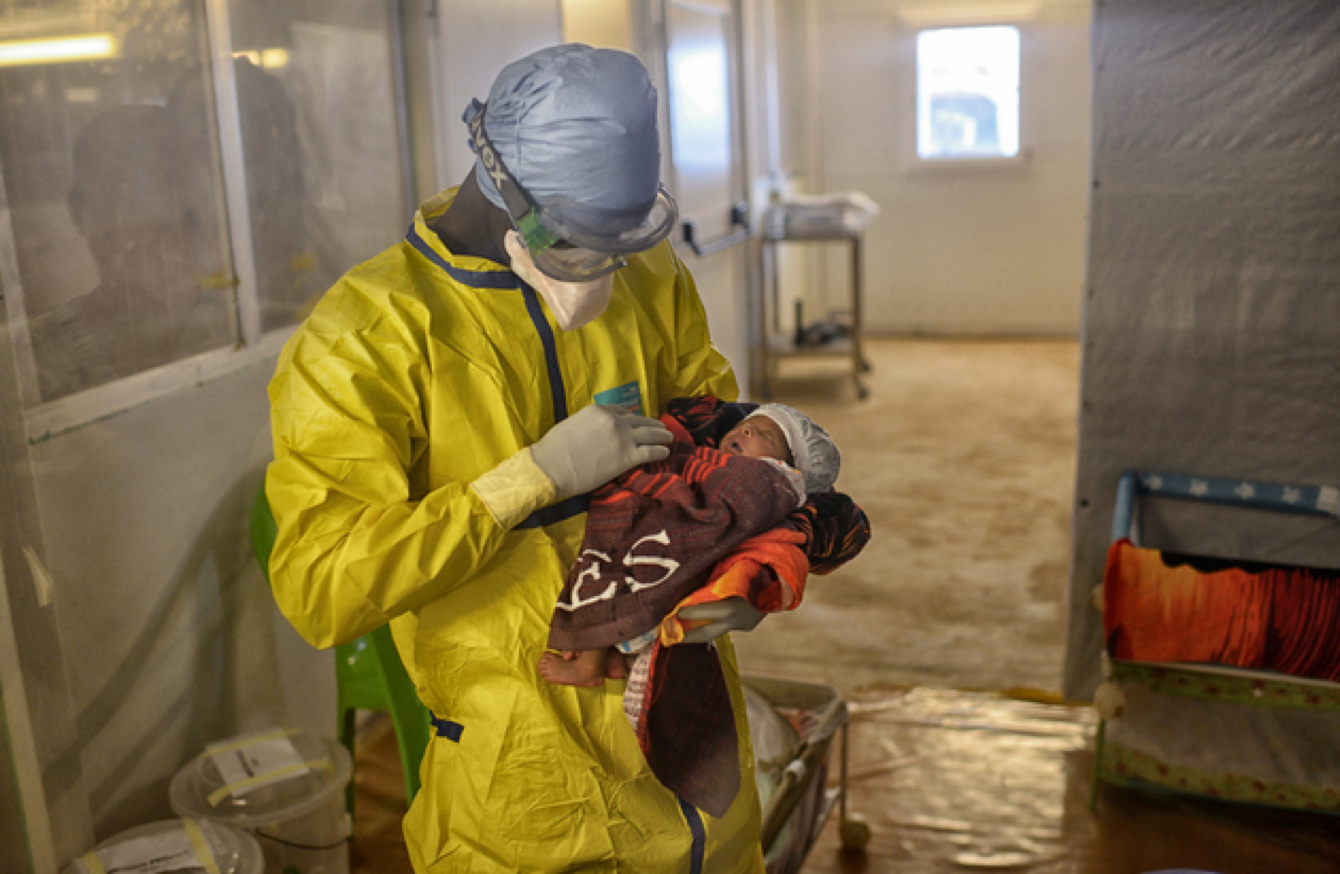 An MSF health worker holds baby Nubia Souma, the last known Ebola patient in Guinea.
Image: Samuel Aranda/MSF
An MSF health worker holds baby Nubia Souma, the last known Ebola patient in Guinea.
Image: Samuel Aranda/MSF
THE WORLD HEALTH Organisation has declared the Ebola outbreak in Guinea officially over.
In a statement this morning, the global body confirmed that 42 days had passed since the last person with Ebola in the country tested negative for the virus for a second time.
Guinea will now enter a 90-day period of "heightened surveillance" to ensure any new cases are identified before being passed on to other people.
The original chain of Ebola which kicked off a devastating epidemic in west Africa last year, began in Gueckedou, Guinea in December 2013. The virus then spread to neighbouring Liberia and Sierra Leone. Land and air travel brought it further afield, with seven different countries affected.
The epidemic – the worst ever since the haemorrhagic fever first surfaced in 1976 – left 11,300 people dead. Almost 29,000 cases of the disease were reported.
"This is the first time that all three countries – Guinea, Liberia and Sierra Leone – have stopped the original chains of transmission that were responsible for starting this devastating outbreak two years ago," Dr Matshidiso Moeti, WHO regional director for Africa explained today.
The first victim – or patient zero – was a two-year-old toddler in southern Guinea. The virus remains localised until February 2014, when a careworker in a neighbouring province dies. By 8 August 2014, a public health emergency was declared.
Countries have to remain vigilant to Ebola as today's announcement is far from the last of the disease. Between March and November this year, there have been some small outbreaks, or flares, of Ebola spotted. These appear to have been due to the re-emergence of a persistent virus from the survivor population.
According to WHO:
Among the challenges survivors have faced is that after recovering from Ebola virus disease and clearing the virus from their bloodstream, the virus may persist in the semen of some male survivors for as long as 9-12 months.
"The coming months will be absolutely critical," says Dr Bruce Aylward, special representative of the director-general for the Ebola response. "This is the period when the countries need to be sure that they are fully prepared to prevent, detect and respond to any new cases.
"The time-limited persistence of virus in survivors which may give rise to new Ebola flares in 2016 makes it imperative that partners continue to support these countries. WHO will maintain surveillance and outbreak response teams in the three countries through 2016."