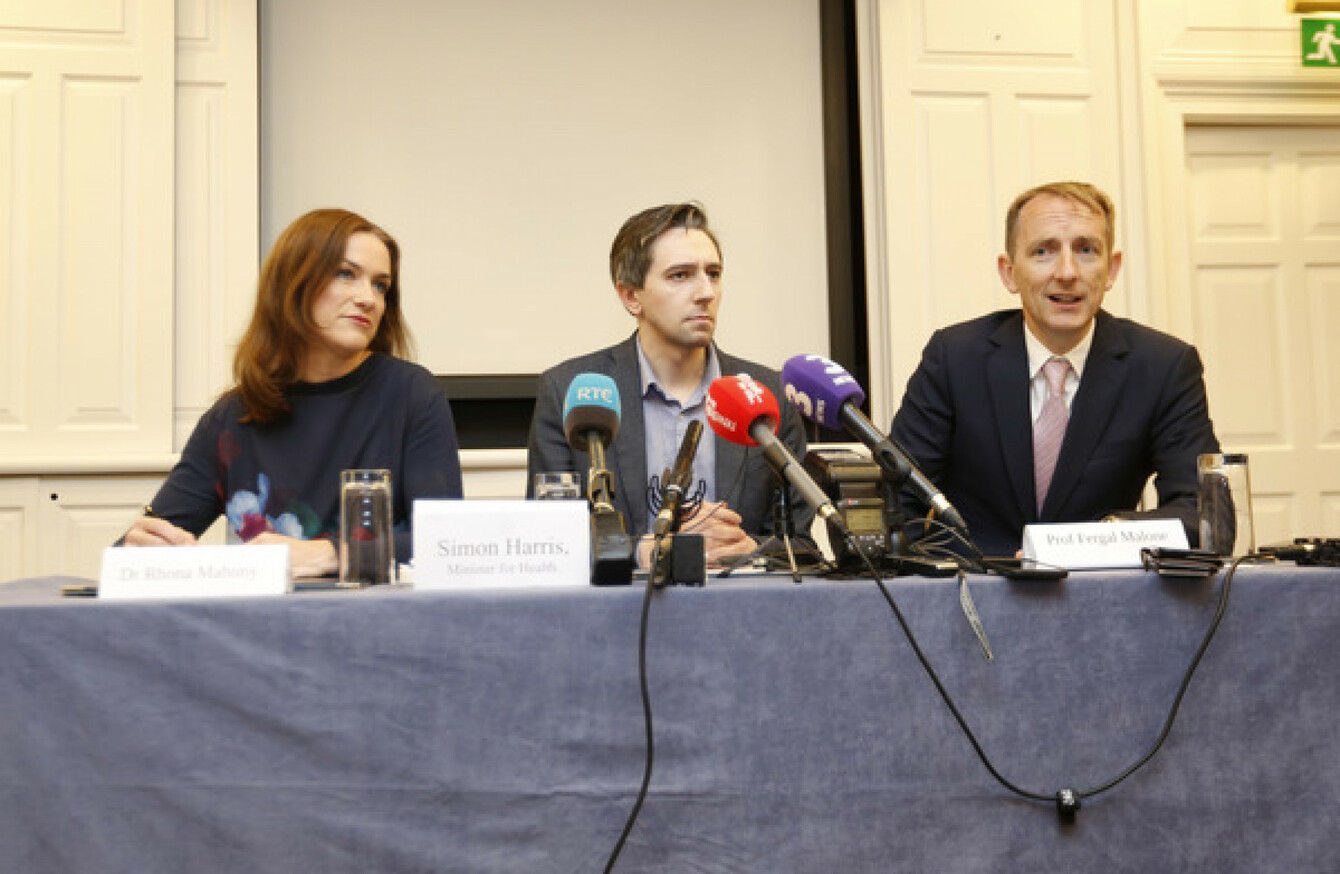 Dr Rhona Mahony, Minister for Health Simon Harris and Professor Fergal Malone speaking today.
Image: RollingNews.ie
Dr Rhona Mahony, Minister for Health Simon Harris and Professor Fergal Malone speaking today.
Image: RollingNews.ie
MINISTER FOR HEALTH Simon Harris has criticised some No campaigners for, he said, trying to take Ireland back to the "dark ages" regarding mental health.
At a press conference today, he also stressed that the proposed abortion legislation, should the Eighth Amendment be repealed, is "vastly" more conservative than the law in the UK.
Speaking alongside the Masters of Ireland's two main maternity hospitals, Minister Harris said the referendum debate has failed to properly analyse the proposed legislation so far.
"I've seen a lot of posters put up contrasting our proposed law and our proposition to the people with that of the UK," he said.
The proposition is vastly different and I think in the final days I hope Irish people will have an opportunity to hear those facts. I certainly intend to try and portray those facts.
Harris added that the proposed law is at the conservative end of what is allowed in many countries and significantly more conservative than the UK.
Mental health
Dr Rhona Mahony, the Master of the National Maternity Hospital, sought to address the argument that women would claim to be suicidal in order to secure late-term abortions.
She said the argument was also used in 2013 when the Protection of Life During Pregnancy Act was being debated.
"We have to come away from this idea that women want termination of pregnancy. It is a last-ditch, awful resort, for women," she said, asserting that the argument is misogynistic.
Most people who are pregnant really want to have their baby but some women find themselves in such desperate circumstances that this really is the option they have come to after a great deal of thought and I think we have to start respecting that.
Minister Harris also lamented the return of the argument, which he said has been proven statistically false in the years since the Protection of Life During Pregnancy Act was introduced.
He said it was very disappointing that some campaigners were trying to take Ireland back to the "dark ages" on mental health.
I thought we'd come an awful lot further as a country in relation to trying to destigmatise mental health, yet it seems any time we want to talk about women's bodies and crisis pregnancies we go back to stigmatising mental health. We go back to ridiculing mental health as though it's not a real illness.
In a particularly animated response Harris said he vividly remembers some prominent No campaigners arguing that the act would cause the abortion "floodgates" to open and it would lead to women faking suicidal intent to access terminations.
I know some of those people who opposed, vigorously opposed, the Protection of Life During Pregnancy Act, campaigned against it night and day, I notice some of them now talking about the act as though they're in favour of it.
"These are the same people," Harris said, thumping his hand on the table, "who if they had their way there wouldn't be a Protection of Life During Pregnancy Act and yet they're just allowed to forget that now? A couple of years on, we just pretend they actually voted for it?"
The minister said that many people are really struggling with the question posed by the referendum and they have a right to factual information about it. "When someone's standing in front of them, expressing the virtues of the Protection of Life During Pregnancy Act, they have a right to know that those individuals actively campaigned against it," he said.
Abortion pills
The Master of the Rotunda, Professor Fergal Malone, outlined a range of concerns about women taking their healthcare into their own hands because of Ireland's abortion laws.
He spoke in particular about the dangers of patients sourcing medications from the internet and not really knowing what it is that they're actually consuming.
"We know that about 1,500 women a year are in this situation and are taking medication to procure termination of pregnancy and probably 2 to 3% of those will run into medical complications and medical troubles," he said.
Prof Malone added that health care for pregnant women has become significantly more complex in recent years.
He said it's striking that most medical people campaigning for the retention of the Eighth Amendment are retired doctors who are no longer in practice and are not dealing with the range of, increasingly complex, issues on a daily basis.
"Healthcare for pregnant women 20 and 30 years ago was very different," he said, explaining that there has been a huge increase in the number of women with all sorts of medical issues, such as transplants or diseases, getting pregnant.
"That's why you need to listen to doctors who are actively practicing today as to what we're seeing on the ground.
Love Both
Separately today, the Love Both campaign group held a press conference in which it raised concerns about the lack of Government action on the importation and use of abortion pills from outside the jurisdiction.
"If the Minister was really concerned about abortion pills and the problem they represent he would have done something practical about it such as promoting information about the dangers of abortion pills and resourcing the customs authorities to intercept them," the group said.