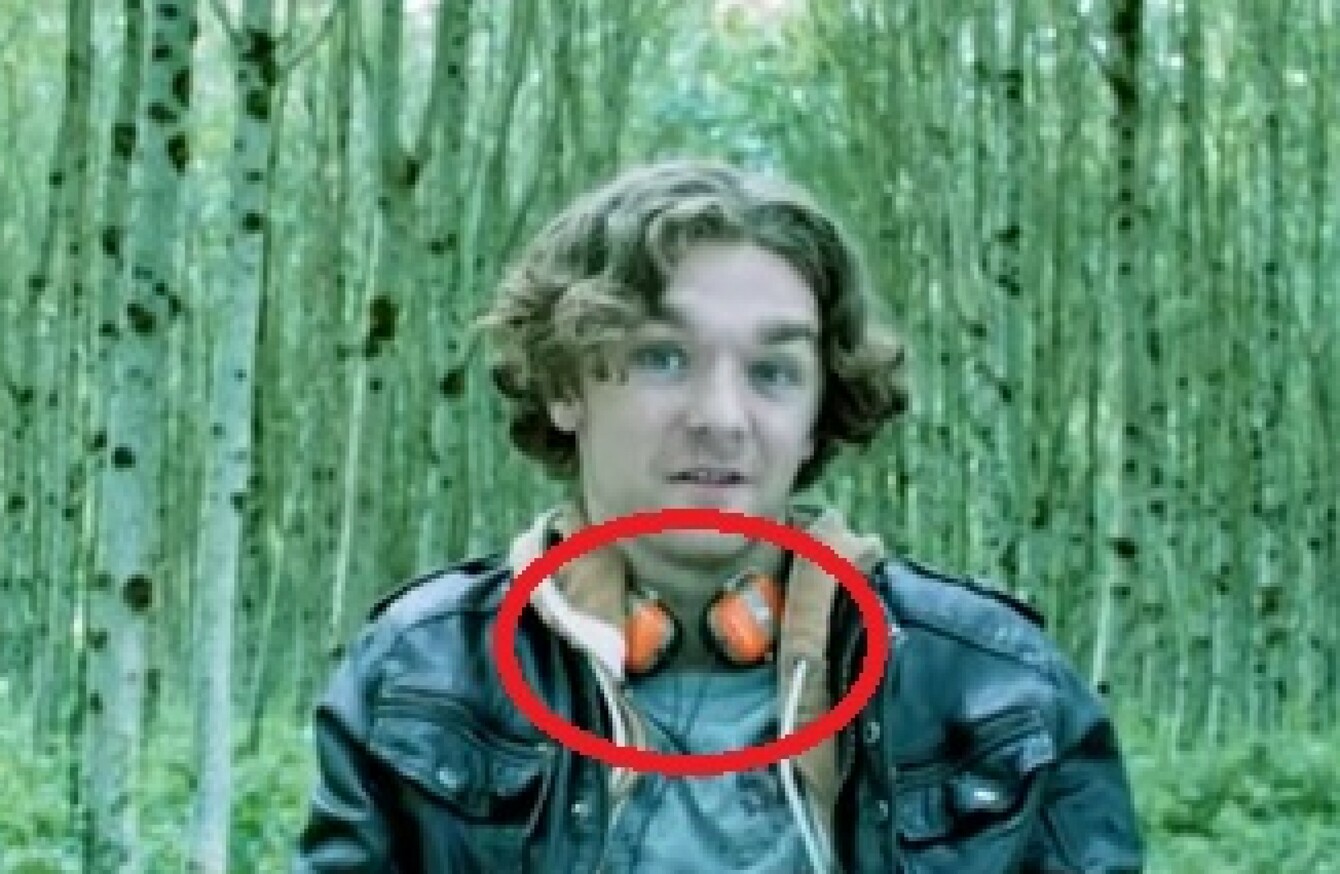 WHEN WE SIT down to watch a TV show, we take lots of things for granted: the set, costumes, and what goes into making a character.
What we don't know are all the tricks of the trade that helped to pull the show together seamlessly (and yes, sometimes that means putting the camera down the toilet).
TG4′s new series Eipic brings us the story of a young band in a small rural town in Ireland. We spoke to its director, Louise Ni Fhiannachta, about all the hidden work that went on behind the scenes.
Finding the right location is quite the task
Eipic is set in a rundown town that has borne the brunt of the recession, and the team had to look hard to find their perfect location. Where would be a place that could be dull and grey, but also have the perfect buildings to shoot in?
"When choosing locations you also need to think practically – does it have the necessary space so we can choose our actions wisely?" said the director.
All those practicalities – the lighting people will be wondering how are you going to light a certain room. There are always health and safety aspects to using locations.
They discovered the perfect setting in Woodford, Galway. "It was once a hub of activity and now it's the place that time forgot," said Ni Fhiannachta, "which is a huge theme in Eipic."
She described Woodford as "another character in the series".
The next step was scouting locations – all of the bedrooms are other people's bedrooms. (They were paid a location fee)
As for getting the 'look' of the show together, the team turned to Pinterest, which was more accessible than the traditional scrapbooks.
These orange headphones are very important
Each character in Eipic has their own signature style, but if you look closely you'll see some items appearing in every episode.
There are Sully's orange headphones, Mona's beanie, Aodh's jumpers, Oisín's scarves, Bea's lip gloss and Aengus's vaporisers.
Initially, it was planned that Sully's sneakers would do the talking. "But I thought no, we're looking at him, not his feet most of the time and these orange headphones, they are part of him. It tells us so much more about him, his interest in music, his passion for music."
In post-production, they drew out the orange in the headphones to make them stand out even more. That's not the only time they've done this: everything pink-coloured is emphasised for the character Bea.
Creating a teenager's bedroom is quite fun
Being teens, the characters in Eipic use their bedrooms to express their personalities.
"Our characters' bedrooms are sacred spaces," said Ni Fhiannachta. "So everything from a design perspective should tell us about the characters' lives and in some cases their dreams and aspirations."
Oisin, for example, has a bedroom that "should reflect a Celtic Tiger monstrosity" – it has clean lines, and looks hardly lived in.
He mentions how he goes to boarding school, so the bedroom also has to reflect that – and the fact his parents "throw money at him" and so he has lots of gadgets.
Ni Fhiannachta decided that "it would be great if there was some form of life in his bedroom", and came up with the idea of a fishtank.
"There is something really tragic about that as well – does he just talk to his fish?" It also meant that Ni Fhiannachta could film through the tank for some shots.
Mona, meanwhile, is socially awkward and lives in a council house, surrounded by her vinyl collection and novels by the likes of Gabriel Garcia Marquez. Her walls are postered from ceiling to floor and feature bands like Cut Copy and the Violent Femmes, and film posters like Fargo and Eternal Sunshine of the Spotless Mind. 
The writer, Mike O'Leary, gave an insight into the character, but director Ni Fhiannachta was "given that creative freedom to create that character more, develop them into a personality".
The art department was given a budget to buy and hire props – and the people whose houses they shot in had their bedrooms transformed.
Things you'll do for filming: "We put a Go-Pro down a toilet"
"I wanted to show the world from vantage points that are more or less unseen by our eyes in real life," said  Ni Fhiannachta of her shooting style in Eipic.
"Mike had cleverly started a scene on a fridge door opening so that was really refreshing. We also placed a Go-Pro down a toilet in episode 3 while someone is getting sick at a house party. It was great fun. "
In episode three, they use what's known as a 'snorricam' at Oisin's party, where the actor wears a brace that has a camera on it. "It's a great device to use if you're trying to create that intimacy," said the director.
The camera was also put under beds so we can see characters' shoes.
"I feel that teens' footwear makes a statement about who they are," she explained. "By doing something as simple as that, we know who's after walking into a room."
There's a reason the characters look right at you
One thing you might notice when watching Eipic is that the characters have a number of scenes when they look directly at the camera (known as breaking the fourth wall when they're communicating with the audience, but in these cases it was more about the camera representing another character).
In the scene above, we see through Aodh's eyes.
"Aodh happens to have the casting vote in a lot of the band's decisions and this happens a few times throughout the series," explained  Ni Fhiannachta.
"So I started to explore ideas for a visual rhyme and that's when the idea of having our other four characters staring into the lens came about. It's more immediate, intimate and it's humorous but it's hardly a groundbreaking device by any means."
Here's how you make a floating chat room
A significant part of Eipic is the chats the characters have on online chatrooms. But how on earth do you depict that on film? "It was such an exciting opportunity for me to represent a surreal world," said Ni Fhiannachta.
She originally had a vision of a white space with random objects suspended in it, but that didn't work out – neither did an idea about a mirrored room.
Then their DP Colm Hogan spotted a silver birch forest on the way to work. Bingo.
The art department built a five-foot platform on legs on which our actors were positioned. We then filmed a series of wideshots for various scenes. Then, we cleared the actors and the platform, locked off the camera to shoot a clean 'plate shot' that allowed us to paint out the legs of the platform in post-production. It gives the effect that our characters are floating. 
Then, in post-production they over-exposed the images to give them a surreal look.
The sounds you hear during those scenes? They're all natural sounds – like bird noises – made to sound like technological sounds. 
At the end of the day, it's all down to the actors
For all the work that goes into creating the 'look' of a show like Eipic, Ni Fhiannachta is very clear: "Visual style should never supersede performances, narrative or emotion."
For her, the "magic" is in the performances.
My philosophy is: What is the point of bells and whistles when you can't capture the truth?
Source: TG4/YouTube
The fourth episode of Eipic is on TG4 tomorrow at 10pm. It was produced by Galway-based Magamedia with funding from TG4, the BAI and Section 481.