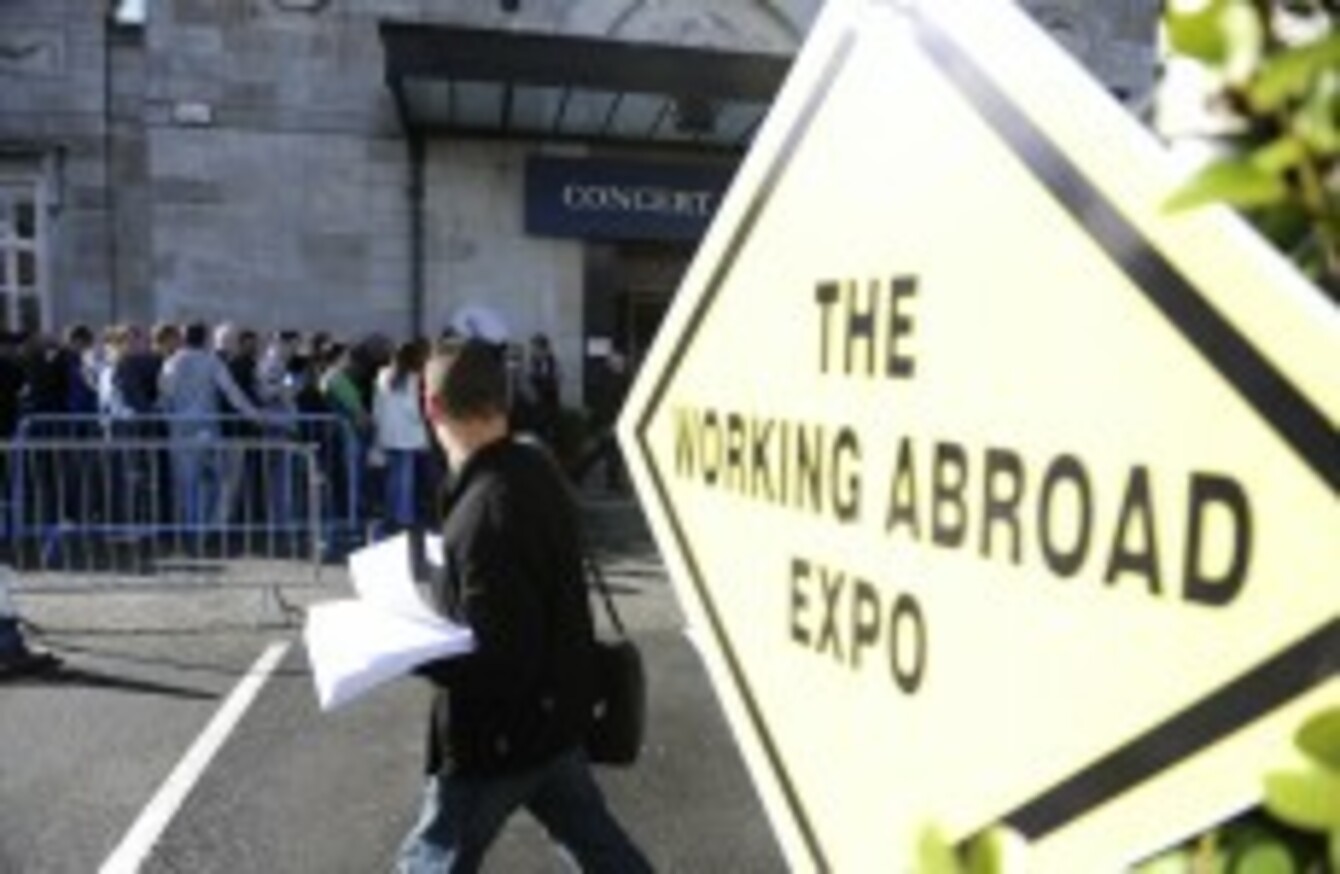 People queue for the Working Abroad Expo in Dublin
Image: Sasko Lazarov/Photocall Ireland
People queue for the Working Abroad Expo in Dublin
Image: Sasko Lazarov/Photocall Ireland
YOUNG IRISH EMIGRANTS are moving abroad because of limited jobs, lack of opportunities, and to experience new horizons.
That is according to Time to Go, a qualitative research study exploring the experience and impact of emigration on ireland's youth by Marie-Claire McAleer of the National Youth Council of Ireland.
The report, which can be read here, looks at life as a young Irish emigrant in the UK, Canada, and beyond, focusing on elements including likes and dislikes, jobs, challenges, accommodation and culture differences.
Findings
The report is the first qualitative study exploring the experience and impact of emigration on Ireland's youth over the past two years.
It found that many young Irish emigrants are moving abroad to experience new horizons and access greater opportunities, as well as because of limited employment options and lack of opportunities at home.
Participants regarded the use of Skype, free web apps and other tech services as essential for keeping in touch with home in a cost effective way, and many said they spoke more frequently to their parents after emigrating than when they lived in Ireland.
Adjustment problems
But emigration isn't all easy – the emigrants said they still encounter significant adjustment problems and often struggle with periods of intense homesickness, stress over finances, accommodation, and job searching.
But many said that their emigration was much harder for their parents than it was for them.
The vast majority said they intended to return home after a period of time, provided they could get a job.
Emigrants found the use of Irish networks and support systems invaluable, such as the GAA, the London Irish Centres,the Irish Canadian Immigration Centre or the local chamber of commerce.
A Red C poll on emigration for the report showed that 42 per cent of the 18 – 24 year olds surveyed had considered emigration an option, followed by 28 per cent of 25 -34 year olds.
Overall, 45 per cent of the Irish population has either considered emigration or had a close family member emigrate in the past two years, while one in 10 has experienced both.
In the last four years, 308,000 people have left Ireland, and 41 per cent (125,000) of those are in the 15 – 24 age cohort.
The report found that many young Irish emigrants perceive their experience as being easier than the generations who emigrated before them, because they are well educated and highly skilled.
Recommendations
McAleer, senior research and policy officer at NYCI said:
In the past 2 years over a quarter of our population has been affected by the emigration of a close family member, and half of our 18 – 24 years olds have said they would consider emigrating themselves, so it is vital that this issue is given the consideration it deserves, and that a dedicated Government policy response is developed to support our young emigrants and tackle the challenges they face.
Based on the findings, the report makes a number of police recommendations for government, including:
Appoint a Minister with responsibility for emigration policy and for responding to and connecting with the Irish abroad.
Government should develop and implement a strategy for emigrants.
Fund an existing agency that operates in the Republic of Ireland to provide assistance to prospective emigrants
Centralised Data Collection on emigrants to inform the development of a policy response.
Launch a campaign to promote foreign languages at second level and third level education.
Department of Social Protection, and Department of Foreign Affairs and Trade to collaborate in creating a portal site which would map and direct the user to existing websites providing information at a local level.
Promotion of internships, work placements or employment opportunities abroad.