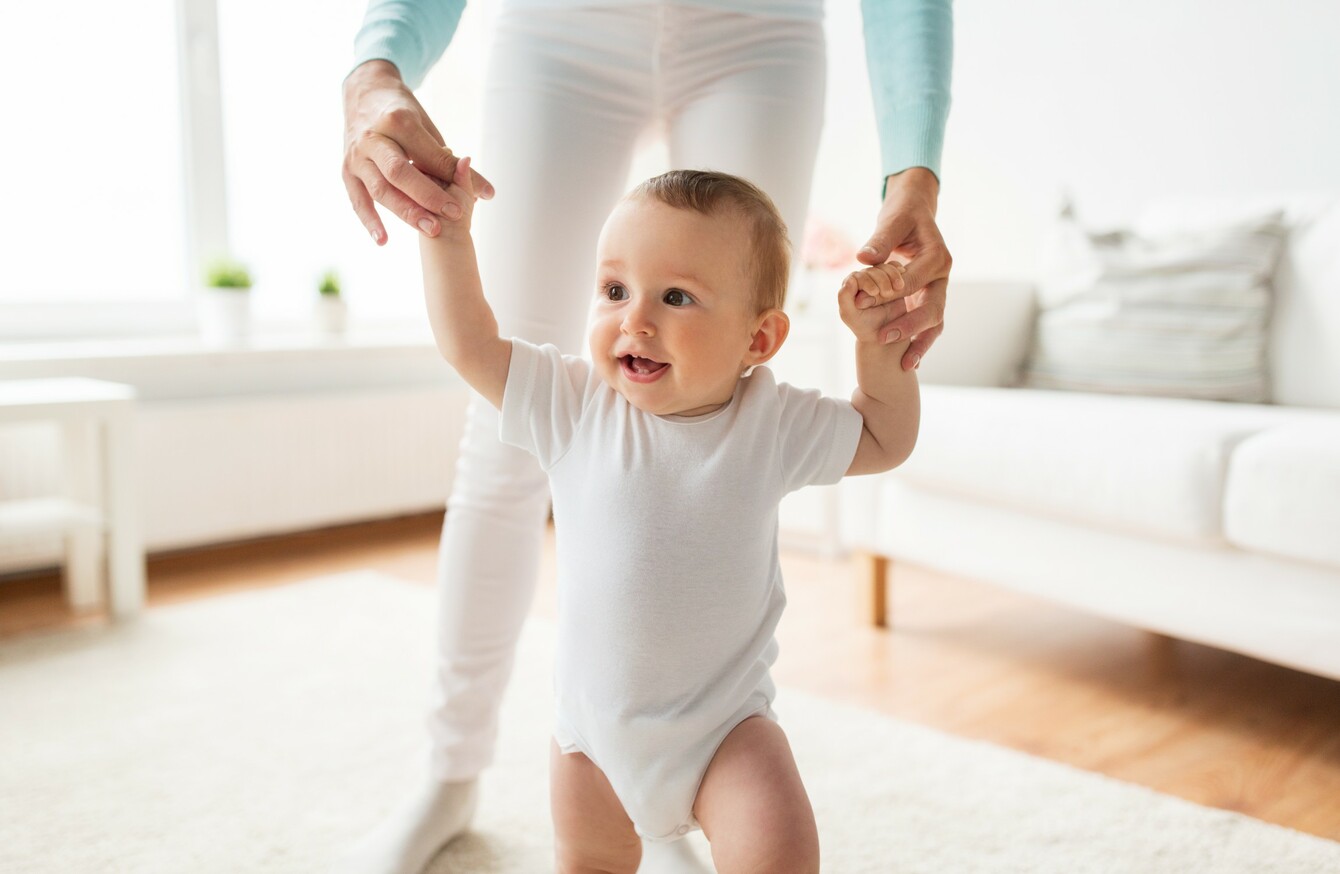 Image: Shutterstock/Syda Productions
Image: Shutterstock/Syda Productions
BABY BOOKS ARE full of the usual suspects when it comes to the emotional 'firsts' your child will go through: first smile, first step, first word.
And yes, many of those milestones will make us weep with delight, pride and wonder. But with both my sons, there were also several instances where I found myself welling up out of nowhere, having been blindsided by some small moment that unexpectedly tugged at my heartstrings.
They sneak up on you, these secret tear-jerker firsts, and every parent will be hit with a slightly different combination.
These are a few firsts that have made me emotional as a parent over the years.
1. The first time you realise you are their emotional barometer
I remember the first time I got into a lift in a shopping centre with my baby. The doors closed, the lift made its usual clunking noise as it ascended to the next level and my son, who was only a few months old at the time, stared at me with an intense look of 'how am I supposed to feel about this?' I smiled and he smiled, relieved that this was clearly something that was okay. For some reason I felt floored.
I left the lift overwhelmed with the responsibility of being his go-to for understanding whether something was good or bad, and how he should react to it. Of course, I was already fraught from shopping with an infant, but it still stands out as an unexpectedly emotional moment.
2. The first time you inadvertently or unavoidably hurt them
Every parent wants to protect their child and keep them from any harm, so when you accidentally hurt them, it pains you, too. Whether it's the first time you take them for vaccinations and they look at you with their little crumpled up face of horror as the needle goes in, or the first time you accidentally nick them while cutting tiny fingernails, it's impossible not to want to howl the first time you cause your child pain.
3. The first time a stranger doesn't wave back
There's a very specific type of rage you experience when your infant is eagerly waving at some passer-by and that person does not wave back. And the first time it happens, you'll be stunned that such a small thing could produce such a wave of emotion in you. I had to do some serious deep breathing to prevent myself from an inappropriate confrontation the first time a random person in the street didn't acknowledge my baby's chubby hand raised in salute.
4. The first time they don't notice you leaving
I remember longing for a bit of time to myself – just an hour or so where I wasn't the centre of my baby's world or where he wouldn't need to endlessly have me in his peripheral vision. But the first time you leave the room and they don't wail for you to come back, well there's no denying that smarts a bit.
5. The first time they lose interest in a much-loved toy
My eldest had a Lamaze lion that he adored. It was the toy, the one he liked to chew, the one that kept him entertained in the car, the one he'd fall asleep clutching. For months there was a sense of urgency about always knowing exactly where Mr Roar was. Then one day he just didn't care. Mr Roar lay abandoned in the toy box as cars, train track and blocks took his attention. I don't mind telling you, Mr Roar and I shed some tears that our baby was growing up.
6. The first time they try solids
This is a more obviously emotional one, but after growing my babies inside me for nine months and then breastfeeding both boys exclusively for their first six months, I felt wildly tearful about the fact that solids would mean they wouldn't be sustained by just me anymore. 
#Open journalism No news is bad news Support The Journal

Your contributions will help us continue to deliver the stories that are important to you

Support us now
7. The first time they slip their hand into yours
The first unaided step is great and all, but the first time your child automatically slips their little hand into yours is where the real feels are. To be honest, I still feel my heart giving a little leap each and every time my five-year-old or almost-two-year-old kids do this. There's always a voice inside my head saying how lovely it is and how it's something to cherish because it won't go on forever.
8. The first time they want someone… and it's not you
Of course you're a parenting team, but gosh, it's a kick in the guts the first time your baby makes it clear that it's not you but your partner that he wants. When either of my kids made it clear they wanted their dad, not me, for the first time, I felt a potent mix of affronted and relieved.
9. The first time they grow out of a clothing size
It happens so subtly, but suddenly you realise you're packing up the newborn and zero-to-three-month onesies. I defy anyone not to get a bit emotional about saying goodbye those tiny first clothes and all the memories that go with them. 
Parenting is joyful, but you might want to keep a tissue in your pocket, just in case.