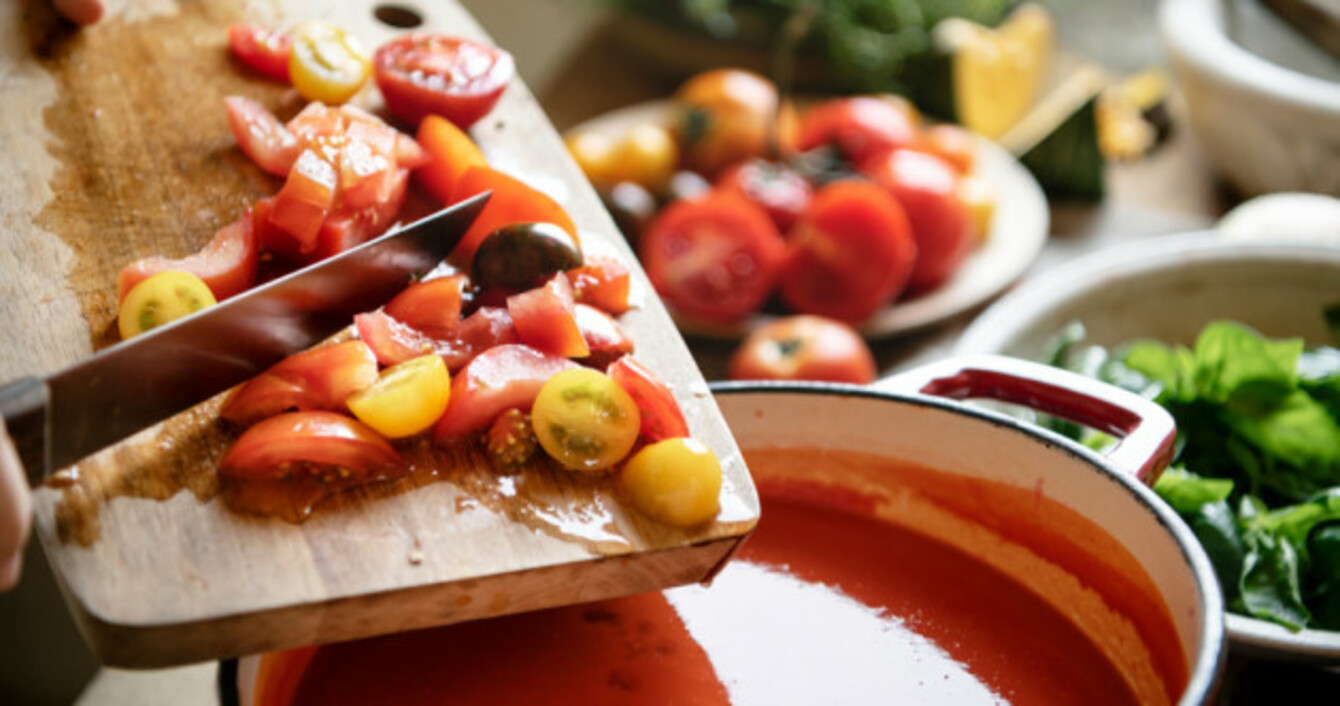 Image: Shutterstock/Rawpixel.com
Image: Shutterstock/Rawpixel.com
LEARNING TO COOK is a process that can reap many rewards, from sharing food with loved ones to being able to whip something up quickly if needed. There are many items that can make cooking at home that little bit easier.
But what kitchen essentials are actually essential? Some of us are guilty of collecting the latest on-trend piece of kitchen kit that ends up gathering dust at the back of the cupboard and creating unnecessary clutter in the kitchen. Not to mention the type of equipment that has 20-something components that aren't dishwasher safe… is there anything worse?
The number of kitchen gadgets available today can be overwhelming, so we've rounded up some of the essentials below that will prove the best value for your money.
1. Decent all-purpose non-stick pan
A good quality non stick pan can last a lifetime, so a little extra spend here can really pay off. Whether you're searing a steak, stir frying some vegetables or cooking an omelette, a non stick pan is an essential piece of kitchen kit. Look out for one that's completely oven safe (including the handles), as well as suitable for the dishwasher.
2. Hand blender
There are so many uses for a hand blender, from making soups to smoothies and even baby food. A hand blender is relatively cheap to buy and they're a great alternative to a larger food processor, especially if you're tight on space. As well as being easy to store, they also require very little washing up, and don't contain too many parts.
3. Silicone spatula
A heat resistant silicone spatula is essential for making sauces and baking, and will ensure that every last drop of sauce is used up! The silicon heads are very light and flexible, so they're great for scraping bowls or pots, and most are dishwasher safe too. These spatulas can be picked up in most homeware stores – just make sure it has a 100% silicone head, as plastic will mean it's much poorer in quality and won't survive heat.
4. Measuring cups (that will last)
Measuring cups are very cheap to buy and will come in so handy for baking, especially when you're feeling a bit too lazy to get the scales out! There are many different type of measuring cups available including the cheap plastic variety. These will not last long so opt for a more durable material like stainless steel. 
5. Tongs
A good quality set of tongs is very necessary in any kitchen, and is essential for plating up hot food. Look out for a sturdy set that has a non slip grip, with scalloped edges to help pick up even the smallest of ingredients.
6. One heavy cast-iron pot
Again, this is a bit of an investment – a good quality cast iron pot can be pricey but it is one of the best investments you can make for your kitchen. A heavy pot can distribute heat evenly and be much more effective than a regular pot, especially for cooking casseroles or stews. Look for a heavier pot, which will hold more heat and provide an authentic cooking style. 
7. Good quality knives
There is nothing worse (or more dangerous!) than trying to chop food with a poor quality knife. Good knives will make your life so much easier, and it's something that's necessary for almost every meal you'll make. Being realistic, a well stocked kitchen should really have three basic types of knives; a chef's knife (a medium sized knife with a very sharp blade), a pairing knife (a shorter knife for fruit and veg), and a slicer (a longer knife, mainly used for chopping meat). 
8. Potato ricer (yes, they're better than mashers)
A potato ricer results in the most delicious and smooth mashed potatoes, you could be mashing for hours by hand to get a similar effect! There is nothing more comforting than mashed potato at this time of year, so this had to make the list.
As well as making great mash, a potato ricer can also be used for making baby food, veg purees and tomato sauce.
9. Slow cooker
A slow cooker is brilliant for batch cooking and delivers very tasty results! We all lead very busy lives so with a slow cooker, it's really a matter of throwing everything in and leaving it for six or seven hours while you go about your day. Doesn't get much better than that!
Look for one with an easy to clean insert, and a digital programme so you can choose the cooking time in advance. 
10. Fire blanket for accidents
You never know what could go wrong in the kitchen… and while hopefully you'll never need to use it, a fire blanket is essential for putting out any minor blazes. A fire blanket will starve the fire of oxygen and extinguish it before it gets out of control. 
11. A great grater
A box grater is one of the cheapest pieces of kit for your kitchen and may also be one of the most used. With 6 different sides to choose from, this is essential for everything rom grating cheese for sandwiches to zesting lemons or limes. Look for one with a sturdy handle that feels comfortable in your hand.  
12. Digital scales
Whether you're measuring portion sizes or baking up a storm, a digital scales will provide a much more accurate figure than measuring cups. While the traditional kitchen scales were once a hefty piece of kitchen equipment, nowadays they're incredibly slim and can be slotted into any small space. Look for a sleek design, preferably glass, that's easy to clean. 
We know, we know, you don't agree with this list at all. What are your kitchen essentials? Let us know in the comments!