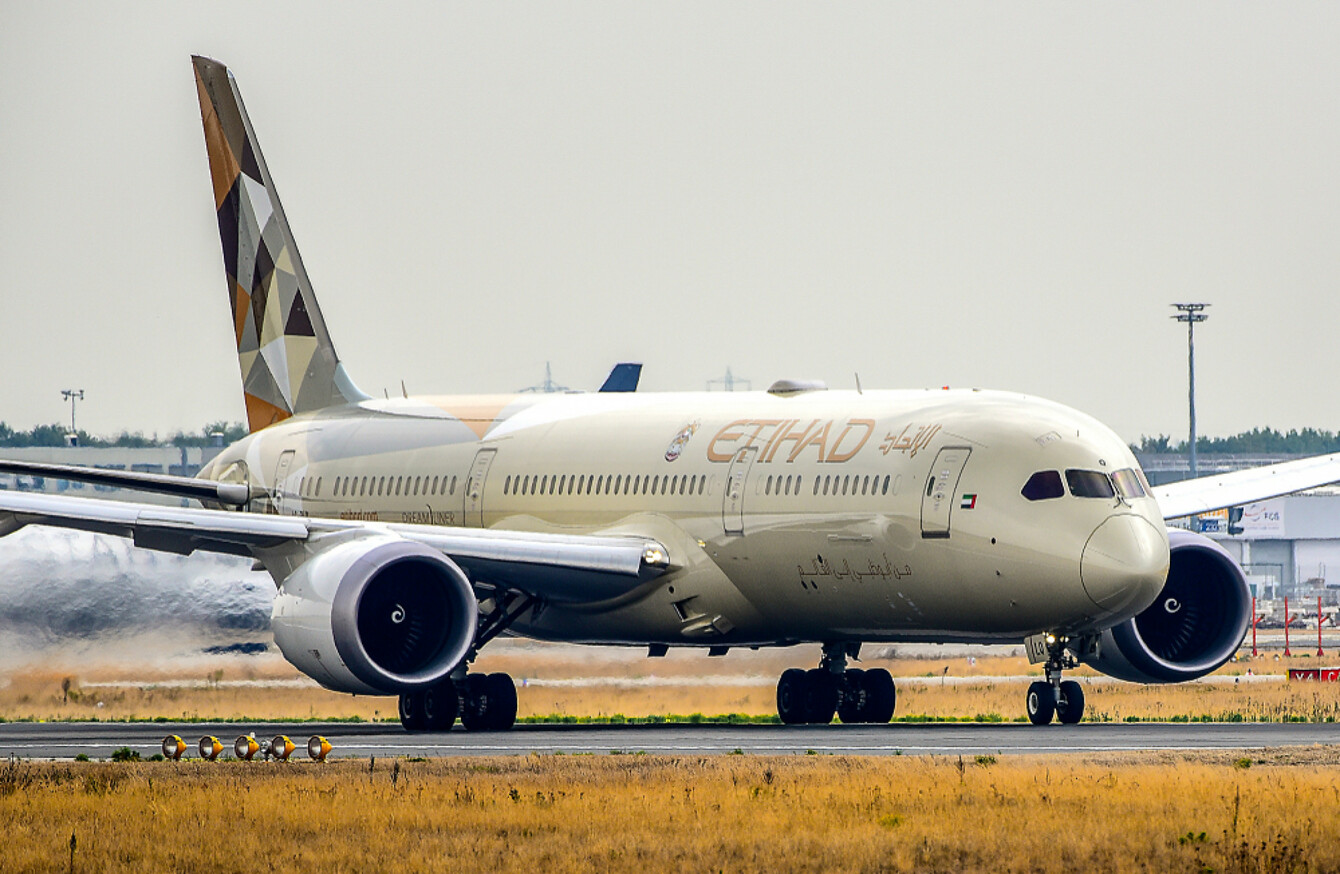 Image: Shutterstock/Vytautas Kielaitis
Image: Shutterstock/Vytautas Kielaitis
MIDDLE EASTERN AIRLINE Etihad Airways will reduce the number of flights from Dublin to Abu Dhabi next summer.
The state-owned carrier will operate 11 Dublin-Abu Dhabi services each week from 27 June to 15 September 2019. It currently operates a twice daily service between the two cities.
It was previously expected to reduce the route to a daily service, but it appears to have reversed this decision.
A Europe-based spokeswoman confirmed the 11 weekly services to Fora.
Four of the summer 2019 flights from Dublin will be operated using a Boeing 787-9 aircraft. The existing services are flown by an Airbus A330-200.
Aviation sources suggested that the introduction of the Boeing routes will mean overall seat capacity is flat compared to the current twice daily services.
Founded in 2003, Etihad is the youngest of the Middle East's four so-called 'super-connector' airlines. Turkish Airways, Emirates and Qatar Airways make up the rest of the quartet.
The carriers earned the nickname because their business model is based on funnelling passengers through global hubs located in the Gulf.
For example, many passengers flying from Dublin to Abu Dhabi will continue their journey to destinations further afield like Australia after a stopover in the UAE capital.
IAG-owned Aer Lingus is attempting to achieve a similar 'hub and spoke' model by channelling transatlantic traffic through Dublin Airport.
An analysis by stockbroker Davy earlier this year showed that the super-connectors' growth has slowed down, coinciding with Etihad's decision to scale back the frequency of its services to Ireland.
The airlines faced several headwinds last year, including the US ban on electronic devices on flights from the Middle East and Turkey.
Click here to view a larger version
Slowdown
Etihad had a tough, highly unprofitable year after its strategy of buying minority stakes in European and Asian airlines to grow market share unravelled as "most of its investments were in weak airlines that were heavily loss-making", Davy said.
Two of the most high-profile collapses in its portfolio were Air Berlin and Alitalia, which both fell into administration in recent years.
According to the Davy report, the Abu Dhabi government-owned airline's passenger and capacity growth "slowed markedly" from 2016 onwards.
While the airline doesn't publish monthly traffic statistics, figures provided by Abu Dhabi Airport – where Etihad accounts for 75% of traffic – show that it has "obviously been reining back".
"Traffic growth through Abu Dhabi has slumped dramatically. Having grown at a rate of 17% in 2015 … these rates had fallen to 5% for 2016," Davy said.
Bloomberg reported in September that Dubai-based Emirates has been scoping out an acquisition of Etihad, something both airlines denied. The analysis by Davy noted a significant overlap of routes operated by the two carriers.
It suggested that both airlines could "ostensibly provide each other with benefits in some form of combination" and that Dubai and Abu Dhabi airports could form a dual hub similar to Air France-KLM's Paris and Amsterdam gateways.
Get our NEW Daily Briefing with the morning's most important headlines for innovative Irish businesses. 
Written by Conor McMahon and posted on Fora.ie