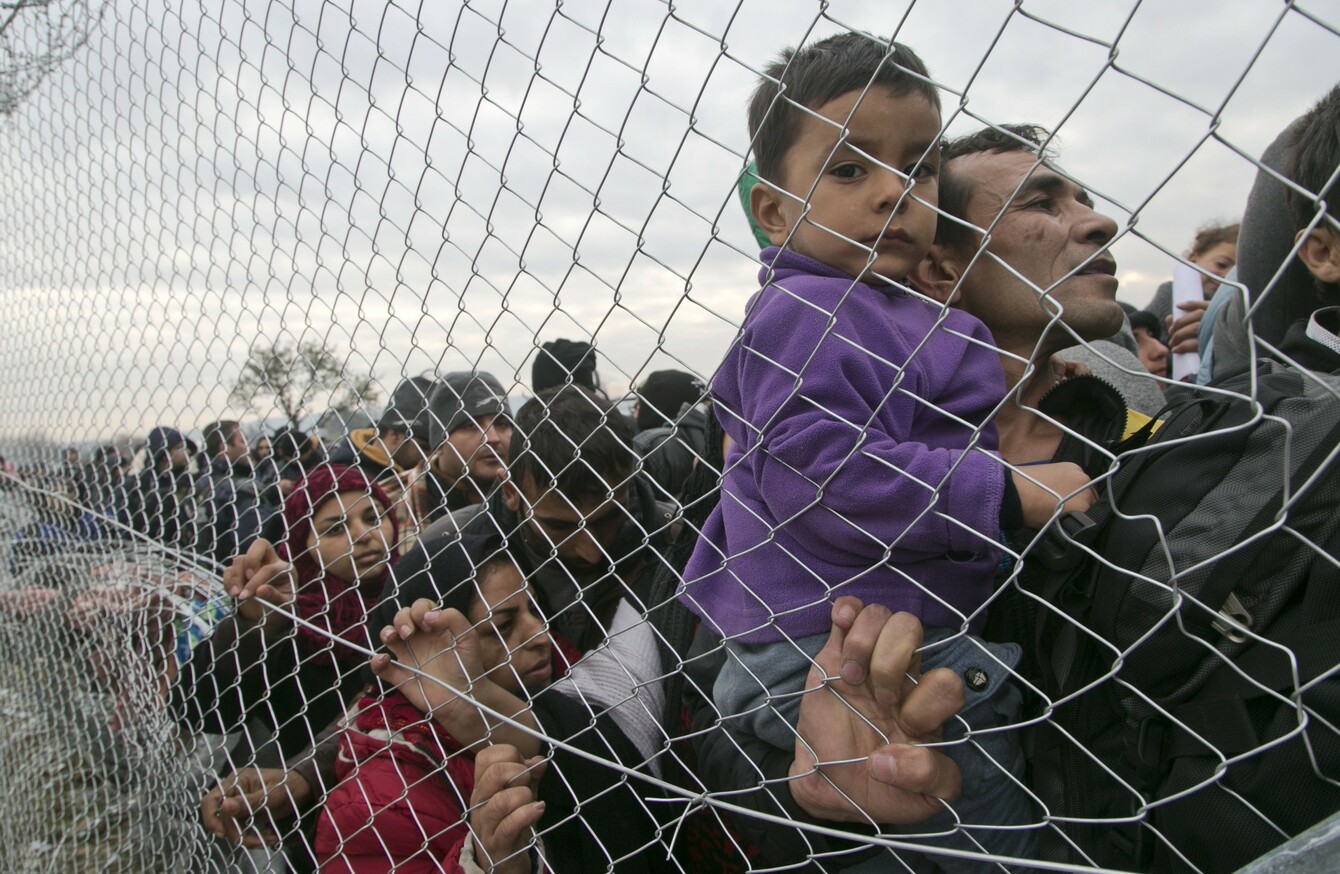 Stranded migrants await entry into Macedonia on the Greek side of the border.
Image: Visar Kryeziu/AP/Press Association Images
Stranded migrants await entry into Macedonia on the Greek side of the border.
Image: Visar Kryeziu/AP/Press Association Images
THE EU IS set to unveil controversial proposals for a new border and coastguard agency today, in response to Europe's migration crisis.
The new 1,000-strong force is aimed at slowing the record flow of nearly one million refugees and migrants to Europe this year, mainly from the war in Syria – the worst crisis of its kind in Europe since World War II.
But some member states in the 28-nation European Union are hostile to a plan which could see them cede sovereignty over their own land and sea borders to bureaucrats in Brussels.
The European Commission, the powerful executive arm of the EU, will propose that the new agency has the "right to intervene" to protect the security of the EU's passport-free Schengen area.
"In urgent situations, the Agency must be able to step in to ensure that action is taken on the ground even where there is no request for assistance from the Member State concerned or where that Member State considers that there is no need for additional intervention," said a draft of its proposal obtained by AFP.
The EU could send in teams of guards in case of a surge at a particular border, or where a member state has a "deficiency" in the management of its borders and had failed to respond to warnings from Brussels, it said.
Ireland is currently part of a special arrangement that allows it to opt out of EU security measures, meaning it would not be obliged to take part in the system.
Crackdown
The new border guard system will replace the EU's Frontex agency, which has failed to tackle the flows of people on routes including Turkey to Greece and through the Western Balkans.
The European Commission has said it is "confident" its border and coastguard plan will be adopted by EU leaders who are meeting in Brussels this week.
But the plan faces being severely watered down by EU member states and the European Parliament before the agency comes into effect.
Polish Foreign Minister Witold Waszczykowski said yesterday that the replacement of Frontex "by a structure that is independent of member states is shocking".
Germany and other countries in the zone have in the last few weeks reintroduced temporary border controls to cope with the migrant crisis.
The fear is that if those controls become permanent, the 26-country Schengen zone which ensures the EU's core principle of freedom of movement, would collapse, taking the idea of a single, united Europe with it.
Additional reporting by Catherine Healy