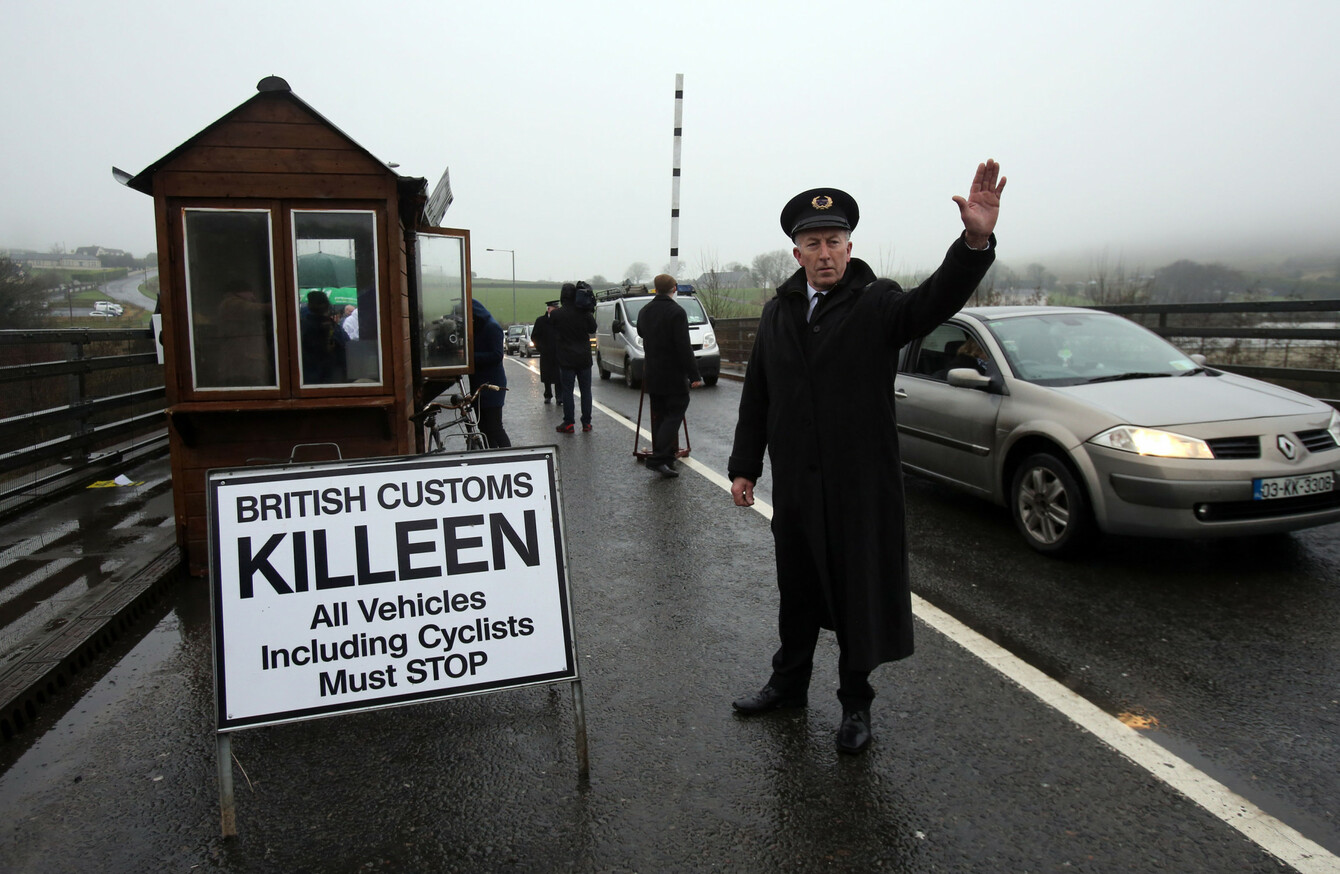 A mock customs checkpoint at the border
Image: Niall Carson/PA Images
A mock customs checkpoint at the border
Image: Niall Carson/PA Images
Updated Jan 22nd 2019, 2:32 PM
TAOISEACH LEO VARADKAR has said the Irish government cannot accept "promises" from those that oppose the withdrawal agreement and the backstop that the Northern Ireland border issues "will be alright on the night". 
The Taoiseach made his comments after the European Commission spokesman Margaritis Schinas said today that it's "pretty obvious" that a no-deal Brexit would lead to a hard border between Ireland and Northern Ireland.
Speaking to reporters in Brussels, Margaritis Schinas said the EU stood behind the Good Friday Agreement and Ireland in its negotiations, but that a no-deal would entail the return of a hard border.
"If you like to push me and speculate on what might happen in a no-deal scenario in Ireland, I think it's pretty obvious, you will have a hard border," he said.
The Irish government has always maintained the importance of avoiding the return of a hard border throughout negotiations, while Prime Minister Theresa May has repeatedly pledged to avoid a return to "the borders of the past". 
If Britain leaves without a deal, however, it would have no trade deal with the rest of the EU, necessitating some kind of customs checks and infrastructure. 
Standing firm
Speaking in the Dáil, Varadkar said the Irish government stand firm on the ensuring the backstop as is contained in the agreement is honoured.
He said no other solutions are being put forward by those that are opposed to the deal, stating that they are only making promises to come up with a solution in a couple of years time. 
He said that is not acceptable to the Irish government, "which is why we have been so firm".
Varadkar said a "real dilemma" occurs if there is a no-deal, stating that Ireland will be part of the EU and will have obligations to protect the single market. 
In that scenario, all parties will have to negotiate full alignment to avoid border infrastructure, which the Taoiseach said is already contained in the withdrawal agreement. 
He said there is a reason the withdrawal agreement took two years to negotiate – "it is hard to do". 
'Alright on the night'
"We can't give that up for a promise that it will be alright on the night… we have to stand by it," said the Taoiseach.
Tánaiste Simon Coveney has said it would become difficult to prevent border infrastructure on the island of Ireland without a Brexit withdrawal agreement.
Speaking to the media this afternoon, Tánaiste Simon Coveney said:
We cannot wish away this problem.
He added that the Irish government will not support the reemergence of border infrastructure but it's "very very difficult" to ensure without a deal. 
Coveney said without a withdrawal agreement it becomes very difficult to prevent border infrastructure in Ireland and maintain integrity of EU customs area.
"What we are saying is we will work to avoid a hard border in all circumstances, with the Commission and the British government," he said, adding that there are "solutions and a mechanism" to deal with this comprehensively. 
"We would be very foolish not to hold on to that," said Coveney.
"If we end up in no deal Brexit scenario there will be a build up to that which will take some time… we have made it very clear we are not planning for reemergence of border infrastructure and we will have to find a mechanism with the British government and the EU that protects the EU single market and customs union, in terms of its integrity ," he said.
Coveney said the "only credible" way to avoid a border is through a customs union and regulatory alignment, which is something to be worked on "even in a no deal scenario". 
He said the Irish government has been "firm" in the last week in terms of advocating for the withdrawal agreement that took two years to negotiate. Those that are objecting to it need to be honest with people about what their solutions would be, said the Tánaiste.
May's Plan B speech 
The EU Commission's spokesperson said today he had learned nothing new from Theresa May and her government, since the prime minister laid out her "plan B" on Brexit to the House of Commons yesterday.
The spokesperson also expressed frustration as journalists questioned him over the next steps in the negotiation.
"In all honesty, I have a terrible sense of deja vu in all these exchanges," he said. "There is nothing else that I can meaningfully say."
#Open journalism No news is bad news Support The Journal

Your contributions will help us continue to deliver the stories that are important to you

Support us now
Yesterday, May told parliament she would seek changes to the Brexit deal her government had already agreed with the EU.
Schinas said he wouldn't speculate on a plan B because the EU is "for plan A, which is set out by the withdrawal agreement". 
The EU has also backed Ireland on the issue of the backstop – which would prevent a hard border in the Northern Ireland by keeping regulatory alignment with the EU – which has proved such a thorny issue in Westminster. 
Yesterday, European Commission Chief Negotiator Michel Barnier told RTÉ News that he ruled out any bilateral arrangement between the UK and Ireland to remove the backstop. 
Brexit 'mega' Bill 
Separately, Coveney said the Heads of mega Brexit bill to prepare for no-deal Brexit will be published on Friday. 
Taoiseach Leo Varadkar today briefed opposition party leaders on Ireland's contingency plans and omnibus Brexit Bill.
Fianna Fail's Micheál Martin has previously criticised the Taoiseach and government for their lack of preparedness for Brexit as the end date of 29 March approaches.
Sinn Féin leader Mary Lou McDonald told TheJournal.ie today that the British government approach has been to demand a Brexit on their terms and to run down the clock.
"Last week I reiterated to Theresa May that the Withdrawal Agreement and the Backstop represented the absolute bottom line and could not be undermined or dismissed.
"I also took the opportunity to remind the British Prime minister of her obligation to set the date for a unity referendum," she said, adding:
"Europe has made clear that there will be no reopening of the agreement and no bilateral arrangement.
"Dublin cannot blink on this matter and I will tell the Taoiseach that he must stand firm in the face of British pressure."
With reporting from Christina Finn and AFP