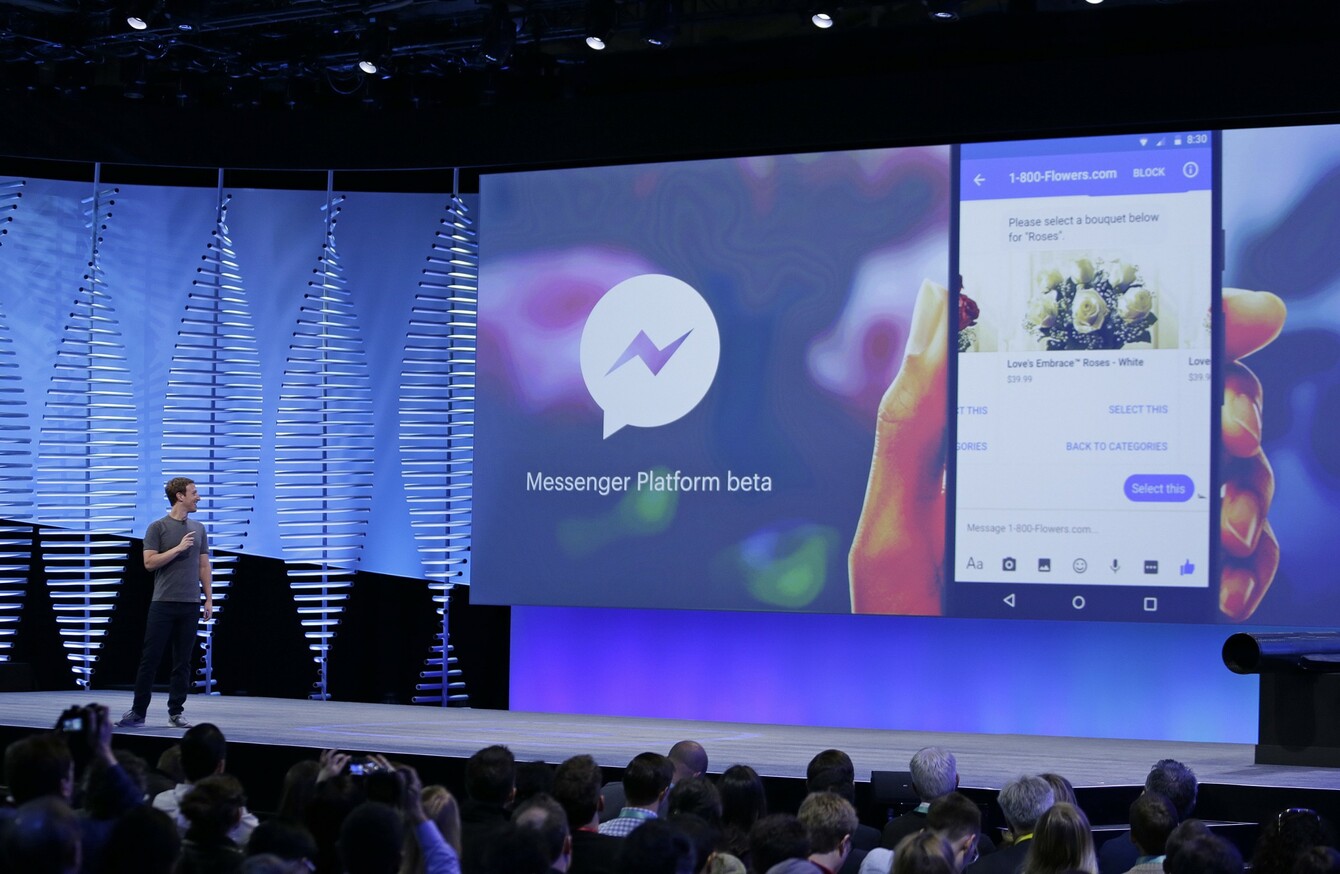 Image: AP Photo/Eric Risberg
Image: AP Photo/Eric Risberg
BACK IN 2013, FACEBOOK had a plan to become more than just a site and an app. It wanted to be the centre focus of your phone.
For that, it launched Facebook Home, a launcher for Android that replaced the traditional home screen with Facebook content. It also teamed up with HTC to launch HTC First, a phone that came preloaded with Home, to help push this forward.
Both were failures. Facebook Home only appealed to the small group of power users out there while the First was said to have sold less than 15,000 units that year. It was back to the drawing board for Facebook.
Skip to the present day and it has learnt a few lessons from that experience. Last night at F8, Facebook's developer conference, it announced the integration of chatbots with Messenger.
This news had been coming for a while – Microsoft also announced similar news with Skype a few weeks ago and so has messaging app Kik and the workplace chat platform Slack – but it is a significant attempt to take over people's phones by creating a platform (chatbots) within a platform (apps).
Make the conversation flow
To explain chatbots, it's best to think of them as similar to those those 'choose your own adventure' stories that were around during the 80s and 90s.
A bot will ask you specific questions – some of them will offer pre-selected answers – and replying will give you customised results.
The ultimate aim is to make it feel like you're talking to a real person, making the conversation flow between you and the bot, and get you to the relevant info or action (ordering flowers, requesting articles or talk with businesses for example) faster. Some are describing chatbots as the new apps which only highlights the major role they could play
There's a good reason why Facebook pushed Messenger as a standalone app so hard in 2014. It needed a platform for this to work so if you can't take over a phone, why not get them to go deeper into an app?
If you can get people to chat through Messenger itself and remove their dependency of an app, phone or email, that would be a significant boost for Facebook and turn it from a fun distraction into something very serious.
So what type of bots can you start using?
For now, only a small few. Irish users likely have access to just five like CNN and the weather service Hi Poncho, and to be honest, they're a bit hit and miss.
The same can be said of Microsoft's offering on Skype but it's important to remember that this is very early days for both services.
To start off, CNN begins by offering three options: top stories, stories for you (based on your interests) and Ask CNN (typing in a keyword like technology).
The interaction is straight to the point although story selection could do with a bit of fine-tuning as it doesn't exactly offer relevant or timely stories for specific categories.
Hi Poncho is where things get a little creative and show off the potential of bots. Playing the character of a raincoat-wearing cat, Hi Poncho tells you what the weather is going to be like.
#Open journalism No news is bad news Support The Journal

Your contributions will help us continue to deliver the stories that are important to you

Support us now
For Irish users, that goes as far as telling you it's cloudy and cold outside (US users can get weather alerts), but how it begins – Poncho is asleep and you have to wake him up by talking to him – shows there is much scope for humour here.
The final one tested was the closest to a 'choose your own adventure' story. Probable Cause uses a mixture of photos and text to tell a murder story, which you move along by responding to your partner.
It's simple but you can see the potential for it to create games and similar experiences through that format.
And that's the keyword to take away from this: potential. This is, quite literally, day one for chatbots on Messenger so don't expect them to be useful from the word go. Instead see it as the necessary first step needed for a new way of interaction.
We don't know what form it will eventually take, but since companies like Facebook and Microsoft are in it for the long haul, you may as well get yourself accustomed to it.
Oh, and sponsored messages will be a thing too, but you can block them.