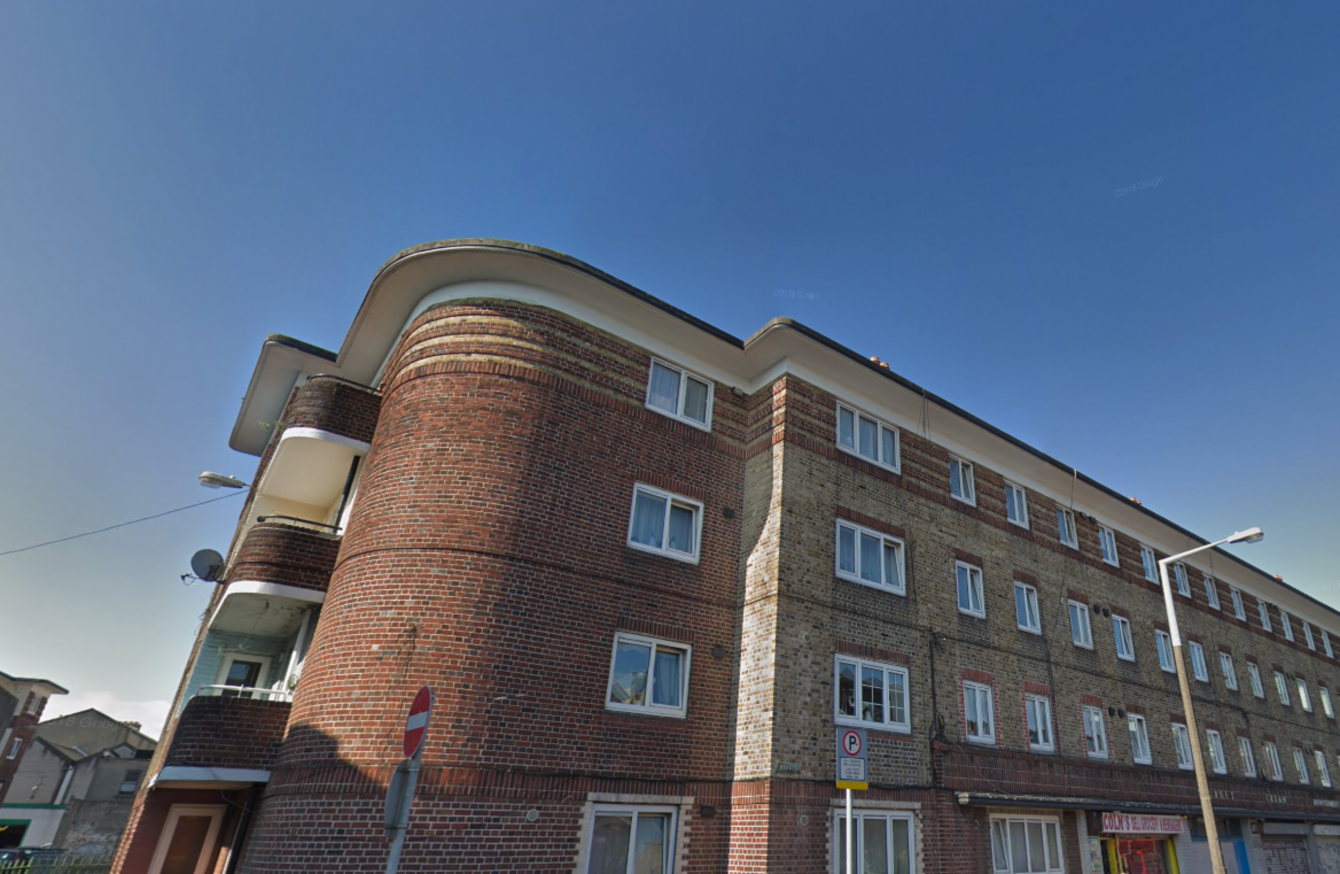 Image: Google Maps
Image: Google Maps
PEARSE HOUSE AND Markievicz House in Dublin's south inner city are both in need of serious refurbishment. That is an issue both Dublin City Council officials and councillors are clear on.
But in recent months, questions have arisen over whether the historic flats face demolition or not.
Both flat complexes were built in the 1930s by famed architect Herbert Simms, who was Dublin Corporation's City Architect between 1932 and 1948, at a time similar to the present day – there was huge need for affordable and suitable housing.
Simms is today considered a social innovator, his buildings noted for their interior and exterior design. Simms designed apartment buildings that replaced tenements, giving people a new way of living. However, most were built in the 1930s.
Heading a large-scale housing construction programme, Simms oversaw the construction of 17,000 flats and houses across Dublin and was a champion of the role public housing can play in sustaining urban communities. 
In May, the Irish Times reported that Dublin's older flat complexes, including those built by Simms, faced de-listing and demolition after the council announced plans for regenerating its apartment complexes.
At the time, Dublin City Architects said this was not on the agenda, though DCC' Assistant Chief Executive Brendan Kenny said that it would be difficult to get Government funding for refurbishment of complexes over 40 years of age, so:
We probably should think about delisting them because it's very difficult to do a proper job on them.
The issue resurfaced again earlier this week following media reports that Pearse House and Markievicz House both faced de-listing and demolition. The Irish Times reported that: "Dublin city centre flats complexes to be demolished to allow for 'decent modern accommodation'."
People then took to social media to express their concern that these complexes – both on the council's list of protected structures – face the bulldozer and are to be demolished. 
The Irish Civic Trust, artist Jim Fitzpatrick and former Irish Times Environmental editor Frank McDonald all reacted to the news, McDonald stating that "demolition of these flats would be a grotesque waste of resources."
Instead, they should be refurbished to modern standards, block by block. Anything less than that would be an insult to the memory of the heroic social housing architect Herbert Simms.
Such was the reaction that the council's Brendan Kenny took to Twitter to state that the council has "no plans" to demolish the flats. 
"These complexes are listed and cannot be demolished," Kenny said. 
However, that listed status can be revoked by elected representatives.
Some local councillors have continually raised concerns about the conditions that residents of Pearse House and Markievicz House are living in and have called for the structures to be demolished rather than flat-by-flat refurbishment. 
The question, therefore, is how likely is that eventuality? Do these Simms' flats face imminent demolition? 
The claim: That two historic Herbert Simms flat complexes in Dublin – Pearse House and Markievicz House – face demolition. 
The background:
At a meeting last week of the council's housing committee, Sinn Féin councillor Chris Andrews proposed removing both flat complexes from the council's Record of Protected Structures (RPS). 
The RPS lists over 8,000 structures – including many Simms structures – in the city. Owners of these properties must maintain them to a certain standard and the RPS limits what alterations can be made to a structure. 
Andrews argues that demolition of the flats is the best option, saying that "in their day they were absolutely necessary" but that Pearse House and Markievicz House in their current condition "are almost tenements" and that they should be knocked down.
Residents of the flats face electrical faults, leaks, burst pipes and "chronic dampness" due to condensation from overcrowded living conditions, Andrews says. 
He says residents of Pearse House and Markievicz House on Townsend Street, built between 1934 and 1936, "have been left behind."
Residents of the flat complexes recently protested the council's offices over a rat infestation.

Andrews says he now wants the flats levelled and replaced with "decent modern accommodation."
Andrew's  proposal to de-list both complexes comes six months after the council put forward its regeneration and development proposals for its apartment complexes.  
Options for council-owned complexes – including historic Simms' structures – were a deep retrofit of flats, extensions, new builds within sites, adding additional floors to blocks and phased demolition and rebuild. 
However, the council said back in May that feasibility studies indicated that the cost of deep retrofitting complexes "can be as high as demolition and rebuild."
Across the 6,391 units within 109 flat complexes in Dublin that were built from the 1930s onwards, approximately €30 million is spent annually on the "reactive maintenance" of them.
Both flat complexes' protected status means the council would have to retain much of the original fabric of the buildings. Demolition is only an option if both Pearse House and Markievicz House are removed from the RPS. 
According to a Dublin City Council spokesperson, the council's official line is that it has "no plans to demolish these complexes" and that "no decision has been made yet to remove the Simms' flats from the council's Record of Protected Structures (RPS)."
There are currently no plans to redevelop or refurbish Pearse House or Markievicz House either, according to the spokesperson.
Any decision to remove the flats from the RPS requires a full analysis from the council's Planning and Conservation Department.
However, it is "ultimately a decision" for councillors.
There's the rub. 
The procedure:
At last week's housing committee – on which 16 of the council's 63 councillors sit – it was decided to start the process of de-listing Pearse House and Markievicz House.
#Open journalism No news is bad news Support The Journal

Your contributions will help us continue to deliver the stories that are important to you

Support us now
If the Simms flats are de-listed and taken off the RPS, demolition is still a long way off, according to Labour councillor Dermot Lacey.
Currently there are two conflicting lines coming from within the council.
Councillors – like Sinn Féin's Andrews and Independent Sonya Stapleton – want to see the flats knocked down. 
The council's Architect's Department, however, wrote in May that there is no plan for demolition nor de-listing and "there is no current suggestion of changing this position."
Labour's Lacey says it is likely to be some time before de-listing takes place – if it happens at all – and that "there is no indication if funding is available to make improvements to the flats in the short-term."
There is also no indication yet that demolition is the track the council would opt for.
However, the council's Brendan Kenny was reported by the Irish Times in May as stating that the council should consider removing some of its older flat blocks from the RPS and demolish them to make way for modern accommodation. 
Lacey says that the 1930s complexes do need significant upgrades but questions – if the Simms' flats were de-listed and then demolished – "where the 200, 300 residents would go in the meantime?"
"It's a bit of a political stunt," says Lacey. "If you ask me 'Will the flats still be standing in 10 years time?', I'd say 'They will be'."
Following the decision to initiate the de-listing process, a full analysis from the council's Planning and Conservation department is now underway. 
However, that does not mean that both these Simms flat complexes will be de-listed. That is a decision for the full city council, not just the housing committee, which could reject a proposal to de-list the flats. 
The council's report on de-listing will not be complete until 2019, the council's Brendan Kenny has said. 
"To de-list any of these properties is going to be an issue, a major controversial issue" Kenny said at last week's meeting. 
So, for Pearse House and Markievicz House to be demolished they'd have to be de-listed and removed from the RPS first and that has yet to happen. 
The verdict: We rate this claim as MOSTLY FALSE. 
Technically, both flat complexes could be demolished at some point in the future but how likely that is far from clear. 
TheJournal.ie's FactCheck is a signatory to the International Fact-Checking Network's Code of Principles. You can read it here. For information on how FactCheck works, what the verdicts mean, and how you can take part, check out our Reader's Guide here. You can read about the team of editors and reporters who work on the factchecks here.