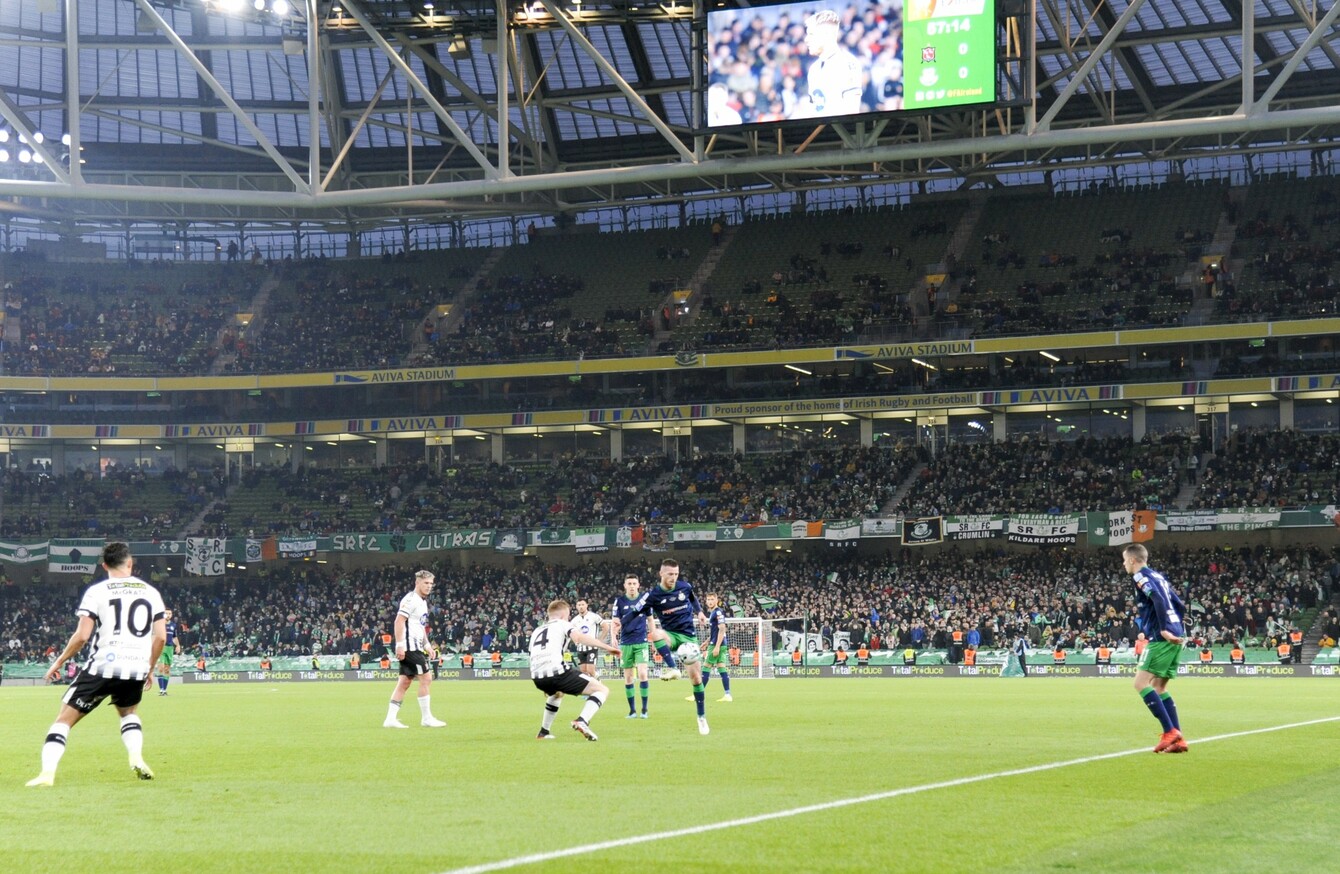 View of Aviva Stadium during the Extra.ie FAI Cup Final match between Dundalk and Shamrock Rovers.
Image: SIPA USA/PA Images
View of Aviva Stadium during the Extra.ie FAI Cup Final match between Dundalk and Shamrock Rovers.
Image: SIPA USA/PA Images
WHAT ROLE THE taxpayer will play in supporting the future of the FAI will have to be "very, very carefully considered", according to Finance and Public Expenditure Minister Paschal Donohoe 
His comments come as government sources today poured cold water over reports that a government bail out to save the FAI is a done deal.
It had been reported that a provisional agreement had been reached between the Football Association of Ireland and the government. 
Senior government sources have told TheJournal.ie that there have been no talks of a package between government officials and the FAI, stating that it is "too premature for any such idea". 
The association has current liabilities of €62 million and made a loss of €8.9 million in 2018. They believe that 2019 will also be loss making perhaps up to €4m.
The FAI recently asked Sports Minister Shane Ross for a government bailout of €18 million as they seek a refinancing package with their bank to secure their future. 
Four outsiders, including a chairperson of the new board, were due to be installed in August 2019, however the controversy over the association's finances caused further delays.
It is understood that the appointment of the four independent directors will happen by the end of the week. Sources stated that this must happen before any talks can begin over the financial restructuring of the Association.
"No detailed discussions at all about money" have occurred since the FAI asked for €18 million, with sources stating that any briefings that a deal is signed off on is not accurate. 
When asked about the matter this afternoon, Donohoe said he has disussed the issue with the Taoiseach and also had a number of meetings with Minister Shane Ross on the status of the FAI and its future.
Donohoe said to see what has happened in the FAI has "has hugely disappointed and indeed angered me".
Ross and government officials will be open to new dialogue, and the funding freeze may be ended with the FAI once the new directors are in place, it is understood. 
However, no such meeting is on the agenda or fixed in the diary as of yet. 
The appointment of the new directors will "open the door to new talks and it will certainly change the atmosphere", said the source when asked if a future announcement about government money could be on the cards once the FAI  has seen a changing of the guard.
Donohoe said today: 
"Minister Ross and I have not discussed what the future role of government could be in relation to this, but we will be doing so, and he has indicated that to me. What Minister Ross has said is that even before we get to that point, we need to see independent directors in place, and we need clarity and assurances regarding where the organisation stands."
He said he agreed with Ross, that the government "cannot be in a place of providing any kind of support, or considering providing any kind of support for an organisation, unless key questions are answered and we know where we are".
"Minister Ross also said that he does not want to be in a place where public funds is made available. He has also said that he has concerns regarding what the consequences could be with both examinership and liquidation. We will in the coming weeks begin to engage on this issue even more. But before that can happen these independent directors need to be appointed, because we and minister Ross needs clarity regarding the future of governance," said Donohoe.
It is understood that officials from Uefa, the European soccer's governing body, will travel to Ireland next Tuesday, where a meeting with the government, Uefa, and the association's bank, Bank of Ireland, will take place.
Uefa will also meet with the FAI as well as the banks, it is believed.
The organisation has already underwritten the FAI's finances to the tune of over €20 million. 
"Money will come into those talks" with Uefa, it is believed, where both sides "will explore each other's positions". 
Senior sources state that Uefa have and will most likely put in a lot more money to keep FAI afloat. 
"That will be important as they are key players," said the source, but added that both parties will search for a solution. 
It is understood the matter will be discussed further at the first Cabinet meeting of 2020, which is taking place in Marino in Dublin on Thursday. 
Before Christmas, Taoiseach Leo Varadkar said that the taxpayer won't bail out the FAI. 
He ruled out writing a blank cheque for the FAI:
We don't want to be in a situation where we are somehow asking the taxpayer to bail out the FAI and take on their debts and liabilities and maybe their pensions too. We're not going to do that.
Donohoe said today that he is an avid soccer fan, and can see the impacts the sport has on communities around Ireland, including his own in the north inner city.
"At the same time, I am absolutely aligned with Minister Ross and the comments the Taoiseach has made that we cannot be in a place where the taxpayer is being asked to play a role in supporting an organisation when we still have such big questions regarding its future status," he said.
Donohoe said a way must be found to ensure that "young boys and girls that are out playing soccer" can continue in their success.