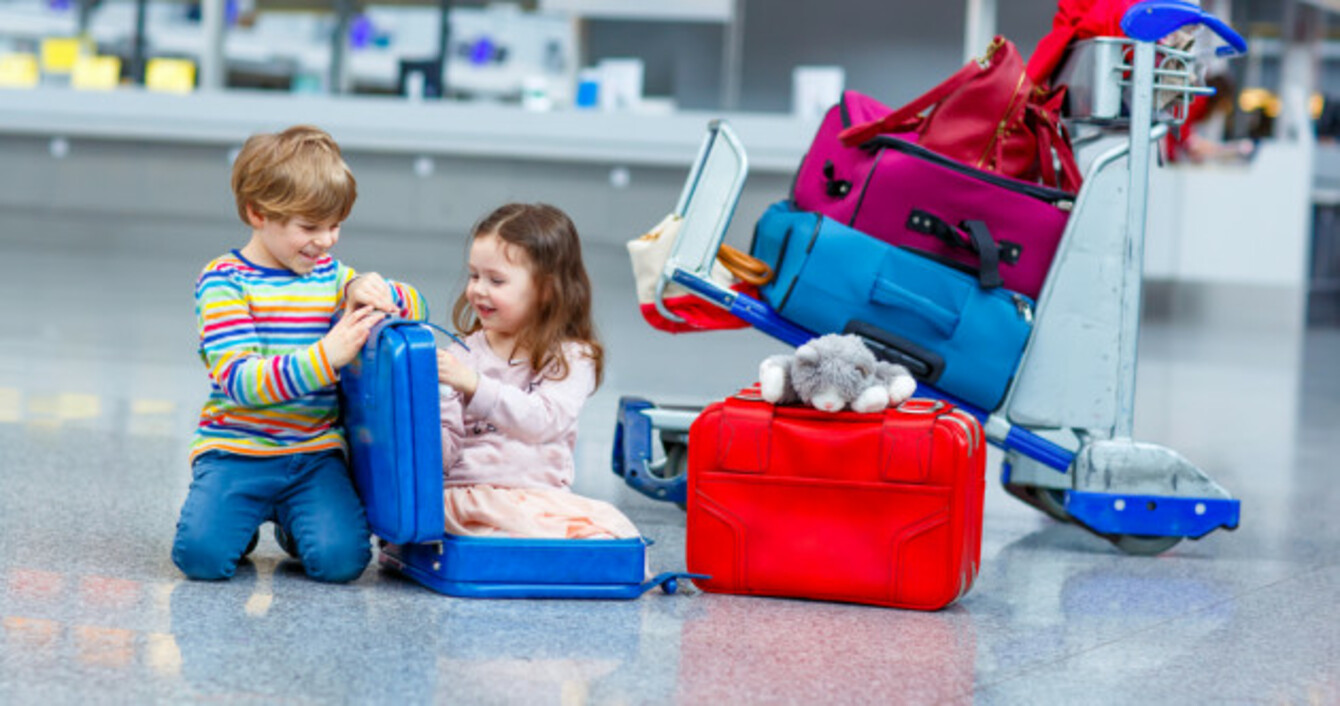 Image: Shutterstock/Romrodphoto
Image: Shutterstock/Romrodphoto
SUMMER'S HERE, AND my family's first big trip abroad is coming up.
This might be our first long-haul stint in the sun together, but I know from previous short trips just how easy it is to get caught up in the last-minute whirlwind of suncream shopping and swimsuit selections. Before you know it, you're on holidays without a phone charger or a toothbrush between the lot of you.
If you're a bit of a last-minute type, here are some tips I've picked up over the years, to ensure arrive at the airport with your sanity (and everyone's passports) in tow…
1. Look after yourself first
Just like the safety bit on the airplane, if you are not sorted before you start packing for the children, you will end up on holidays with one pair of knickers and no swimming togs. A couple of weeks beforehand, buy minis of your face creams and put together some outfits that you love.
2. Don't forget the First Aid
Pack plasters, kids' pain relief medicine antihistamines and whatever your preferred bug bite remedy is into a plastic sandwich bag. Photocopy all current prescriptions and place them into the bag too, to save frantic Googling in a Spanish pharmacy three days from now.
3. Bend the digital rules
You may say that you are eschewing all forms of gaming and YouTube-watching while you are making memories on your family holiday, but trust me, a few well-timed movie downloads will save you from meltdowns more often than you think.
4. Bring a couple of home comforts
As I've said before, I will be packing my boy's favourite cordial when we go away, and coffee beans for me, along with a small stove-top espresso maker. It's also a good idea to bring your own BPA-free reusable water bottles with you, so that you can dole out drinks for the beach bags without too much stress.
5. Pack some kitchen essentials (within reason)
If you are self catering, it's a good idea to pack a small box of essentials, so you don't have to spend a fortune on washing up liquid in the resort shop. Buy a packet of those empty travel bottles that are intended for shampoo and cleanser, and fill with washing up liquid, washing powder and a little antibacterial disinfectant. Add a microfibre cloth and a few swing bin liners and you are sorted.
6. Pop a few art and crafts bits in the bag
Another sandwich bag (are you sensing a theme here?), this time large in size, will serve as a mobile entertainment kit, and allow all you adults to enjoy a drink in the evening. Pack paper and colours, a pack of cards and mini Connect Four.
7. Divide and conquer
Make sure that each family member has at least four changes of clothes, a long sleeved cosy top, PJs and lots of underwear. Divide the clothes of each family member among all the suitcases; that way, if one case goes missing, it's not the end of the world.
8. Limit toys to the carry-on cases
Give your kids a small carry-on suitcase and allow them to fill it with the toys they are bringing on holidays. Limit their toy allowance to that case only. That way, they take responsibility and are happy with their choice.
9. Remember the documents
Pack copies of your essential documents in the suitcases (passports, boarding passes, itineraries), should disaster strike and you lose something important during your stay. Skip the credit card copies though, it's too risky.
10. Practice makes perfect
A day before leaving, gather up the kids and do a practice with all the bags. See if you can navigate holding the bags along with a small hand and if not, remove a piece of luggage for the holiday.