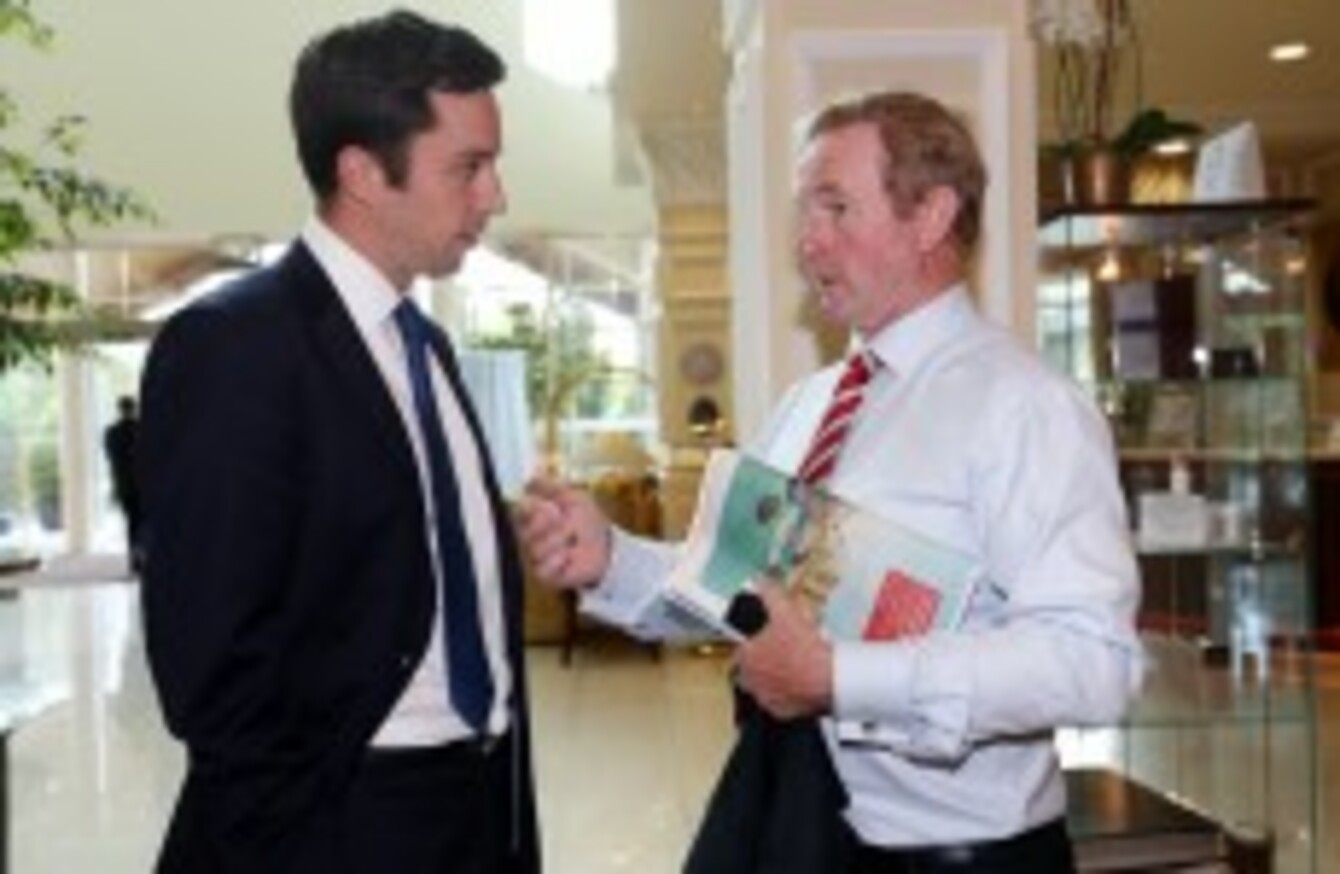 Eoghan Murphy with Enda Kenny (File)
Image: Laura Hutton/Photocall Ireland
Eoghan Murphy with Enda Kenny (File)
Image: Laura Hutton/Photocall Ireland
Updated: 7pm
A MAJORITY OF Fine Gael TDs want to be able to question Enda Kenny in the way backbenchers quiz British Prime Minister David Cameron, according to an internal party survey.
The anonymous survey of the party's TDs, carried out by the Fine Gael deputy Eoghan Murphy late last year, also found that three-quarters (74 per cent) of Fine Gael deputies want to loosen the party whip on foot of a recommendation from the Constitutional Convention.
As reported by TheJournal.ie last December, Murphy carried out the survey of his colleagues after the Taoiseach asked for a report from his backbencher on what political reforms could be introduced in light of the Constitutional Convention.
The survey, entitled 'Continuing Our Reform Work – Dáil Éireann', was carried out between 25 November and 2 December with 63 per cent of TDs who were sent they survey responding. Senators were not asked for their views as the focus was on Dáil reform.
One junior minister isn't sure about loosening the party whip, however. Simon Harris told reporters this evening that the current system has its advantages.
"The question of the whip system needs to be looked at from a range of different angles. I think we need to ask ourselves: 'Would we have managed to get the country to the point where the country is now at without a whip system?'
It's often easy to talk about the fact that there mightn't be a need for a whip but we need to have a very mature discussion about what a government, what a parliament would look like without a whip. I think that's a discussion we can have though and I think it's a debate we shouldn't be afraid of having.
Leaders' Questions
The results of the survey, seen by this website, found that 71 per cent wanted Leaders' Questions to include questions from backbenchers as happens in the UK. Conservative party backbenchers are allowed to put queries to David Cameron during Prime Ministers' Questions, the set-piece occasion of the Westminster week.
Nearly 80 per cent of those who responded favour "greater opportunities for backbench contributions" while 66 per cent believe that the Order of Business should be changed. Currently the Order of Business only allows questions on promised legislation and some TDs believe this is too restrictive.
Fifty-eight per cent of those surveyed believe speaking time should be divided equally between TDs and not based on a party or political grouping's number of representatives in the Dáil.
Other findings showed that just over half of Fine Gael TDs would like the Ceann Comhairle to be elected by a secret ballot while 57 per cent want reform of the budget process to make it more transparent.
Some 58 per cent of those surveyed favour the allocation of committee chairmanships to be according to a party's general election results and based on the D'Hondt system.
This would create possibility where opposition TDs could chair Oireachtas committeees which is not currently the case except for the Public Accounts Committee and the Public Oversight and Petitions Committee.
In a letter to colleagues, Murphy said that none of the major changes that have majority support within Fine Gael would require constitutional or legislative change.
"This means they can be implemented without delay," he said, adding it was his personal belief that the most popular reform proposals be proceeded with "immediately".
Murphy has consistently argued for Dáil reform since he was elected nearly four years ago and wrote an internal party document proposing several radical reforms last year.
- with reporting by Órla Ryan
Originally published: 10.18