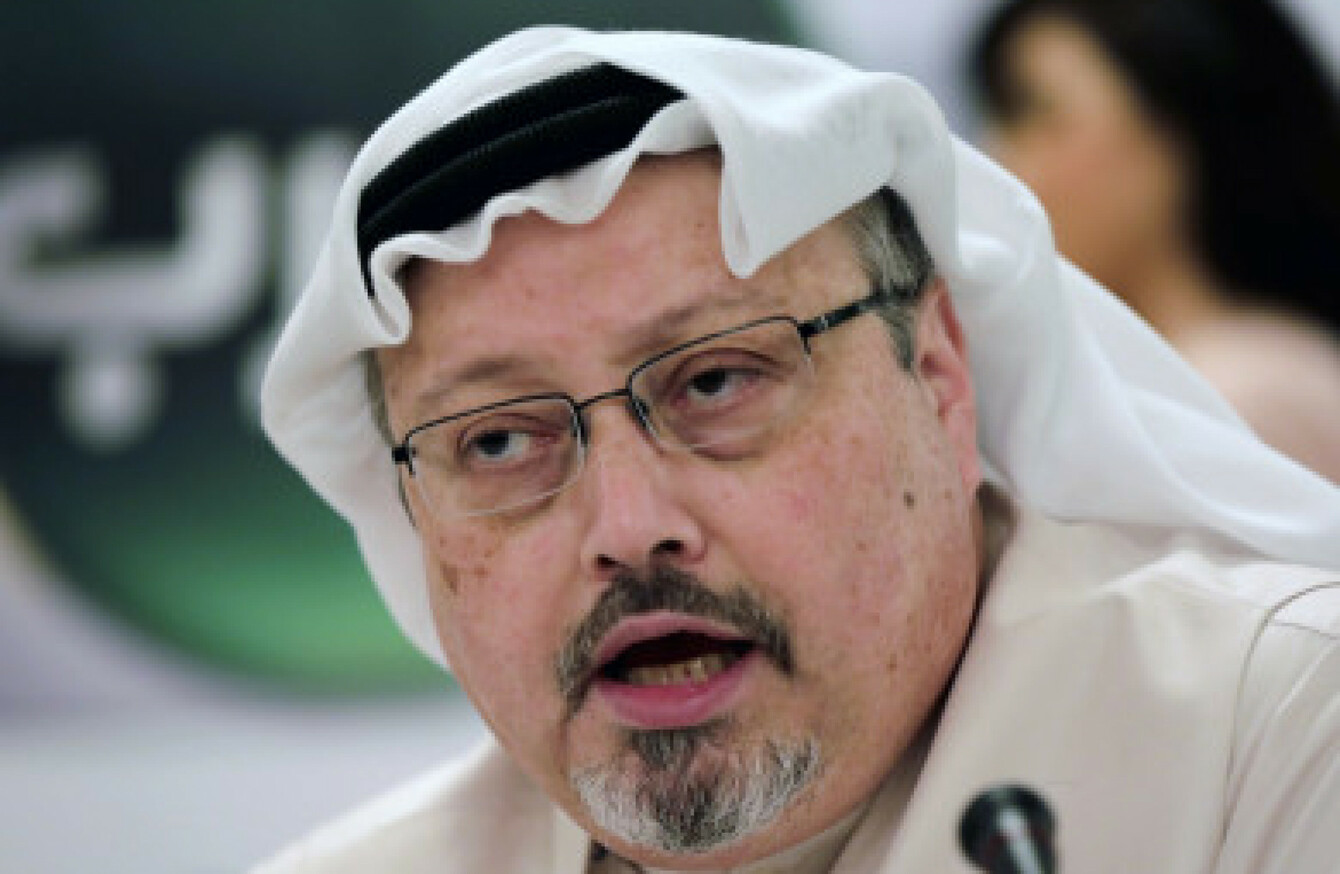 Jamal Khashoggi
Image: Hasan Jamali via AP
Jamal Khashoggi
Image: Hasan Jamali via AP
FIVE SAUDI OFFICIALS face the death penalty for the murder of journalist Jamal Khashoggi who was dismembered inside the kingdom's Istanbul consulate but the prosecutor said today that Crown Prince Mohammed bin Salman was not involved.
The announcement follows growing international outcry over the killing of Khashoggi, a Washington Post columnist and critic of the Saudi rulers who was last seen entering the consulate on 2 October to obtain paperwork for his marriage.
Khashoggi died after being drugged and then dismembered, a spokesman for the public prosecutor's office said in the first Saudi confirmation of how he was killed.
The journalist's body parts were then handed over to an agent outside the consulate grounds, the spokesman said.
The spokesman denied that Prince Mohammed had any knowledge of the murder.
The deputy chief of Saudi Arabia's intelligence, General Ahmed al-Assiri, gave the order to repatriate Khashoggi - and that "the head of the negotiating team" that flew to the Istanbul consulate had ordered his murder, the spokesman said.
After repeated denials, Saudi Arabia finally admitted in mid-October that Khashoggi had been murdered at the compound but blamed it on a "rogue" operation.
The prosecutor has requested the death penalty for the five who "are charged with ordering and committing the crime and for the appropriate sentences for the other indicted individuals," an official statement published by state news agency SPA said.
It said a total of 21 individuals were in custody in connection with the killing, 11 of whom have been indicted with investigations to continue into the others. 
Yesterday Turkey called for an international investigation into Khashoggi's murder. 
Ankara has already shared voice recordings linked to the murder with a number of countries including Saudi Arabia, the United States and its Western allies.
'Global fallout' 
Khashoggi's killing has plunged the world's top oil exporter into its worst diplomatic crisis since the September 11 2001 terrorist attacks on the United States, in which most of the hijackers were identified as Saudi nationals.
After first insisting Khashoggi left the consulate unharmed, Saudi authorities said he was killed in an argument that degenerated into a brawl before finally accepting what Turkey had said virtually from the start – that he was killed in a premeditated hit.
Turkish President Recep Tayyip Erdogan has said that the order to murder Khashoggi came from "the highest levels" of the Saudi government.
The global fallout over the murder has tainted the image of 33-year-old Prince Mohammed – the de facto ruler and heir apparent – despite persistent Saudi denials that he was involved.
Khashoggi's murder has also led to increased scrutiny of Saudi Arabia's role in the Yemen war, which has pushed the impoverished country to the brink of famine.
The journalist went into self-imposed exile in the United States in 2017 after falling out with Prince Mohammed.