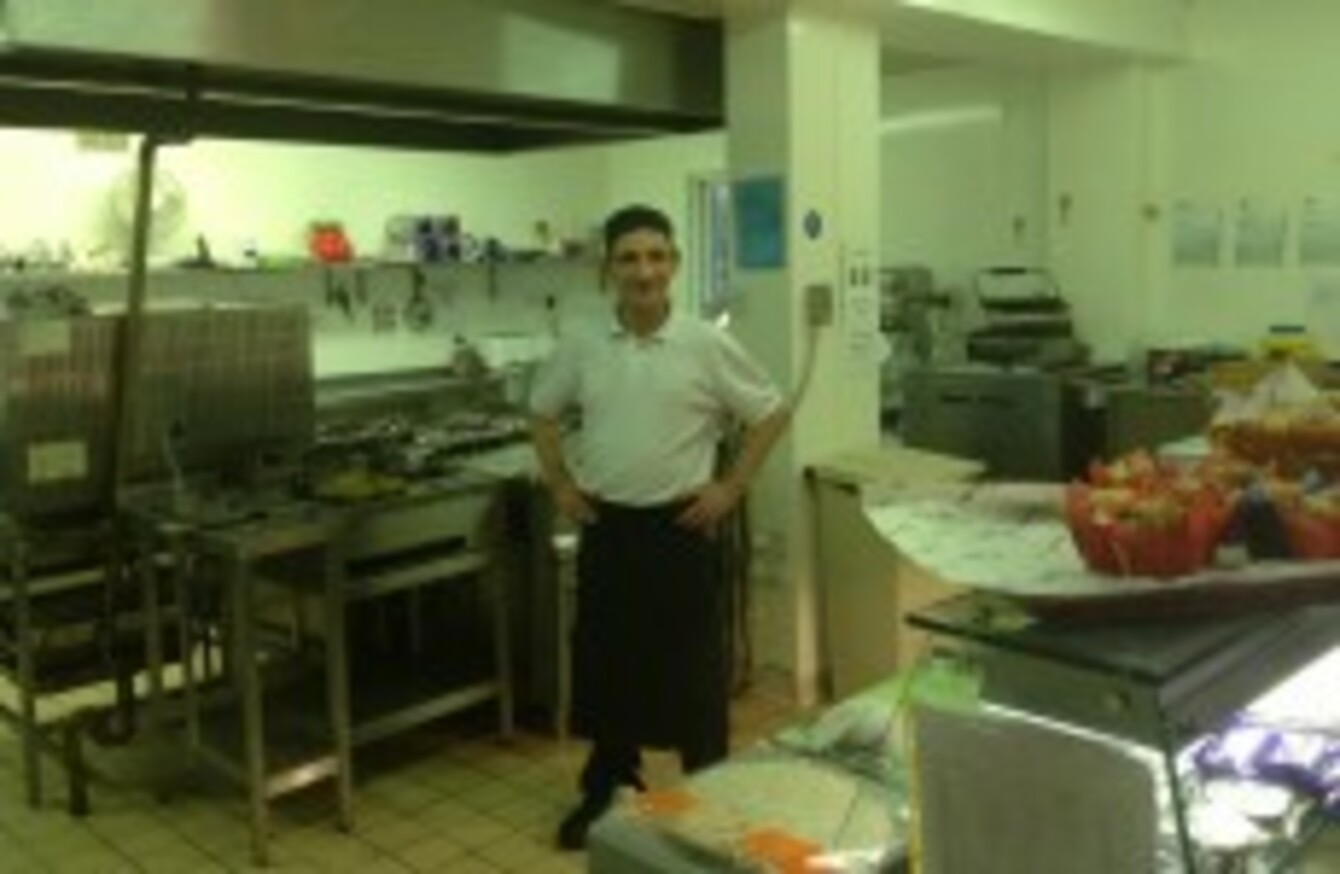 Assistant chef Tony in the Portland Row facility.
Assistant chef Tony in the Portland Row facility.
THE STAFF AND volunteers at Crosscare's food centre in Dublin's city centre had served 87 people breakfast and lunch by 2.30pm on Thursday afternoon.
"That would be an average day," manager Michael McDonagh tells TheJournal.ie. "We'd usually feed up to 100 people per day."
Although some customers will give a donation for the meal (about €3), many cannot afford to do so.
Demand for the services of the food bank has increased with the advent of the recession five years ago.
The clientele has also changed in that time.
"There is a new reality. A new type of poverty," explains McDonagh. "It is not the stereotype that comes through those doors. We get people from all walks of life.
"There are people coming in here who work down the road in the IFSC but on certain days they cannot afford to buy lunch. They may have a house, a job and a car – and look like they are doing well from the outside – but their financial situation means to keep a roof over their family's head, they have different priorities. They feed the children first and then come here, when necessary."
The café is also popular with older people who mind their grandchildren and parents with school-going kids, as well as homeless and more vulnerable people.
They all live in harmony in the relaxed setting, which boasts a hefty book portfolio, free Wi-Fi and other entertainment systems. The centre also runs a number of Internet literacy programmes and other classes.

(YouTube: SineadOCarrollTJ)
The food centre has transformed itself in recent months, getting rid of the soup kitchen stigma that may previously have been attached to it.
Jocelyn, a young volunteer at the centre, says she notices a different atmosphere.
"People like coming in," she told TheJournal.ie, as she and her colleagues set about decorating the room for Christmas.
McDonagh says there would have been a stigma attached to food centres in years gone by but that has changed as people live with a new reality.
He believes there is space for more centres across the city. He has already shown other interested parties the model Crosscare is using.
For the first time in 10 years, the Archbishop of Dublin has launched a food appeal for items to be distributed among families and individuals in the capital.
"It's not necessarily a new demand though," notes McDonagh. "We have improved at identifying where there are needs."
Last month, requests from 120 individuals and families had to be turned down as the organisation was only in a position to give 40 parcels.
As a result, residents are being asked to donate pasta/rice, fruit juice, tea/coffee, soup, sugar, powdered milk, tinned meats and fish, packaged desserts, biscuits and hygiene products to the drive. All food supplies can be left at local parish centres or churches. CrossCare's volunteers and staff will then collect and redistribute the food every Monday and Tuesday.
At the current rate, Crosscare will distribute 750 tonnes of food by the end of this year. The corresponding figure for 2012 was 500 tonnes. Much of the food is donated by corporate entities, including Kelloggs and Lidl who provide breakfast and fruit every day. Other partners include Manning's Bakery, Glanbia and Brady Family Hams.