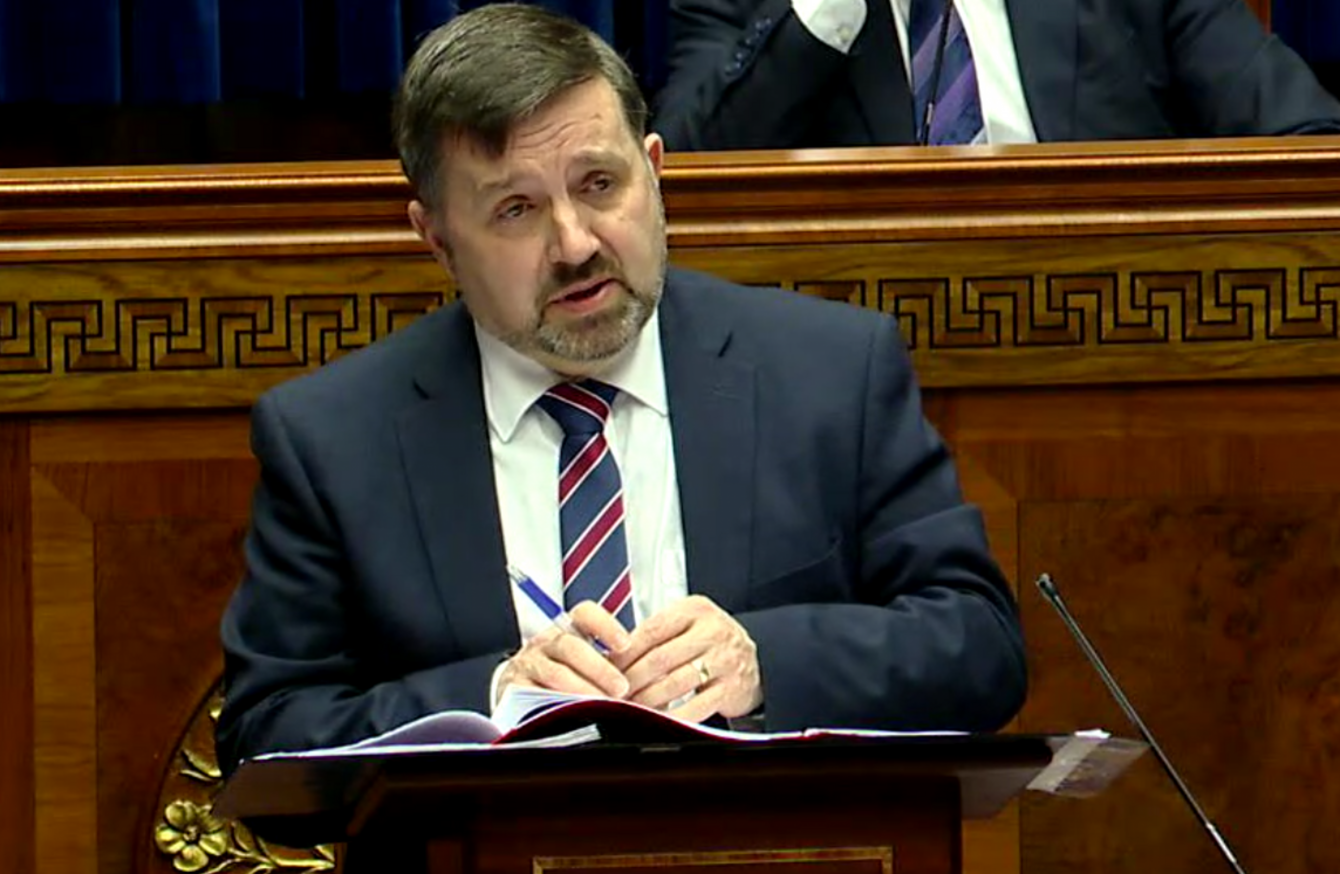 Robin Swann
Image: NIAssembly.tv
Robin Swann
Image: NIAssembly.tv
Updated Dec 21st 2020, 2:17 PM
SCHOOLS IN Northern Ireland will reopen after the Christmas break, Northern Ireland's Education Minister Peter Weir has confirmed after speculation they would remain closed in January.
Speaking to the Assembly today, Weir said schools would reopen as planned but with additional safety measures in place.
He said closing schools again would have a detrimental impact on children.
"During this pandemic, despite the best efforts of us all, including parents, teachers and other staff within education, children have undoubtedly suffered.
"While generally less clinically vulnerable to Covid than adults, through the necessary restrictions we've had to impose, [children] had to endure disruption to their schooling, loss of learning, social inclusion, detrimental impact on their mental health, and the prevention of the opportunity to lead a normal life."
Weir said schools should only be closed "as a last resort". He stated that closing schools in January would have a number of negative effects – on vulnerable children and those sitting exams, in particular.
The minister said pulling children out of school would also impact the number of healthcare workers available as more people would need to look after their children and homeschool them.
He added that another option "would be placing those children into the care of grandparents, who surely we all want to protect".
However, Reid said he wanted to be "abundantly clear" that schools reopening won't be "on the basis of a return as normal", stating "that would be an impossibility".
Reid said his department will work with the health department and "a wide range of other stakeholders such as principals, trade union representatives, and the Education Authority" to develop a range of safety measures that can be introduced next month.
"This must quickly lead to a package of measures which could be implemented in early January."
Reid said that "while not exhaustive", the government is considering a number of issues such as an extension of the use of face coverings within post-primary schools, compliance on face coverings, and how safety measures can be increased on school transport and at drop-off points outside schools.
Reid said Covid-19 testing and tracing may also be rolled out in more schools. He said the "messaging" around the guidelines must also be improved.
"This this is not exhaustive, and I will embrace any practical suggestion which can further combats potential spread of the virus and protects our children's education," Reid said.
Some Assembly members have questioned this approach, saying a phased reopening of schools would be preferable. They also sought more information on the new measures that will be implemented. 
Health Minister Robin Swann earlier told the Assembly: "I do not believe that the return to school as normal in January is a sustainable position."
Swann said he is engaging with Reid and the Chief Medical Officer on the issue.
He said "all options should be considered" when attempting to stop the spread of Covid-19 and ensure hospitals don't become overwhelmed.
"I understand that the public will be somewhat disappointed with the introduction of further restrictions over the Christmas holiday period," Swann stated.
Six-week lockdown
The Northern Ireland Executive last week decided to impose a six-week lockdown from 26 December.
The first week of the measures will see the toughest lockdown yet in Northern Ireland, with a form of curfew in operation from 8pm, shops closed from that time and all indoor and outdoor gatherings prohibited until 6am.
Swann today said "the majority of the public support these measures" but some people will ignore them and attend parties in the coming days, particularly on New Year's Eve – something he advised against.
He added that he is in regular contact with the Republic's Health Minister Stephen Donnelly, and the two chiefs medical officers – Dr Tony Holohan and Dr Michael McBride will speak again today.
At an emergency meeting late last night, the Northern Ireland Executive agreed to reduce the five-day Christmas bubbling arrangements to just one day, following the rest of the UK.
Ministers also debated a temporary ban on travel from Great Britain to Northern Ireland because of the new Covid variant, with further discussions expected today.
Health officials in Northern Ireland yesterday confirmed that a further 505 individuals had tested positive for Covid-19 and 13 more people have died with the virus.
In total, there have been 61,942 Covid-19 cases in the North and 1,196 deaths.
New variant
Earlier today First Minister Arlene Foster said that four cases of Covid-19 in the North have been detected as having a "different sequencing than other cases".
Foster said it is "probable" that the new variant of the coronavirus detected in London and other parts of Britain was now present in Northern Ireland but said it cannot be "definitively" confirmed at this time.
In these four cases, samples have been sent to England to confirm if they are from the new strain.
Swann told the Assembly it appears as though the new variant is "more transmissible, but it is still too early to confirm that with certainty".
"However, there is currently no evidence to suggest that this variant is more likely to cause serious disease, there's currently no evidence that the strain will cause a more serious illness or that it will fail to respond to the vaccines that are currently developing."
The European Centre for Disease Prevention and Control has said there is a lack of evidence on how bad the new variant of the coronavirus is, or how prevalent it is outside the UK.
However, the ECDC added that the new strain has an estimated potential to increase the reproductive number (R) by 0.4 or greater, and is estimated to be 70% more transmissible than previous strains.
Travel suspended 
On Saturday, British Prime Minister Boris Johnson announced that London, the South East and the East of England would be put under a new level of restrictions for the Christmas period.
England's Chief Medical Officer Chris Whitty said that the new coronavirus strain could spread more quickly and called for the public to act to reduce transmission. The new strain has been detected across Britain.
In response, countries such as Ireland, France, the Netherlands and Italy have suspended flights coming from the UK.
In Ireland's case, flights and passenger ferries were suspended for 48 hours from the beginning of today. The decision will be reviewed by Cabinet tomorrow morning. Swann today said it would have been good to have been given more notice of this by officials in the Republic. 
As of 2pm yesterday, there were no detected cases of the new variant in Ireland. 
Speaking to BBC's Good Morning Ulster programme, Foster said ministers were very concerned about the highly infectious mutation and tests were ongoing.
#Open journalism No news is bad news Support The Journal

Your contributions will help us continue to deliver the stories that are important to you

Support us now
She said: "It is probable that it is here and likely it is in the Republic too."
The Northern Ireland Executive has slashed the five-day holiday relaxation of restrictions, allowing three households to gather, to just Christmas Day.
Flexibility will be afforded to people working on 25 December to enable them to join others on another day over the festive break.
The decision was made by ministers during an emergency virtual Executive meeting late last night.
Ministers also debated imposing a temporary ban on travel from Great Britain to Northern Ireland in response to the new variant of Covid-19 that has taken hold in London and Kent.
Sinn Fein supported the move, however practical issues were raised around how quickly such a ban could be introduced, given the time it would likely take for the Department of Health to draw up regulations to bring it into effect.
The DUP position was that UK internal travel is already banned from Tier 4 areas in England, so there is no need for added Stormont legislation to enforce that.
Foster said today that her party believes the responsibility for stopping flights and ferries within the UK is an issue for the UK government and has also raised concern that Stormont could leave itself open to compensation liabilities if it was to legislate on the issue.
She said: "At the moment we have a travel ban from Tier 4 areas. We are saying to people in other areas of Great Britain to only really travel if it's essential and remember that Christmas bubbling is only for one day."
With reporting from Sean Murray and the Press Association