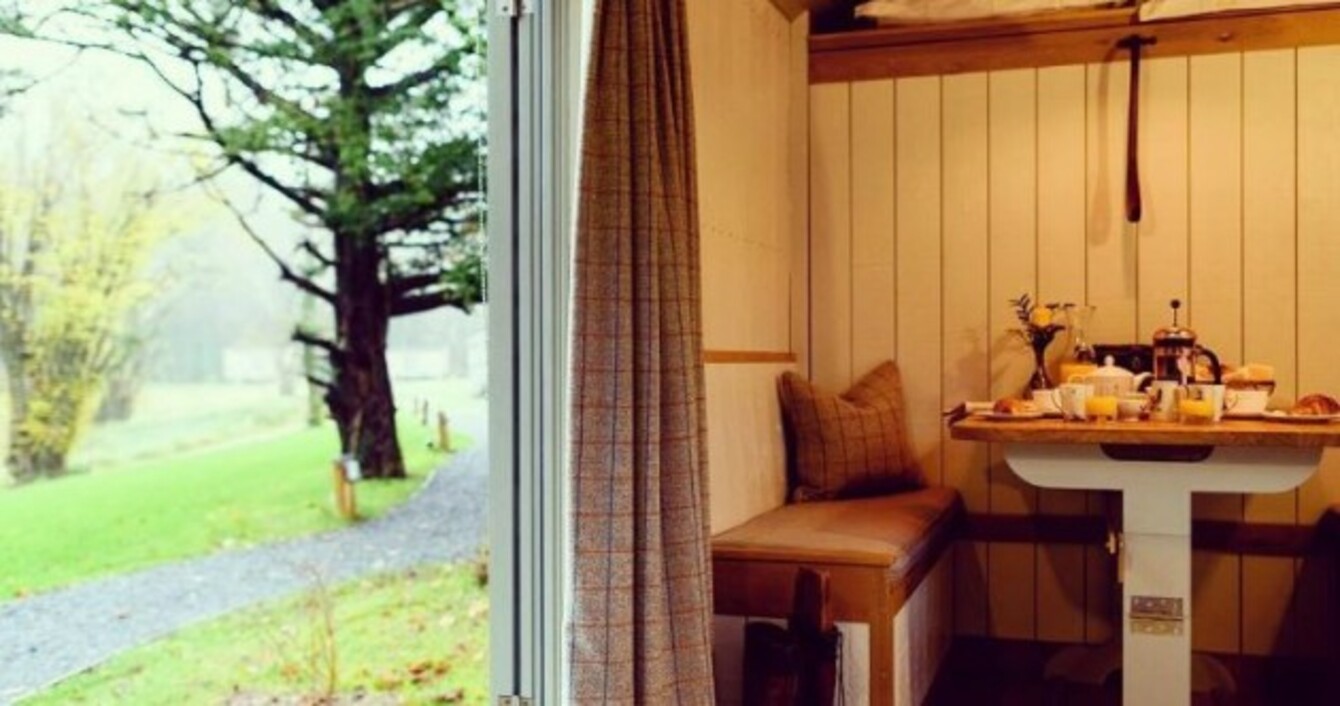 Virginia Park Lodge, Cavan.
Image: Instagram/virginia_park_lodge
Virginia Park Lodge, Cavan.
Image: Instagram/virginia_park_lodge
WHILE YOU MIGHT be happy with a quick coffee/toast combo during the week, most likely consumed while standing at the kitchen counter, the weekend is a whole different ball game. Especially if you're on your holidays.
The glories of a decent breakfast cannot be underestimated; neither can it be hurried. Ireland is now firmly in the brunch era, but that doesn't make a classic fry-up any less enticing. And in this country, you don't have to travel too far to find a great one.
Here are a few breakfasts worth the drive, in staycation-friendly spots around Ireland…
1. Longueville House, Mallow, Co Cork
One of the first country houses to open as a hotel back in 1967, Longueville has been proudly flying the flag for North Cork hospitality for the last 52 years. Owners William and Aisling O'Callaghan run this elegant, 300-year-old house with style, also managing the estate farm and walled garden that supply the kitchen, and a 25-acre cider apple orchard.
The breakfast ingredients are predominantly estate- or locally-sourced: their own cider goes into the brown bread and the traditional full Irish uses bacon, sausages and pudding from Finn's butchers in Mitchelstown. Make time for a tour of the estate and orchard to see what a remarkable farm-to-fork (and glass) operation this is. That walk is just a small stretch before the real fun of the morning: a trip to the Ballyhoura Trail Centre in Ardpatrick, Co Limerick, the starting point for the largest and most exciting off-road, mountain bike trail network in Ireland. You'll be glad that you had that extra slice of cider and walnut brown bread.
2. Dunnanelly Country House, Co Down
Just half an hour south of Belfast, this Georgian-style house is in a secluded countryside spot in Co Down, looking towards the Mountains of Mourne, so you'll get your eggs with a side of mountain views. It's ideal if you want to play Game of Thrones bingo: Audley's Castle (Robb's Camp), Castle Ward ( Winterfell) and River Quoile (Hoster Tully's funeral) are all within 10 miles of Dunnanelly. Or stay put and enjoy the garden walks, croquet, boules and billiards on offer.
Breakfast is served in the formal red dining room and owner Sally King is justly famous for her Ulster fry. All the usual suspects are present, correct and locally sourced – including honey from Sally's own hives – but delicious fried potato farls and soda bread are what sets it apart.
3. Ghan House, Carlingford, Co Louth
Historical and healthy activities exist comfortably side by side in the town of Carlingford, which has atmospheric medieval streetscapes alongside the kind of scenery that makes you want to rent out a stand up paddle board and explore the coast from the waterside.
Whatever part of your brain or body is engaged, it's safe to say you will find rest and repose at the multi award-winning Ghan House. The Ghan House Fry, with Kelly's puddings and local Cooley sausage, is a legend in its own lifetime and they also have gluten free and vegan sausage options available so that no one feels left out.
4. Castlewood Guesthouse, Co Kerry
It might look like a regular B&B from the outside, but as soon as you meet Castlewood hosts Helen and Brian Heaton you know you're somewhere special. If the weather's good, head out west to soak up the wild beauty of the Dingle Peninsula. If it's bad, check out the music in the local pubs.
The next morning you might have a problem with choosing your favourites from the delicious menu at Castlewood – the Irish breakfast is hard to pass by – but there's an omnivore's delight of thoughtful offerings, including the just-landed fresh fish of the day, which never disappoints.
5. Europa Hotel, Belfast
Breakfast at this central Belfast hotel is a bustling buffet, but what sets it apart is a serious commitment to local producers: Derry supplies Grant's dry cure bacon, Ballymena is the source of Gracehill Black and white puddings, and the eggs come from Newtownards. Their breakfast booklet name even checks their tomato and mushroom growers.
Suitably fortified, stroll down to Castle Place and hop on the Belfast City Sightseeing tour bus. You'll want to go around twice: once to get your bearings, the second time to hop on and off to see the sights. Tours of Belfast City Hall and the Parliament Buildings at Stormont are highly recommended, find out all about the building of the unsinkable Titanic at Titanic Belfast and head to St George's Market at weekends for a great selection of food and crafts.
6. GROW HQ, Waterford
The home of the GIY (Grow It Yourself) movement, at GROW HQ head gardener Richard Mee grows, chef JB Dubois cooks and you do the eating. That's not difficult when the food is so compelling.
The Full HQ includes a free range duck egg, Inch House black pudding and Jane Russell sausages alongside HQ-grown sauteed spuds and homemade beetroot ketchup. There's real passion behind all the food and it shows in the lovely homegrown, local and seasonal menu that's served with pride in the light-filled, colourful dining space. There's a once-a-month junior growing club, so ditch the kids to learn basic gardening skills for two hours on a Sunday morning while you linger over your flat white and consider ordering a vegan stack second breakfast.
7. Virginia Park Lodge, Co Cavan
The breakfast at Virginia Park Lodge features a roll call of splendid producers: Magner's Farm eggs, fresh black pudding from Annascaul, Crowe Farm bacon and sausages, Crawford's raw butter, BeeActiv raw ivy honey, and Sally Barnes' wild salmon. You'd expect nothing less from chef Richard Corrigan's Irish outpost.
An 18th century hunting lodge overlooking Lough Ramor, there are numerous walks to enjoy on the 100 acre estate (you'll find a booklet at reception) and a nine-hole golf course on the grounds. If fishing is your thing, Lough Ramor is the place to catch bream, roach and perch. Just the way to spend the day after a feed of devilled kidneys.