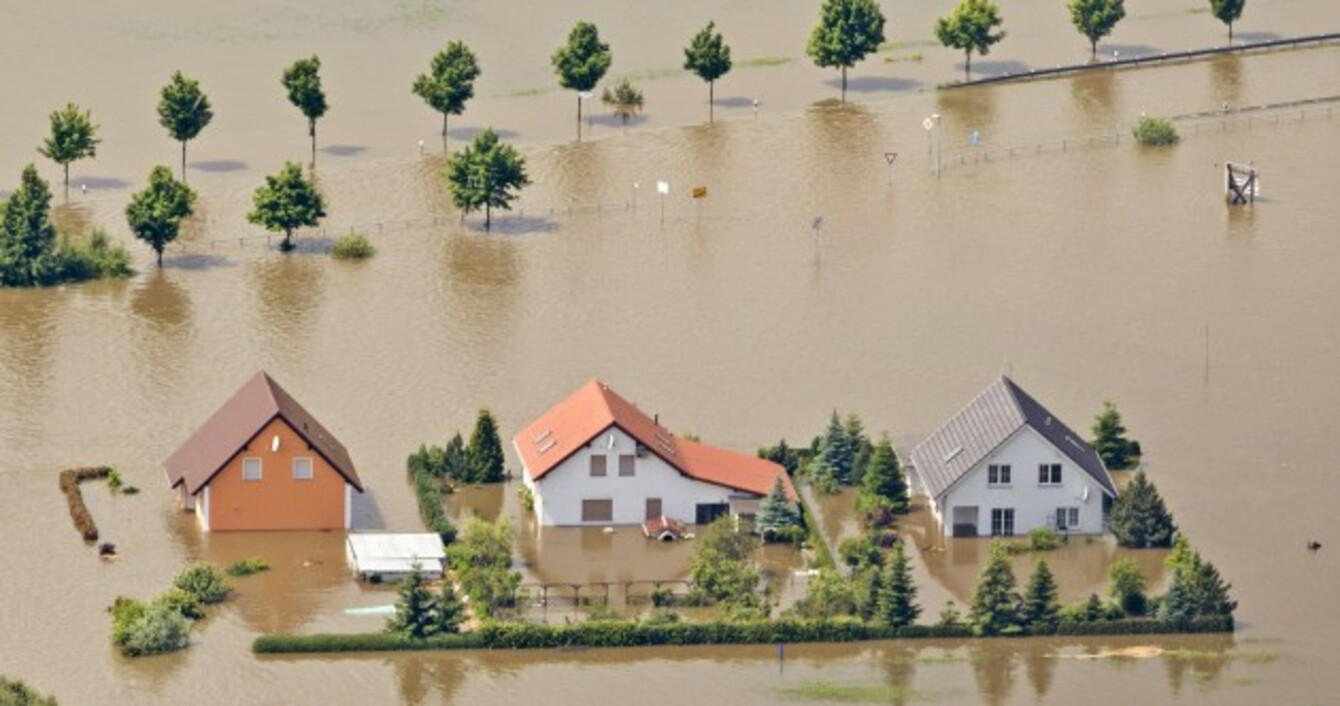 Image: (AP Photo/Jens Meyer)
Image: (AP Photo/Jens Meyer)
FLOODING HAS DEVASTATED central Europe for more than a week.
Swollen rivers in the German states of Saxony-Anhalt and Schleswig-Holstein posed the biggest threat, after flood waters has left at least 19 people dead across Europe.
Europe's top economic power has published no official figure on the cost of the deluge but a private ratings agency said the figure could surpass €12 billion in Germany alone.
The German Agricultural Association said sodden fields, destroyed crops and damaged equipment brought losses of €405 million.
Some 9,000 soldiers were deployed in Saxony-Anhalt today to ensure dykes held as around 11,300 people remained stranded in provisional housing.
Hungarians meanwhile breathed a sigh of relief as the level of the Danube continued to fall to 8.45 metres on Tuesday from 8.81 metres late Monday.
Europe Floods

Helpers take a break on a wall of sandbags in a flooded area by river Elbe in Magdeburg, central Germany. (AP Photo/Jens Meyer)

Europe Floods

German Chancellor Angela Merkel and the the governor of Brandenburg state, Matthias Platzeck visit Wittenberge to get first hand information of the flood situation and to thank the volunteers who helped to fight against the floods.(AP Photo/Markus Schreiber)

Europe Floods

Hundreds of volunteer fill and pile sandbags at the flood -threaten city of Wittenberge, Germany. (AP Photo/Markus Schreiber)

Europe Floods

Houses stand in a flooded area by the River Elbe in the enclosed village Fischbeck, central Germany. (AP Photo/Jens Meyer)

Europe Floods

Weeks of heavy rain has let around 19 people dead. (AP Photo/Jens Meyer)

Europe Floods

The bursting of a dike has led to the flooding of the village Fischbeck central Germany. (AP Photo/Jens Meyer)

Europe Floods

A hover craft boat drives in a flooded area by river Elbe near the enclosed village Fischbeck, central Germany. (AP Photo/Jens Meyer)

Europe Floods

Cars stand in a flooded area by river Elbe in the enclosed village Fischbeck, central Germany, Tuesday, June 11, 2013. (AP Photo/Jens Meyer)

Europe Floods

Residents of evacuated villages wait in front of an emergency accommodation in Stendal, central Germany, Tuesday, June 11, 2013. Weeks of heavy rain this spring have sent the Elbe, the Danube and other rivers such as the Vltava and the Saale overflowing their banks, causing extensive damage in central and southern Germany, the Czech Republic, Austria, Slovakia and Hungary. (AP Photo/Jens Meyer)