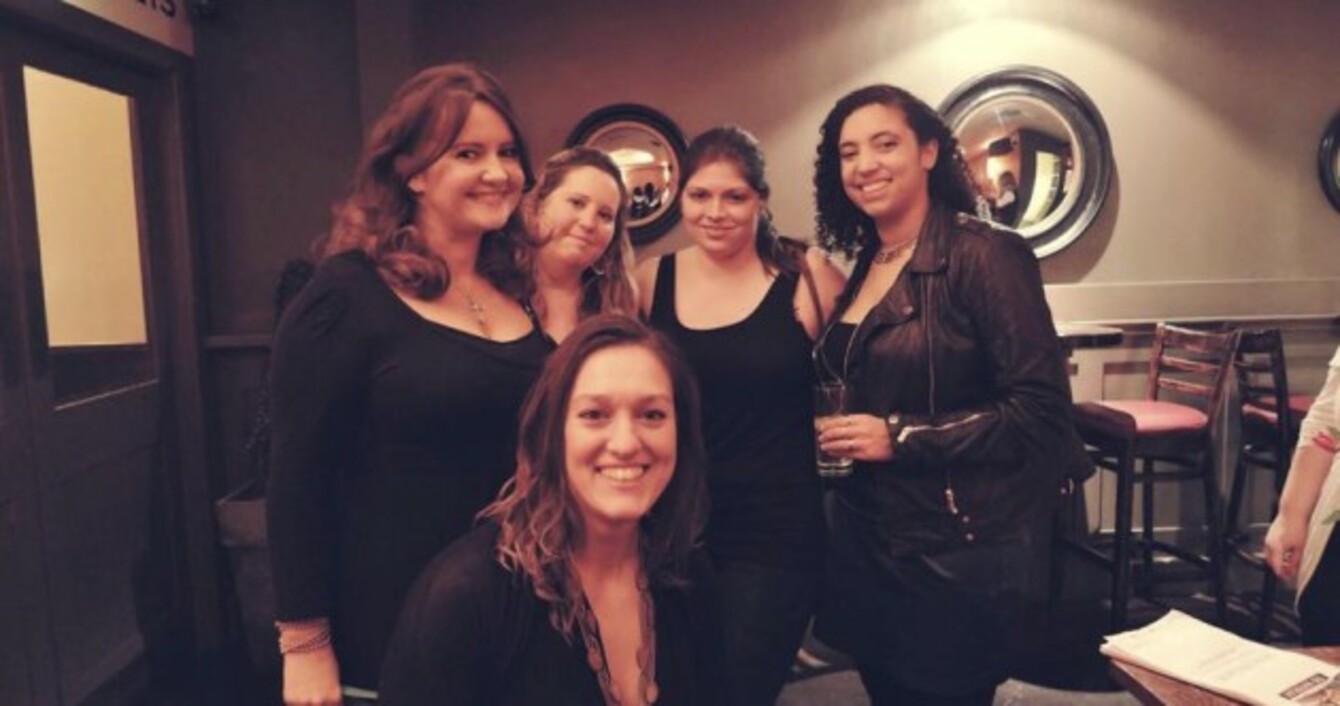 FROM DUBLIN TO Dallas, Brussels to Brisbane, thousands of young women share the same problem – watching their social lives and friendship groups dwindle as the demands of work and family chew up the days.
Enter 30-year-old Elva Carri and GirlCrew, the product of the Dubliner's own frustration one Friday night early last year when she found herself unwillingly stuck at home.
"I wanted to go out dancing, but none of my friends wanted to go out dancing," she told TheJournal.ie.
"So I changed my gender to male on Tinder and put up a little pink text picture that said I'm actually female, I'm straight and I just really wanted to go out dancing.

I though I might find two or three, maybe four girls that were kind of mental and were like 'yeah, let's do it', but the messages came in from a hundred people or maybe more."
Less than 18 months later, the message Carri posted on the dating app has spawned a global network of women with almost 10,000 members in 37 cities across Ireland, Europe, North America, Australia and Asia.
With the tagline "welcome to the madness", GirlCrew operates through what its three founders – Carri, Áine Mulloy and Pamela Newenham – describe as "slightly organised chaos".
How GirlCrew works
Members, women mainly aged from their mid-20s through to their mid-30s, join their local crew on Facebook, where they either post something they want to do or respond to someone else's request. There is also a newsletter and blog featuring a regular "meet the girlcrewer" column.
I think women and girls really take a lot of their priorities really seriously – family, work, partners – and you can end up prioritising things that aren't necessarily fun or social … and then you can find your friends have dropped off along the way," Carri said.
While GirlCrew began with straightforward social outings, it has since given rise to member-run dance classes, "swap shop" parties and a WOW group – which stands for Women of Web Summit – for the more tech- and entrepreneurial-minded.
"We set up a travel group as well and that works internationally for all the different groups around the world – so five girls went off to France together and they had never met each other before they met up at the airport."
GirlCrew had also become a forum for the young women to seek others' advice, Carri said, which added to its appeal over purely activity-based platforms like Meetup.
They chat in the Facebook groups – a lot – first. So they kind of get a feel for each other … they know it's safe, they know it's all girls and they can suss people out beforehand."
One of the few firm rules, ironically for a women-only forum, involves men. Posting Tinder or dating profile pics of the opposite sex for feedback from the crew is a strict no-no. Other than that, virtually anything goes.
Going pro
Recently, the trio ran the first GirlCrew "pro" event – an evening of careers advice featuring prominent businesswomen such as Microsoft Ireland HR director Clodagh Logue.
The speakers were so open and honest – at times we were almost crying and there was loads of laughing as well. That's kind of what I see in the GirlCrew groups all the time … and it was just amazing to see that it translated to a careers and professional event."
After the success of the first paid-for event, the organisers have a second session planned for August and Carri, who works as the editor of Positive Life Magazine, said their ambition was to turn GirlCrew into a profitable business.
The founders were looking at taking on advertisers and developing an app for the site, although they were determined any changes wouldn't come at the expense of the slightly-anarchic culture of fun that made the network a success.
"We're trying to figure it out slowly because I think we all want to do it right and not ruin the vibe of anything," Carri said.
I'd love to have it running really well in more cities, that would make me really happy. If there's anyone else like the girl I was on that Friday night thinking 'I don't have anyone to go out dancing with' – and because of GirlCrew they don't have that feeling any more, that would be amazing … and I guess making some money out of it would be cool."
But will there be a version of GirlCrew for men so that both sexes can share in the madness? Probably not – at least from this trio. Their attempt, WingMan, stalled on take-off, Carri admits.
"I think it does need to exist for guys as well but I don't know in what form, because the same formula doesn't work for guys.
I think it's harder for guys to connect in the same way. I don't think the way GirlCrew solves a problem for girls is exactly the way to solve the same problem for guys … and I'm waiting for someone else to figure out what that solution is."
This month, as part of TheJournal.ie's ongoing startup and small and medium enterprise (SME) focus, we are looking at peer-to-peer services and the sharing economy.
To view other stories from our collection, click here.