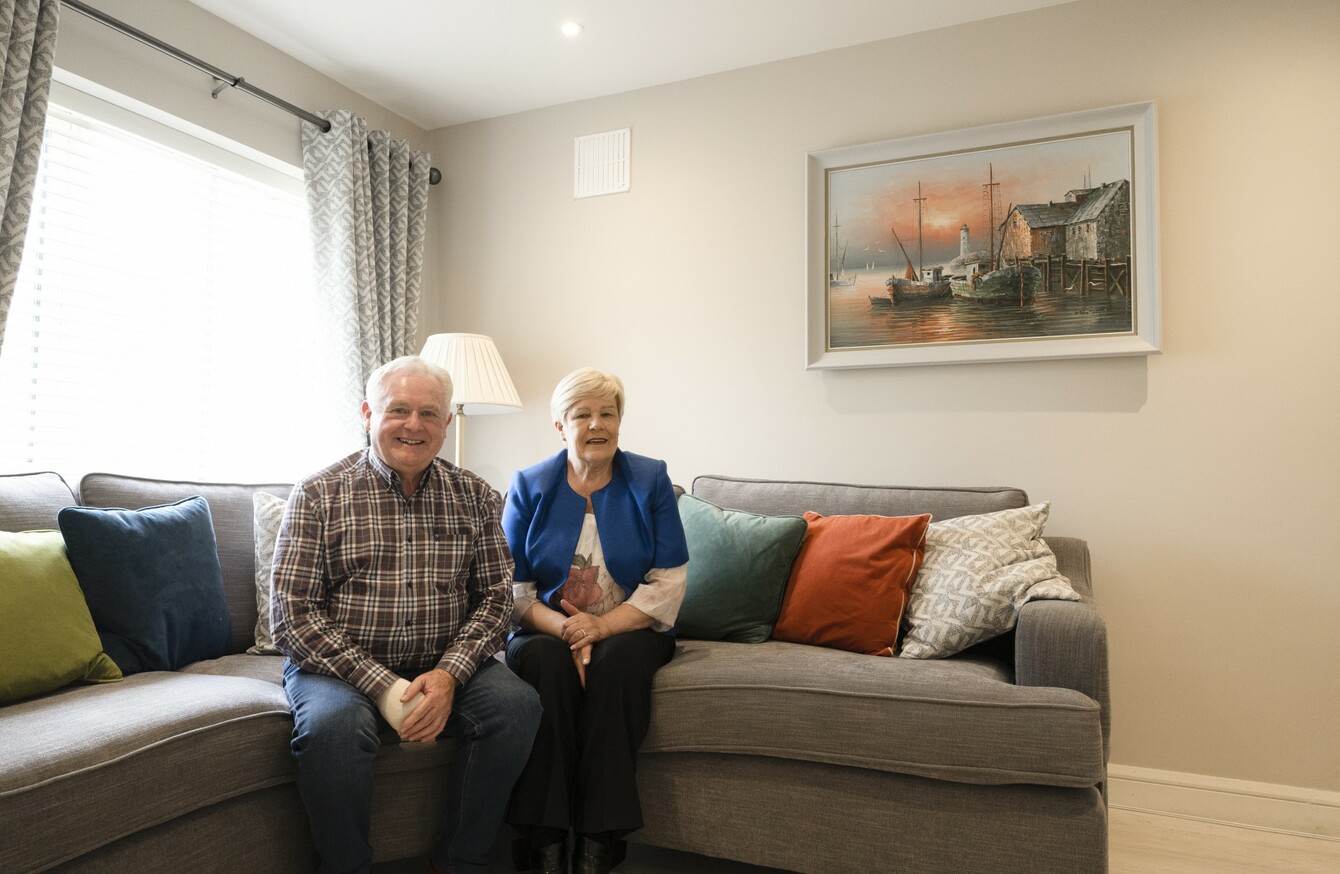 Shay and Thelma Kearney in their new home.
Image: Glenveagh Homes
Shay and Thelma Kearney in their new home.
Image: Glenveagh Homes
THIS TIME LAST year, Glenveagh closed the first house in the company's history when Shay Kearney and his wife Thelma received the keys to their home. 
After exceeding their target to close 250 houses in 2018, the company is on track to reach this year's target of closing 725 houses, with 15 current developments underway in the Greater Dublin Area and Cork.
The first of many happy Glenveagh homeowners, Shay and Thelma received the keys to their two-bed Cois Glaisin home in Navan, Co Meath on June 28 2018.
One year on, the pair said they wouldn't change a thing. "We got the keys on a Friday evening and we slept here on Sunday night," says Shay. "That's how quickly the move took place for us."
After selling their home in Dublin and browsing the market, Shay and Thelma found exactly what they were looking for at Cois Glaisin. 
Thelma went to see the show house in January and just said, 'right, this is the one.' 
"We looked around at quite a number of places, different developments and different sized houses and we just kept coming back to this because of the quality of build," explains Shay. "This particular house was in a nice distance from the road, you're not caught up in the main estate and it just suited us with the side entrance as well." 
"We knew all about the community because our kids live here," he says. "The houses are well structured and they're well finished and even now I've found that I can get help from Sean, the finishing foreman on the site, if there's anything I need."
Since being given a bottle of champagne from the team on the day they got their keys, Shay and Thelma say Cois Glaisin will be their home "until death do us part." 
On the other side of the process, Closings Manager Mariga Ardiff and Post Sales Manager Shirley Murray had a key role to play in the closing – and the hundreds which have followed. 
"Obviously buying a new home can be a daunting process and purchasers do tend to have their queries. Shay raised a few with us and seemed to be very happy with the process as a whole," says Mariga. "The passing over of keys to the buyer is a very happy occasion for us and we had the pleasure of handing the keys to Shay and Thelma on their closing day. We wish them all the very best in their Glenveagh Home."
Glenveagh Homes understands that buying a home is possibly the biggest decision you will ever make in your life – but we want to make it your easiest. That's why we produce high-quality homes in great areas at competitive prices. Click here to learn more about homes at Cois Glaisin, or discover other Glenveagh developments here.