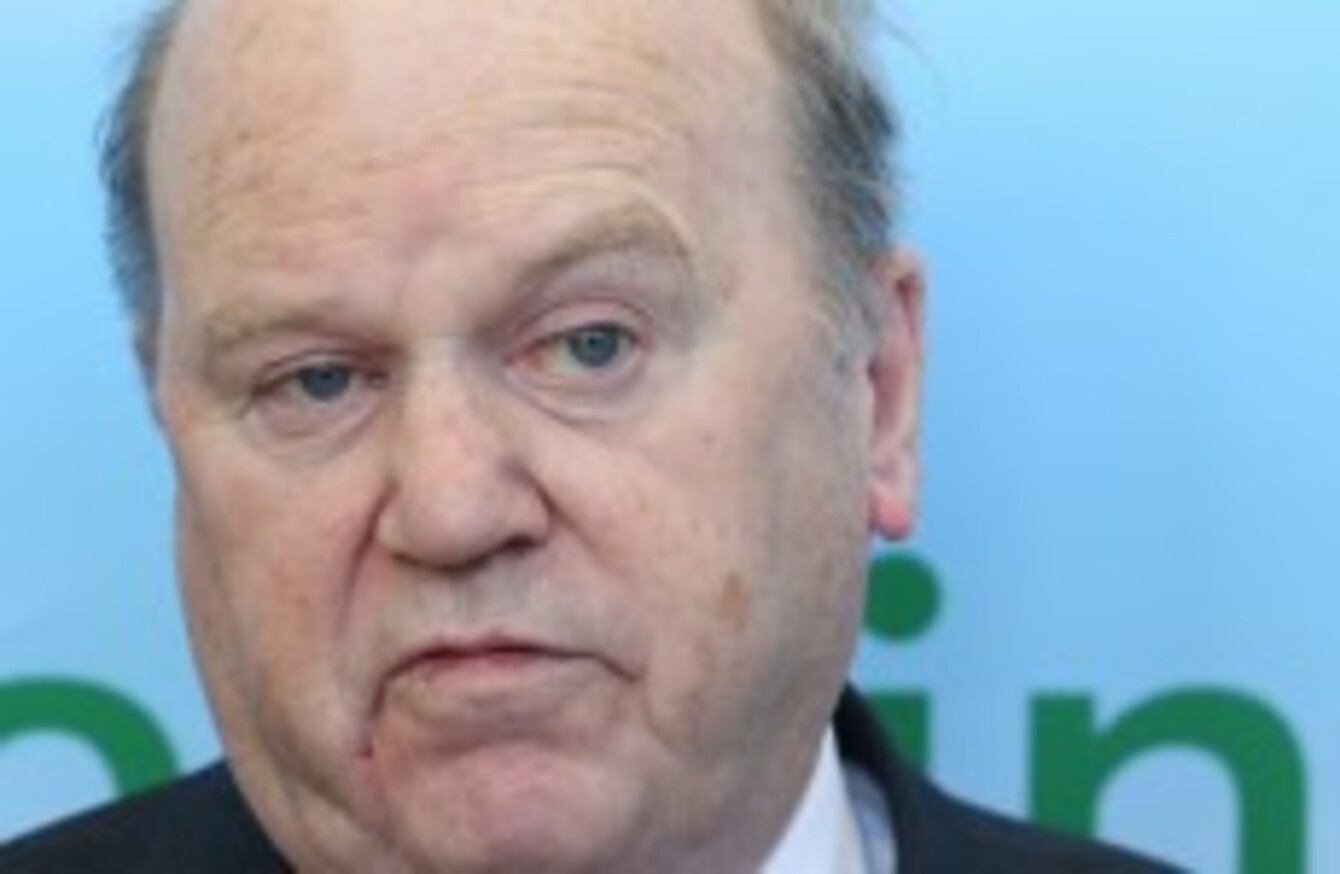 Minister for Finance Michael Noonan
Image: Sasko Lazarov/Photocall Ireland
Minister for Finance Michael Noonan
Image: Sasko Lazarov/Photocall Ireland
Updated at 7.57pm
MORE THAN €100 million has been spent by government on consultancy relating to the banking sector since 2011, new figures have revealed.
Arthur Cox has received €4.6 million from the Department of Finance for such advice, with Goldman Sachs receiving more than €9 million from the National Treasury Management Agency (NTMA).
However, a significant amount of this spend was recouped from banks.
The figures were released to Fianna Fáil Finance Spokesperson Michael McGrath, who commented that they highlight "an extraordinary over-dependence on consultants and a lack of expertise within the Department of Finance, the NTMA and the Central Bank".
"It seems to me that any time a serious decision has to be made or a new initiative undertaken, expensive external consultants seem to be the first port of call," he said.
Some of the amounts paid to individual firms are truly breathtaking and you would have to ask how these fees can possibly be justified.
A total of €22,749,000 has been spent by the NTMA on consultancy fees, with Goldman Sachs, Arthur Cox, and McKinsey and Company receiving the biggest sums.
Just over €8 million of this cost was recouped from the banks.
The Department of Finance spent €5.8 million, recouping €2.4 million.
As well as Arthur Cox, Matheson received a large share of this, amounting of just over €1 million.
McGrath said that following a study at the Department of Finance in 2009 into how much work can be carried out internally, he expected the Department to have "developed sufficient in-house expertise to reduce their reliance on external advice".
#Open journalism No news is bad news Support The Journal

Your contributions will help us continue to deliver the stories that are important to you

Support us now
The Central Bank states that consultancy fees relating to both banks and credit unions amounted to €75 million since 2011.
However, these are estimates.
The bank lists the following as some of the bigger spends, with costs from Financial Measures Programme being "100% recovered from the Covered Banks":
Costs for the carrying out of the 2011 Prudential Liquidity Assessment Review/Prudential Liquidity Assessment Review exercise (approx. €29m) as part of the 2011 Financial Measures Programme
Costs in relation to Distressed Credit Operations Reviews and Loan Loss Forecasting advisory services (approx. €12m) undertaken as part of the 2012 Financial Measures Programme
Costs in relation to Balance Sheet Assessments and Loan Loss Forecasting advisory services (approx. €15m ) as part of the 2013 Financial Measures Programme
Costs for 2012/13 in respect of investigations and projects in respect of a number of individual Banks and other bodies (approx. €5m).
Costs for Legal advice on a range of Banking related cases — excluding the IBRC liquidation (approx. €2m).
Costs relating to the Deposit Guarantee Scheme and Risk Advisors (total E2m). Costs for 2012/13 in respect of advice and legal services connected with the IBRC liquidation (approx. €1 m).
McGrath the figure, obtained through a parliamentary question suggests a "deep rooted culture of deference to external consultants across the top echelons of the public service".
Originally published 4.50pm